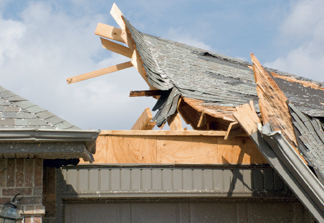 Claims counts from severe weather in the Plains states in mid-April are quickly piling up. As of April 16, State Farm, the top insurer of property in the affected states, reported receiving more than 2,400 claims for tornado, hail and wind damage.
Meanwhile, American Family Insurance has logged 800 property claims and about 430 automobile claims, according to Stephen Witmer, a spokesman for the company. The National Weather Service reported 126 tornadoes touched down in Iowa, Kansas, Nebraska and Oklahoma Saturday and early Sunday. The count is not official, however.
Many of the tornadoes have been reported in isolated areas of rural Kansas—99 of the 126 tornado reports are from Kansas.Still, 29 homes in Kansas were classified by State Farm as uninhabitable. The insurer took 305 homeowners claims and 124 auto claims in Kansas, according to spokesman Jim Camoriano. Fifty of the vehicles can't be driven.
In Oklahoma, 503 claims—245 homeowners and 258 autos—have been filed with State Farm, Camoriano adds. About 35 homes can't be lived in and 53 vehicles are not drivable.
Woodward, Okla. received much of the media attention following those weekend storms. Six people there died.
Though an early warning by the National Weather Service's Storm Prediction Center has been credited for saving lives, a lightning strike knocked out the tornado sirens in Woodward. The deaths in Woodward were the only ones reported.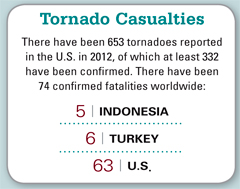 Ann Avery, State Farm spokeswoman, says the claims count is 756 in Iowa (510 homeowners) and 748 in Nebraska (516 homeowners).
According to SNL Financial, State Farm is the top writer of multi-peril homeowners and private passenger auto insurance in Oklahoma, Kansas, Iowa and Nebraska with a combined 24.65 percent combined market share. American Family is the third-largest provider of homeowners' and auto insurance in the states, with a 6.7 percent market share.