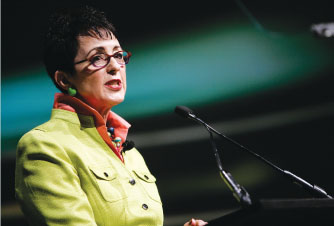 Whether it is at a local chapter meeting or in the halls of Congress, the Risk and Insurance Management Society is setting an ambitious goal to increase its influence over issues that affect the world of risk, says the association's president.
During a press conference, Deborah M. Luthi said a major focus of the association is politics and compliance risk for its membership. The association today is in the process of building the tools it will need to be an effective advocate of regulatory issues in the future.
This is the purpose of RIMS' Political Action Committee, which Luthi says is a bi-partisan vehicle aimed at ensuring "RIMS has a spot at the table and our voice is heard."
RISK PAC, now in its second year, currently stands at $28,000, and she says members need to help raise that figure. She says risk-management colleagues need to understand that their personal contribution to the PAC is how they will have a voice in political affairs.
Dan Kugler, board liaison to RIMS external-affairs committee and assistant treasurer of corporate risk management at Snap-on Inc., (and a member of NU's Risk Managers Advisory Board), noted there are several pieces of federal legislation RIMS has an interest in and on which it is making its opinion known. These include reauthorization of the National Flood Insurance Program; the Risk Retention and Modernization Act governing captive programs; and HR3157, which RIMS opposes and is bottled up in Congress.
The latter bill, which would prevent the avoidance of tax through reinsurance through non-tax affiliates, would have the effect of reducing capacity, among other adverse fallout for the insurance industry.