Setting fires in the workplace is frowned upon by most employers, but at Chubb Insurance it's an activity that's not only actively encouraged—it's actually an essential part of the company's profit picture.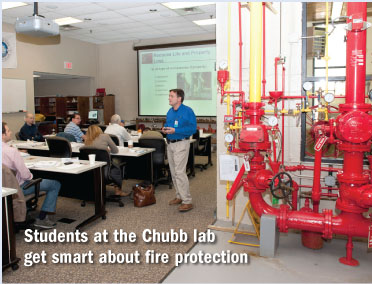 For Chubb, a major global source of property insurance, it's crucial that its underwriters—and insureds—understand best practices in fire protection. Indeed, a key part of its strategy in avoiding catastrophic claims is to make sure both policyholders and those responsible for evaluating a building's risk profile have some hands-on experience with sprinkler systems and other use-it-or-lose-it fire-protection technology.
Chubb built its first fire lab in the 1980s. Today, it has a best-in-class training center located on its corporate-headquarters campus in suburban New Jersey—a facility used to teach between 700 and 1,000 students a year. Those attending include Chubb staff, independent producers, insureds and fire officials from around the country and across the globe.
Not surprisingly, the carrier's loss-control engineers treat the lab as a second home—and are constantly taking classes to keep informed about the latest best practices, code updates and improvements in fire-protection equipment. But the company's underwriters are a familiar presence as well.
"All Chubb underwriters go through the fire lab, whether they're [dealing with] property or casualty," says Edward Radzinski, senior vice president and property manager for Chubb Commercial Insurance.
As property underwriters progress in their careers and require a higher level of specialty knowledge to fully grasp all possible exposures, they return frequently to learn more details about sprinkler systems, water supply, standpipes, alarms, fire doors and other fire-suppression tools.
"Underwriters and loss-control [employees] work as partners at Chubb to underwrite risk and to service risk," says Radzinski. "Our underwriters are going to rely on their loss-control colleagues to evaluate, for example, the adequacy of a client's sprinkler system. But if there should be any recommendations for changes, underwriters need to have a technical understanding of what loss control is talking about."
"Every day, this facility helps us justify the recommendations we're making as loss-control engineers," adds Erik Olsen, loss-control property specialist at Chubb. During the training sessions, underwriters can "see firsthand what I'm talking about—and then they can go have a very informed conversation with clients. So does it help underwriters get the job done in encouraging clients to comply with our recommendations? Absolutely. Not a question."
CLIENT CLASSES
As valuable as the facility is for Chubb staff, "the real benefit of the lab is its use by policyholders and producers, who can come in and attend classes on basic fire protection or more advanced topics," says Radzinski.
The typical attendee from an insured is a facilities manager or maintenance chief—those working with the fire-protection systems on a daily basis, and with the life-or-death responsibility for knowing how their own systems work and how to test them to ensure they'll function properly in the event of a fire.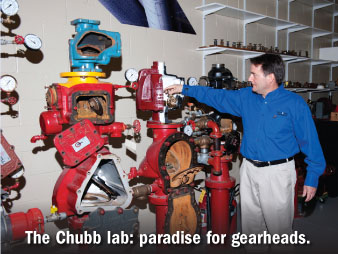 Clients come from the full spectrum of the property types that Chubb insures: offices, warehouses, multifamily residential, hospitals, etc. In addition to its standard courses—which can range from one day to a week—the facility will structure custom-learning experiences for clients with unique fire exposures, such as power-generation plants.
While sending staff to the training center doesn't automatically translate into a discount on premiums, Chubb "does look differently at a client that is interested enough to send their busy employees" to the lab, says Radzinski. "Knowing they have people with hands-on experience working with this equipment gives us a better feeling that they're more knowledgeable and can deal with their sprinkler systems and all the issues around testing their adequacy."
As savings are ultimately derived from events avoided due to the training provided, quantifying a precise dollar impact of the facility on the bottom lines of Chubb and its policyholders is impossible.
"How many claims have been avoided because someone remembered to turn a valve back on after shutting it off to conduct a test? We just don't know," says Radzinski. "But we absolutely do know having insureds who are more knowledgeable with their own fire-protection systems saves money for both the client and Chubb over time."
SEEING IS BELIEVING
A core tenet of those who work at the fire lab: Seeing is believing. That is, an insured who only hears or reads about why he should invest in a fire-protection upgrade may be resistant to the notion. But to actually see the difference between a recommended solution and one that meets the minimum standards can be an eye-opening experience.
The same is true for underwriters: They can convey with far more conviction the reasons behind why Chubb is encouraging an investment if they have witnessed the fire-suppression power of one approach versus another.
The demonstrations that provide these visual punctuation points to recommendations occur in "The Tunnel" area of the fire-lab facility: a glass-walled chamber whose ceiling is crisscrossed with almost a dozen color-coded pipes, each representing one type of sprinkler system.

For a typical test, lab personnel fill a pan with alcohol and then set it ablaze to simulate a flammable-liquids fire. The first demonstration features the effects of a water-supply system able to deliver H2O with more than 100 pounds of pressure per square inch.
The fire doesn't stand a chance. The sprinkler shoots forth a powerful burst of water, akin to what might come from a cannon, straight down into the pan where the fire is—while also spreading out an enormous, umbrella-shaped spray that pre-wets a good portion of the area around the fire to dampen the chances of it spreading.
The next demonstration shows the same sprinkler's performance with a much less-robust water supply—but still one within the requirements of a typical code. The difference in flow—now barely enough to take a shower—is night and day.
"Watching people's reactions the first time they see this test brings me a lot of pleasure," says Sam Lee, with a laugh. Lee, until his recent retirement, was vice president for risk-management services for Chubb.
"Underwriters and insureds really need to understand the repercussions of a poor water supply," Lee adds. "These sorts of visuals really imprint an image and help everyone understand why our recommendations regarding water supply are so important. They'll see what a minimally supplied system discharges and that it doesn't really meet the needs of, for example, a warehouse occupancy."
BIG INVESTMENT, BIGGER PAYOFF
Operating such a high-end fire-lab training center obviously represents a hefty investment for Chubb, but the insurer is confident it more than pays for itself.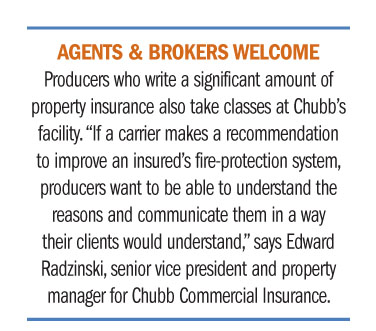 "This facility helps us keep up with the latest changes in fire-protection technology, and the better information loss control has, the better information we provide our underwriters," says Lee. "And because of that better information, they can make more prudent underwriting decisions.
"Our property business has been very profitable over the past five to 10 years, and one of the main reasons we can attribute that to is this facility," Lee continues. "Not only does it improve our risk selection, but once a risk is written, it helps us help insureds improve their facilities—because we have a place to show them what would happen if they didn't comply with our recommendations."
Adds Olsen: "The reality is, a place like this helps Chubb sell the benefits of [a recommended solution] directly to our clients because they can see it, feel it, understand it— whereas most insurance carriers don't have the ability to directly show those benefits, and what it means and why it matters."