The National Weather Service reports 126 tornadoes touched down in Iowa, Kansas, Nebraska and Oklahoma Saturday and early Sunday. The count is not official. Many of the tornadoes have been reported in isolated areas of rural Kansas—99 of the 126 tornado reports are from Kansas, reports catastrophe modeler Risk Management Solutions.
Currently, insurers are responding to the hardest-hit areas in Oklahoma, Kansas and Iowa to help residents there begin to pick up the pieces and assess damage from wind and hail.
Click "next" to see pictures of the destruction and read insurance-industry comments.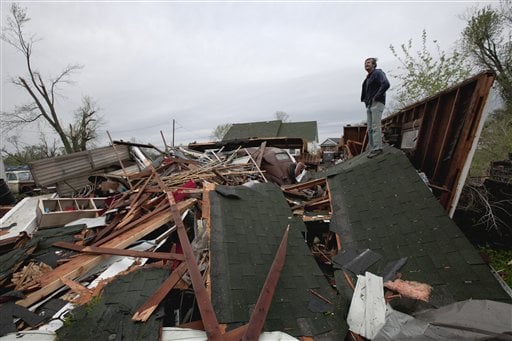 Gary Gladwin looks over his wrecked property where he stored a 1937 Chevy, in Thurman, Iowa, Sunday, April 15. In Iowa, reports say 75 percent of homes in the small town of Thurman were damaged. Creston also sustained damage to the northwest of the city.
Jim Camoriano, spokesman for State Farm, calls what happened over the weekend a "really widespread event over several thousand square miles." Claims continue to pour in but no initial counts were available this morning. "We've been busy since moments after the tornadoes lifted," he says.
(AP Photo/Nati Harnik)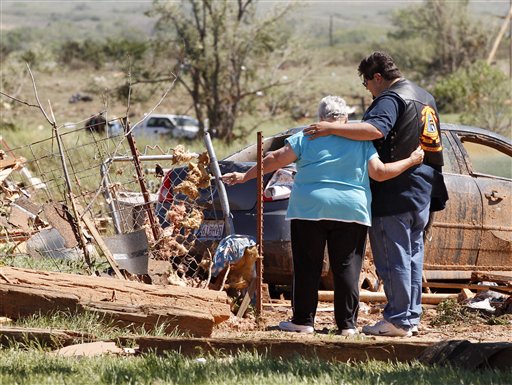 Linda Dupree, left, is hugged by a member of the Christian Motorcycle Association, following a deadly tornado in Woodward, Okla., Sunday, April 15.
State Farm, the largest provider of home and auto insurance to Oklahoma, Kansas and Iowa, has deployed a mobile claims operation to Woodward, a rural community about 150 miles from Oklahoma City. Six deaths, including three children, were reported there. Emergency management officials are reporting damage to 89 homes and 13 businesses, RMS says. A lightning strike affected the tornado notification system, reports say.
(AP Photo/Sue Ogrocki)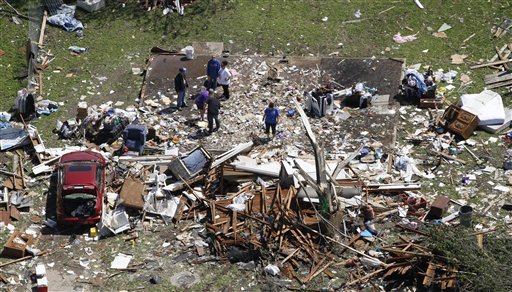 In an aerial photo, people assess the damage in the Oaklawn neighborhood in Wichita, Kan., on Sunday, caused by one of several tornadoes that hit the state on Saturday.
State Farm also set up a drive-in claims facility in Wichita to begin the adjustment process for policyholders with hail damage, Camoriano adds.
(AP Photo/Jeff Tuttle)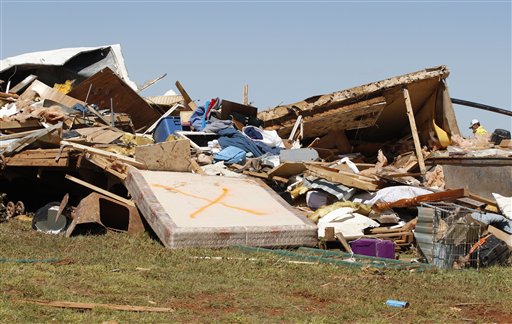 An "x" on an overturned mattress marks a mobile home already checked for occupants following a tornado in Woodward, Okla.
Oklahoma Farm Bureau, the state's largest domestic insurer, was already on the ground adjusting hail and wind damage from a previous event, says spokesman John Wiscaver.
"We immediately transitioned to help our newly-affected customers," Wiscaver says. "Although we have many people impacted, it looks like we don't have a significant amount of damage."
Nationwide spokesman Elizabeth Stelzer says the insurer has received a total of 256 homeowners claims thus far. In addition, there are a total of 18 farm claims, four commercial and 54 auto, she adds.
(AP Photo/Sue Ogrocki)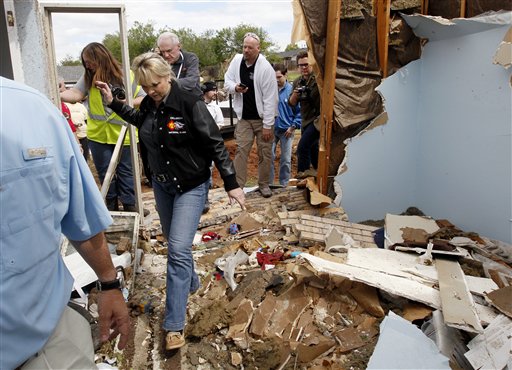 Oklahoma Gov. Mary Fallin, center, tours a tornado damaged home in Woodward, Okla.
American Family Insurance is also responding to the storms and has thus far received about 375 claims from the weekend from a half-dozen affected states. Damages have been caused by a mix of wind, wind-blown debris, and hail, says spokesman Stephen Witmer.
"American Family's locally based claim adjusters are serving customers as quickly as possible," he says. "At this time, it appears we will not need to bring in the extra service support of our catastrophe teams, but American Family will continue to monitor the claim volume and deploy extra resources if necessary."
(AP Photo/Sue Ogrocki)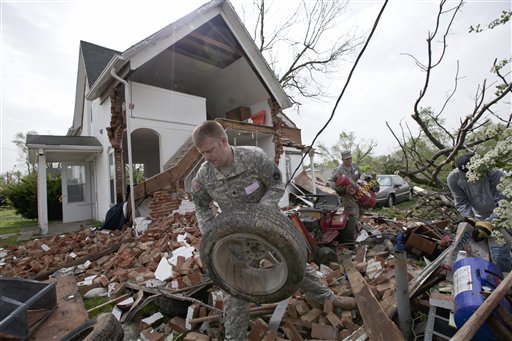 Iowa army national guardsmen help the cleanup in Thurman on Sunday.
Reports credit early warnings in limiting fatalities. On Friday the National Weather Service's Storm Prediction Center issued an unusual "high-risk" warning a day in advance for the central United States. The center said risk for severe thunderstorms was highest for Oklahoma and Kansas.
(AP Photo/Nati Harnik)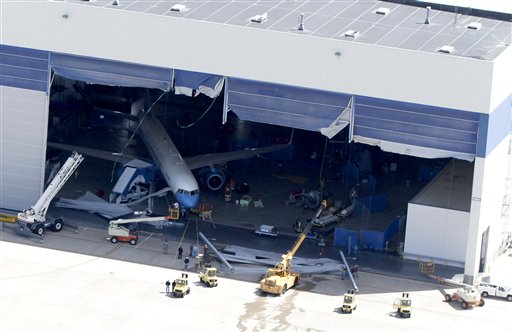 The Boeing Company facility in Wichita, Kan. is damaged. The reported tornado that struck Wichita caused damage at McConnell Air Force Base and the Spirit AeroSystems and Boeing plants. Sedgwick County, home to Wichita, declared a state of disaster and said preliminary estimates suggest damages could be as high as $283 million.
(AP Photo/Jeff Tuttle)