The Directors and Officers liability market is definitely unpredictable, probably mispriced and very likely an under-reserved mess, sources say—and new federal provisions have many experts expecting a surge of filings.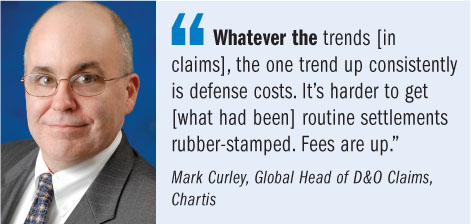 While the number of securities class-action settlements and settlement amounts were down in 2011 vs. 2010, according to data compiled by Cornerstone Research, that fact alone does not paint a clear picture of the litigation landscape that D&O policyholders and carriers are facing.
Because while severity is down—securities class-actions can generate huge settlements—the frequency of smaller cases is up, leeching policy limits.
"It has become a death by 1,000 cuts," says Key Coleman, managing director at advisory service Grant Thornton. "Look out for the small non-class-action suits."
Adds Christopher Cavallaro, a managing partner of brokerage ARC Excess & Surplus: "Yes, about 45 percent of the money spent by D&O carriers goes toward [securities class-action lawsuits]. But these class actions used to be the only issue on which the market was judged. Now there are tons of [cases] coming in, chipping away. The numbers have become egregious."
For example, experts say there has been a rapid increase in the filing of smaller suits against directors and officers for breach of fiduciary duty during merger-and-acquisition deals. In addition, suits seeking disgorgement are becoming more common, says Cavallaro.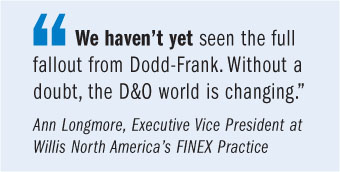 Other lawsuits are filed following a bankruptcy, for fraud or misrepresentation—where directors and officers are blamed for the demise of a company. These suits can come from regulators, bond holders, shareholders and employees.
"One event can spawn a lot of litigation," says Trevor Howard, senior vice president of U.S. management liability for Liberty International Underwriters (LIU).
"The claims out there these days are just much more diverse," observes Cavallaro.
FDIC, DODD-FRANK SPARK SPIKE IN SUITS; JUST A WARM-UP?
Also adding to the headaches of those needing or offering D&O coverage: It's difficult to miss the press releases announcing suits being brought by the Federal Deposit Insurance Corp. (FDIC) in an attempt to recover billions of dollars in losses—and many believe the FDIC is just warming up.
"It looks like the FDIC chose 2011 to pull the plug out," Grant Thornton's Coleman observes.
The FDIC has authorized lawsuits in connection with 54 failed institutions against 469 individuals for D&O liability, with damage claims of at least $7.9 billion as of March 20. That includes 27 filed D&O lawsuits naming 222 former directors and officers—which means the FDIC has even more cases on the way.
What we have seen from the FDIC is the "tip of the iceberg," Howard warns.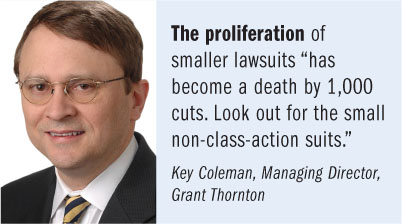 But the risks to directors and officers, and their insurers, don't end there. One insurance executive says he "can only imagine" the increase in litigation that will be caused by a whistleblower provision in the Dodd-Frank act, which provides incentives for those who give information to the U.S. Securities and Exchange Commission on possible violations by companies of federal securities laws.
That could increase the number of policy-covered company investigations, says Coleman, as well as policy-response disputes—for example, to what extent does a policy cover multiple investigations per year?
"We haven't yet seen the full fallout from Dodd-Frank," says Ann Longmore, executive vice president of the FINEX practice at Willis North America. "Without a doubt, the D&O world is changing."
So is the spectrum of who can become embroiled in lawsuits, says Brady Head, president of the public company commercial accounts division for Chartis. "The diversity of industries that are targeted" is a challenge for underwriters, Head adds. Identifying risky segments is more difficult, though historically riskier classes remain spotlighted.
Disturbing trends and observations in D&O abound because, in addition to changes in who is filing where, and on what grounds, each case is more costly to defend. Carriers are sometimes "along for the ride," Longmore adds.
"Whatever the trends [in claims], the one trend up consistently is defense costs," reports Mark Curley, global head of D&O claims for Chartis. "It's harder to get [what had been] routine settlements rubber-stamped. Fees are up."
Adds Cavallaro, "Cases are so much more difficult to settle because there are divergent interests."
Plaintiffs' attorneys are seeking more money to settle—partly because they are being asked by the courts to do more work and partly because they know companies have more defense costs to avoid.
RATES INCREASE; RESERVES INSUFFICIENT
All of these factors have led to upward rate movement in the D&O sector. Chartis says rates are 5-10 percent higher, particularly in the primary layer.
Rate increases are also seen in the first excess layer, says Howard. These layers are seeing the most rate action due to the fact they are most often penetrated.
There are many more carriers providing capacity to excess layers higher up the risk tower—where rate decreases can still be had, Howard adds.
Cavallaro says that from the carrier perspective, rates are "getting better" (i.e. increasing). "But are rates anywhere near where they need to be? No."
Cavallaro adds the D&O market is "significantly under-reserved." In his opinion, no one has set aside enough money for the billions of dollars in lawsuits still coming from the economic meltdown in 2008.
"[Reserve] redundancies have been stripped out," he adds. Insurers felt massive losses on the P&C side from an extremely active catastrophe year in 2011, which inhibited any ability to reserve.
"Typically there is some subsidization from the P&C side of things, but there isn't now," says Cavallaro. "There's not enough rate to cover the shortfall."
Howard says each company will need to look at whether it has adequate reserves.
"Time will tell," he says.