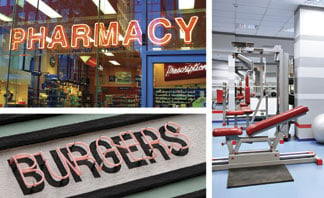 The 825,000 franchise businesses in the U.S. represent attractive targets for insurance producers—easily identifiable prospects, many with multiple units, who are generally required to purchase insurance by their franchise and loan agreements.
However, each system has its own particular requirements and many larger systems have national preferred vendor programs in place. For the independent producer, tackling the franchise sector requires understanding the system. Learn requirements and special risks before approaching the prospect with a clear case for the advantages of a local insurance relationship.
Read the sidebar "Guarantee Insurance in Action: Marco's Pizza."
Know the franchise system
Producers need to be aware of the added complexity that comes with handling a franchise client, according to Dan Rossen, vice president with Burns & Wilcox. For example, franchisors may have limitations or requirements that each franchisee must follow. Some may require higher limits on liability insurance or higher standards on the level of insurance carried. Others may have restrictions on the insurance carriers used. Research or work with franchise clients to navigate these franchisor-dictated standards before making insurance recommendations.
Related: Read the article by Chad Hemenway "As an Increasing Target for Claims, Nonprofits Seek More D&O Coverage."
"While some franchise systems may have a national insurance carrier and program in place, local reps still can compete for business," Rossen said. "Producers shouldn't be put off by the franchisors' national program."
Understand the market dynamics
Producers should be strategic in their approaches to the franchise market, understanding the general industry dynamics and special requirements. For example, according to FRANdata, franchise categories showing the greatest growth over the past 5 years include health (fitness centers, healthcare facilities and pharmacies), fast food restaurants, educational programs and tax services. Systems in these categories are more likely to bring in new prospects and locations. Given the significant advantages that franchises have in their ability to scale quickly, developing a strong relationship with a smaller system in a high-growth category can quickly turn into a large book of business.
Use the system to customize your offerings
By combining knowledge of the system with the franchisee's particular needs, a producer can develop an offering that meets the system requirements and protects the client. Some tips to approaching a franchisee prospect include:
Do your homework on specific franchise requirements.
Set up a meeting and demonstrate the advantages of having a local representative for leveraging area business networks that benefit the franchisee.
Explain the advantages of providing insurance coverage or products that may not be offered by the national carrier—such as life insurance, guarantee insurance or employment practices liability insurance (EPLI).
Add these products to the checklist of what you offer along with standard offerings like general liability and environmental coverage.
Always look for the upsell. "While asking for three or more referrals is standard practice when closing a sale," Rossen said, "with franchisees you should also ask for an introduction to their corporate contact. If you can successfully cultivate a relationship with the corporate contact you may be able to set up a system-wide program."
An opportunity for producers to differentiate
A key issue for the U.S. franchise sector is the lack of available credit due to current economic conditions. The lack of credit has stymied franchise system growth. To make matters worse, franchisees­—as with most small business borrowers—usually are required to sign a personal guarantee as a condition of approval from the lender. This guarantee allows banks to go after personal assets—including homes and bank accounts and—if business assets do not sufficiently cover the debt incurred because of a default on the loan. In fact, the lenders can pursue the guarantor's personal assets first if they wish.
Related: Read the articles "SBA Warns Businesses About Loan Scams."
This not only puts the franchisees in a bind, requiring them to sign a document that could mean the loss of personal assets in the event of a business failure, but it further constrains the growth of the franchisor's network.
However, these franchise finance challenges can be an opportunity for producers. The innovative guarantee insurance product outlined below can help both credit-strapped franchisees as well as franchisors looking to build their network.
The recession and credit availability
Just 4 years ago, lenders were eager to supply the capital necessary for franchisees to start up and run new ventures. For this reason, direct franchisor involvement in franchisee financing was generally unnecessary.
But today, more needs to be done. According to a March 2011 survey by the International Franchise Assn. (IFA), about one-third of franchisors said more than 50 percent of their franchisees and prospective franchisees were unable to obtain necessary financing. Research conducted in the spring of 2011 by FRANdata laid out the issue in stark terms: banks were expected to meet just 80 percent of the loan demand projected by franchisors for 2011, leaving a $2 billion shortfall in franchise lending.
Of the banks willing to extend credit to franchisees, many have been doing so with the assistance of federal Small Business Administration (SBA) guarantee programs, which covered a record $30 billion in loans in 2011. While the loan is actually made through a bank, the SBA guarantees a portion of it, making it more palatable to the lender and making more credit available to franchise borrowers.
But SBA loans are not pain free. "While they are available, they can take considerable time, effort and expense to get through the process, a real challenge when someone can't start earning an income again until the franchise is open," said Jeannie Hylant, executive vice president of Toledo, Ohio-based Hylant Group, an insurance broker that works with franchise clients.
Guarantee insurance: Two ways
Guarantee insurance allows producers to help franchisees address the twin issues of credit availability and the risk they take on in signing a personal guarantee. Producers also can work with franchisors to make guarantee insurance available for business owners in their network.
"A franchisee is someone who is an entrepreneur and is willing to take risks, but wants the safety net and backing of a franchise system," Rossen said. "Guarantee insurance works the same way: the franchisee takes the personal risk of signing a guarantee against a commercial loan, but with the safety net and backing of guarantee insurance. It's a good fit."
Related: Read the article "As Social-Service Groups Look for Alternative Revenue Streams, Insurance Risks Grow" by Bonnie Cavanaugh.
This solution can be leveraged by producers in two ways:
1. To assist franchisees. Just as with other business or real estate owners, guarantee insurance can help prospective franchisee customers seeking credit for a launch, expansion, renovation, hiring or working capital. It allows them to sign a personal guarantee and reduce some of the anxiety related to putting their personal assets on the line.
Given the issue of credit availability for franchisees and the risk inherent in signing a personal guarantee this option represents a value-add that producers can offer them.
2. To assist franchisors. A model program has been established under which guarantee insurance can be used by franchisors to help credit-strapped franchisees. The franchisor provides a guarantee to the bank for a portion of the loan. Then, through an agreement with the carrier, the franchisor purchases guarantee insurance to help manage the risk. The lender gets the benefit of an additional guarantee backed by an insurance policy, and the cost of the insurance is passed along to the franchisee in the form of a fee.
"Guarantee insurance is an interesting product, as the major challenge for franchisors since 2008 has been new franchisees being unable to obtain capital to open a franchise," Hylant said. "In our due diligence on the product, we found that bankers indicated they would be more comfortable knowing it supported either franchisor or franchisee guarantees even though it cannot be placed until after the loan is made."
This program would only be available to franchisees who met a set of predefined conditions agreed to by the franchisor, the lender and the insurer. That way, the franchisor can be confident that the insurance will be available after the loan closes. All parties in the transaction benefit.:
Franchisee obtains the capital they require with less risk
Franchisor attracts more franchisees to its system. With this option, it can grow and expand more quickly without being hindered by the SBA loan process
Lender obtains a strong secondary source of collateral through the franchisor and the insurance policy
Producer provides a valuable service to the franchise industry while adding to their revenue stream and significantly improving their opportunity to sell other coverage throughout the system.
A guarantee insurance policy can be applied to a variety of commercial loans, making it easier for the franchisee to start, renovate or expand, or for the franchisor to help more directly address the financing challenges in today's market. A producer therefore may be creative in suggesting or designing the right program to meet a system's specific challenges.