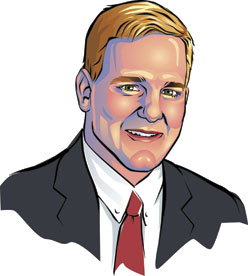 Karl Ieuter, CPCU, ARM, CIC; vice president of Ieuter Insurance Group
Years at company: 6
College: Miami University '95; MBA, risk management and insurance, Georgia State University '97
Organizations: CPCU Chapter of Northeast Michigan (past president), Professional Insurance Agents of Michigan, Young Insurance Professional of Michigan
What are your main priorities as a young agent?
I have three kids under 9 years old and balancing my family responsibilities with a growing book of business and the commitments to non-profits and industry events is very challenging. I designate which nights are late nights at work, family nights and social networking nights. Unfortunately, at this point in my career, I don't often make it home before 8 p.m., due to all these commitments.
What advice do you have for Millennials struggling in a professional environment?
At least in sales, it is often hard for the Gen Y to be successful. Too many owners (and Gen Y) expect instant success. My advice would be to get as many advanced certifications as possible, as quickly as possible, as they will give you more credibility with clients. Then get a specific niche and go with it. Some accounts will take several years to write, but in the long run, hard work will pay off.
What's toughest about being a young agent in a field where the average age is 55?
I see this as an opportunity. Many of these seasoned agents are riding out their books and doing the minimum amount of work. As long as I can qualify an account as a real opportunity, I go for it. Accounts that haven't been touched in years are a golden opportunity for young agents, as long as they make sure they are not going to be used by the clients.
Read more: Karl continues young agent discussion
Where do you hope to take your career?
My career began on the insurance company side, which allowed me to get experience in Charlotte, N.C., San Francisco and Seattle before returning to Midland. After 4 years, I switched over to the agency side. My career already has taken me quite a long ways and I am not even 40 yet. I am now back working with my father and brother in Michigan. I hope to lead this agency with my brother, Kurt, and father, Cal, to the biggest and best regional agency in Michigan.
How did you choose insurance as a viable career choice?
I am a third-generation insurance agent. My grandfather was an insurance agent in Ottawa, Ill. Now I work with my dad and one of my brothers in Midland, Mich. Also, my uncle has an agency in Chicago and his three sons work there. Six members of my immediate Ieuter family have CPCU designations. Insurance is in my blood. My career in insurance started on the company side and changed over to the agency side. It has been very valuable having worked on both sides of the business.
What sales strategies worked for you in 2011?
The best sales strategy is to pre-qualify the accounts. No one has time to practice giving quotes. If your numbers are just going to be shared, you are wasting your time.