National Underwriter: What are the competitive advantage of AIR Worldwide's U.S. Hurricane Model vis-à-vis the competition?
Ming Lee: What sets our model apart is its greater stability over time. It has long been considered the most consistent, realistic and comprehensive view of hurricane risk. From revision to revision, the model gets more refined and more granular, but a robust model, which ours is, should not require dramatic updates. Also, there is a tremendous amount of transparency around our model: We have literally thousands of pages of documents explaining [our methodology], and our scientists are available to answer questions.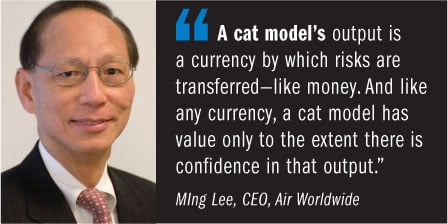 NU: How has the model's view changed regarding the extent and severity of inland losses that hurricanes can cause?
Lee: We've always been capturing the risks from inland losses, and the potential for these losses is not new. Since 1900, over 60 hurricanes have caused significant inland losses. From the inception of the AIR model, we covered Arkansas, Kentucky, Ohio and other inland states; and in 2010, we added Illinois, Indiana and Missouri, so the model now covers a total of 29 states. There has been a lot of fuss over how hurricane models changed because of [Hurricane] Ike in 2008 causing a new view of inland risk. That's just a lot of fuss about nothing—Ike was not the first storm to cause inland losses.
NU: What impact have the recent changes to Risk Management Solution's cat model (RMS Version 11.0 U.S. Hurricane Model) had on AIR's business?
Lee: There has been growing interest in AIR over last few years, period. The impact of the RMS Version 11 release acceleratef that interest—it has prompted companies to just have the conversation sooner. What we hear from these clients is the unexplainable nature of the changes in the RMS model—not the change itself, but the fact the changes couldn't be explained very well.
Another point I'd want to make related to this: Severe storms happen all the time, and some insurers think they can anticipate their losses based on historical-claims information. The catastrophe experience of 2011 has a lot of companies realizing that rather than viewing modeling from a historical-claims perspective, they should take a more scientific approach to their level of risk.
NU: What advice would you give to a company considering changing models or using one for the first time? What questions should they ask?
Lee: Ask the modeler what its approach is to validation: Do the components of the model make sense overall—in other words, how do they make sure the output makes sense? A company should hear that all components of the model are validated to have scientific merit.
A company should investigate how the model has performed historically. Run storms that occurred in the past with the company's book of business and see what the model says the losses would be if that historical storm occurred today.
Also, take a look at how the model performs in real time: What did the model say that the losses would be as a storm occurred, and how does that reflect the reality of what actually happened?
Finally, ask why you should trust the modeler's experts—and the answer should be the extent the model has been peer reviewed by outside people.
NU: Your European wind model has also seen some recent developments. Tell us about them.
Lee: In 2011, we expanded the model to include additional countries, and the latest version of the AIR Extratropical Cyclone Model for Europe now captures the financial impact of European wind storms on 18 countries. And the 2010 release reflects a lot more realism in our creation of the simulated storms, such as explicit modeling of storm clustering, an important phenomenon in Europe that must be accounted for when managing wind-storm risk. We also added support of additional construction/occupancy combinations, business-interruption coverage, and auto and forestry lines of business.
NU: And what's the latest on the terrorism-modeling front?
Lee: We reconvened our team of experts with experience in military and government, and they considered the ability of a full range of terrorist groups to plan and accomplish a wide variety of attacks. And based on that analysis, the revised model reflects a less frequent and lower severity risk for U.S. terrorism.
NU: Final thoughts?
Lee: The most important concept to remember is that a cat model's output is a currency by which risks are transferred—like money. And like any currency, a cat model has value only to the extent there is confidence in that output. And that confidence should rest on sound science—science that ensures the numbers make sense.