NU Online News Service, Feb. 24., 12:00 p.m. EST
Read what Warren Buffett, chief executive officer of Berkshire Hathaway, has to say about his successor, his company's insurance operations, the economy, and a newspaper-throwing challenge.
A 20-page annual letter to shareholders from the "Oracle of Omaha" did not disappoint those who look forward to reading.
(Photos of Buffett and Berkshire executives by the Associated Press)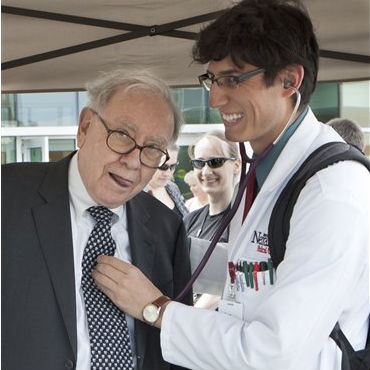 BUFFETT ON HIS SUCCESSOR:
"Do not, however, infer from this discussion that Charlie and I are going anywhere; we continue to be in excellent health, and we love what we do."
"Charlie" refers to Charlie Munger, Berkshire's vice chairman.
Buffett says the Berkshire board has chosen his successor as CEO, as well as two back-up candidates, but does not name them in the shareholder letter. The primary choice is "an individual to whom they [the board] has had a great deal of exposure and whose managerial and human qualities they admire."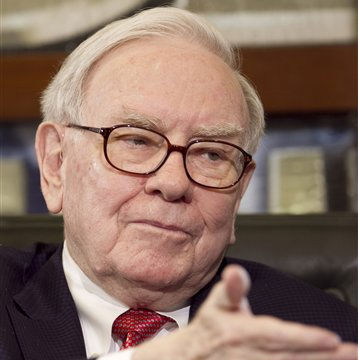 BUFFETT ON INSURANCE:
"There are a lot of ways to lose money in insurance, and the industry is resourceful in creating new ones."
Buffett calls "float" the money his comany receives in premiums to pay claims that happen later. Berkshire invests this float. When the company turns an underwriting profit, it adds to the investment income. This basically results in Berkshire geting "paid" for holding the float.
The intense compeition among insurers in their pursuit of this result typically causes the P&C industry as a whole to operate at an underwriting loss, he says.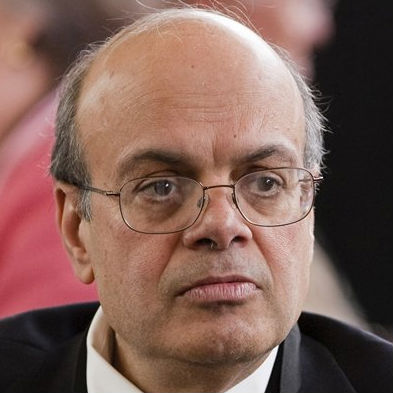 BUFFETT ON AJIT JAIN:
"Charlie would gladly trade me for a second Ajit. Alas, there is none."
Ajit Jain, head of Berkshire Hathaway Reinsurance Group, is credited by Buffett with creating an insurance business with a float of $34 billion and significant underwriting profits to add a "great many billions of dollars" to Berkshire's value.
(At left, Ajit Jain)
BUFFETT ON GENERAL RE:
"Many insurers pass the first three tests but flunk the fourth."
The last of four disciplines a successful insurer must adhere to is walking away from underpriced business, says Buffett. The first three pillars of sound insurance operations are evaluating all exposures; conservatively evaluating the likelihood of loss and its cost; and setting a profitable premium.
General Re, headed by Tad Montross, has observed each discipline, leading Buffett to call the unit "a treasure" rather than the "major headache" he says the insurer was when he first acquired it.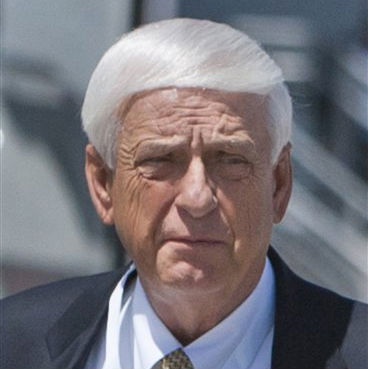 BUFFETT ON GEICO:
"Our lizard has another endearing quality (other than guiding consumers to the GEICO's website for a quote): Unlike human spokesmen or spokeswomen who expensively represent other insurance companies, our little fellow has no agent."
GEICO's premium volume has grown to $15.4 billion from $3.3 billion under the direction of 18-year CEO Tony Nicely, who just completed 50 years of service at Berkshire.
The auto insurer's market share is now 9.3 percent as its animated gecko leads consumers to get an insurance quote.
(At left, Tony Nicely)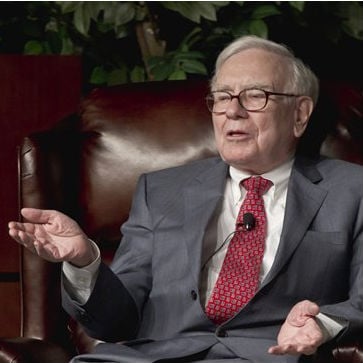 BUFFETT ON THE HOUSING RECOVERY:
"Last year I told you that 'a housing recovery will probably begin within a year or so.' I was dead wrong."
Instead, the number of housing starts is less than the number of new households being formed. Buffett says buyers and renters are taking what had been on oversupply before the housing bubble burst.
The sector of the economy "remains in a depression of its own," says Buffett, but he predicts housing will come back.
"Wise monetary and fiscal policies play an important role in tempering recessions, but these tools don't create households nor eliminate excess housing units. Fortunately, demographics and our market system will restore the needed balance—probably before too long."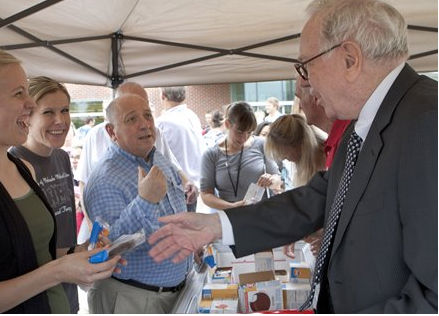 BUFFETT ON NEWSPAPER-THROWING:
"Any challenger whose paper lands closer to the doorstep than mine will receive a dilly bar. Take your best shot. Make my day."
Buffett purchased the Omaha World-Herald newspaper and has been bragging about the newspaper-throwing skills he honed as a teenage paperboy. To spice up Berkshire's annual meeting in May, Buffett laid down a bet—with the reward of ice cream—to anyone who can better his toss.
(In photo, Buffett hands out Dairy Queen dilly bars last September to University of Nebraska Medical Center students and guests following the dedication ceremony of a student plaza bearing the name of Bill Scott, former vice president of Berkshire Hathaway.)