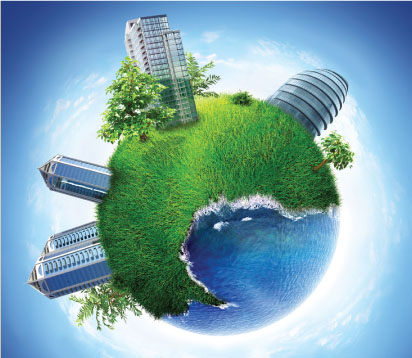 JONES LANG LASALLE is a global real estate services firm that helps commercial-property owners buy, sell, lease and manage buildings in 70 countries around the globe. It also advises major corporations on their real estate and workplace strategies, with clients in a range of industries, including pharmaceutical, automotive and technology.
As the firm's director of global risk management, Janice Ochenkowski's core job is identifying the risks related to all those endeavors. In the real estate arena, she observes, "you are really operating with two different sets of risk."
First, there are the standard corporate risks for the company—such as Professional Liability, Directors & Officers and Workers' Compensation, she explains.
But on the real estate side, she says, clients frequently require that her company insure their real estate assets: "This means we're buying insurance programs for our clients, which adds additional responsibility."
Part of Ochenkowski's job is to see that the insurance purchased is of the best value and on the best terms. "It's very important that we work with our brokers and consultants to prepare the information for our underwriters at renewal time and actively participate in those renewal discussions so we're sure that the nuances of what we do are fully understood—and we can portray ourselves in the best possible light with the consequence of having lower costs," she explains.
With property insurance prices spiking everywhere of late, doing the deal for the best price possible offers its own set of challenges. "Many insurers experienced significant losses last year and are also faced with increased reinsurance costs this year and so are seeking premium increases, particularly for assets in catastrophe-prone areas," Ochenkowski says. "My job is to work with my brokers to negotiate with insurers and to differentiate my account from others in areas such as loss experience; safety and loss-control improvements; physical properties of a specific location; etc. It requires understanding the specific concerns of the underwriter and addressing those concerns in a responsible manner."
In insuring the real estate asset, provisions in loan documents, long-term leases, and other deeds and documents associated with ownership of the property have to get serious due diligence. "In today's environment, lender terms are becoming more stringent, so there is more work in compliance to be done," she notes.
Cultivating business relationships is a critical part of what Ochenkowski does, says her boss, Mark J. Ohringer, executive vice president, global general counsel and corporate secretary.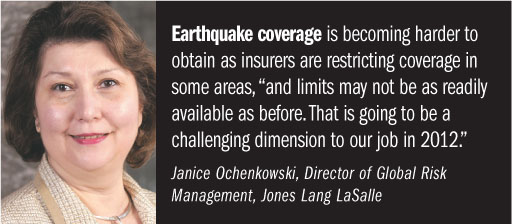 For example, when the company admits it is at fault and wants to make restitution, "we're willing to take our share of the responsibility, write a reasonable check for what happened and move on," he says. "The critical role [Janice] plays is to get our insurers to trust our judgment in making these kinds of decisions."
MANAGING GLOBAL RISKS
When doing business in emerging markets, one big challenge is that "insurance and risk management are not high on the list" in these countries, Ochenkowski says. "Their legislation doesn't even contemplate risk issues. But those same countries may also require that insurance be bought in the country."
Understanding the various business practices of different cultures is also a challenge, she adds: "We intuitively approach things with a Western mind, and that's not the way many parts of the world operate. Our way isn't the right way there. So we have to understand what's culturally acceptable and appropriate and base our programs on that."
When looking at risks to the company, some are always top-of-mind. "Obviously, catastrophe risks are absolutely critical to real estate assets, and the challenge is finding a balance between coverage and cost," says Ochenkowski, a past president of the Risk and Insurance Management Society.
Unfortunately, "the accuracy of that balance is only determined by hindsight," she adds. "If you bought earthquake insurance and there wasn't a quake, was it a necessary expense?"
But, she continues, if there is a quake, "no one will ever second-guess it."
Earthquake coverage is becoming harder to obtain, she notes, as insurers are restricting coverage in some areas, "and limits may not be as readily available as before. That is going to be a challenging dimension to our job in 2012."