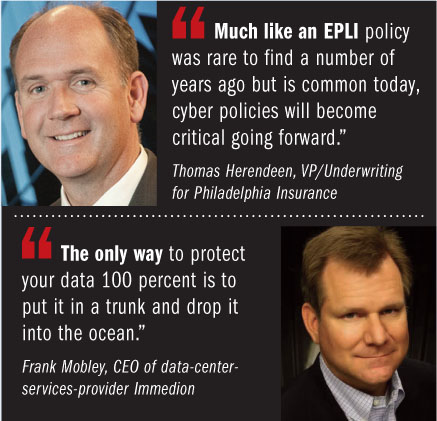 In order to compete in an intense buyer's market for Cyber Liability insurance, both carriers and brokers are stressing the consulting role they can play in helping companies assess their risk.
For example, specialty-insurer Hiscox promotes its "deep dive" into the safety protocols that clients have in place, says Jim Whetstone, senior vice president and U.S. technology and privacy manager.
"Clients benefit from the process because it's a third-party validation of their controls," says Whetstone.
Within the last year, Hiscox launched breachprotection.com, a site where clients can access cyber-security news and information.
And Philadelphia Insurance offers customers online tools from NetDiligence that include self-assessment scorecards, incident calculators, and a database of breach activity and laws. Customers also can have 30 minutes of consultation with a "breach coach," an outside attorney specializing in data theft.
"Cyber Liability requires a heavily educated sales process," says Thomas Herendeen, Philadelphia's vice president of underwriting, who expects interest in Cyber Liability coverage will continue to grow aggressively. "Much like an EPLI policy was rare to find a number of years ago but is common today, cyber policies will become critical going forward," he adds.
Adds Frank Mobley, CEO of data-center-services-provider Immedion: "Unfortunately, there are many smart people out there who use their talents for the wrong purposes. There are always new methods and means for the bad guys today to gain access to data, be it credit-card or other data. The only way to protect your data 100 percent is to put it in a trunk and drop it into the ocean."