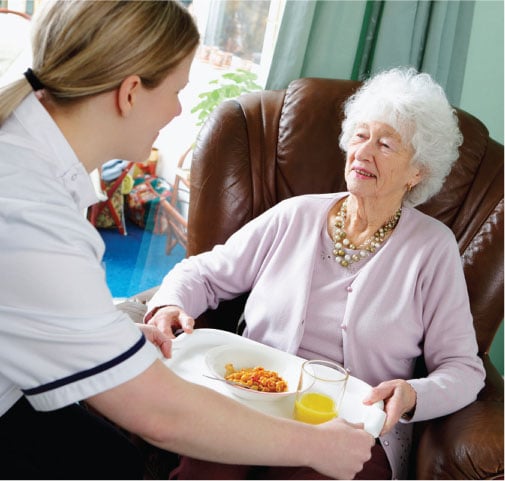 Market conditions for insurance in the nonprofit sector have shown sure signs of a hardening over the past six months, with prices stabilizing overall and slowly inching upward for some classes of risk.
"After several years of price decreases in a very competitive market, the trend now seems to be toward steady pricing," says Christi Hatcher, managing director for Markel Specialty Commercial, a division of Markel Corp. in Richmond, Va.
In fact, new business at social-service organizations rose "dramatically" in 2011 after many years of a soft market, says Hatcher.
Markel, which serves a broad range of social-service classes, is seeing increasing activity in child-welfare organizations, counseling centers, and group homes and shelters.
And not only has Markel's new business "increased significantly, but the retention rates are as high as they have been," Hatcher tells NU. "Overall, pricing has stabilized, and price increases are sticking on accounts that have tougher exposures or loss activity."
Organizations with extra-scrutinized exposures include foster-placement services; programs with clients who have emotional and/or behavioral concerns; and accounts that have off-site recreational activities.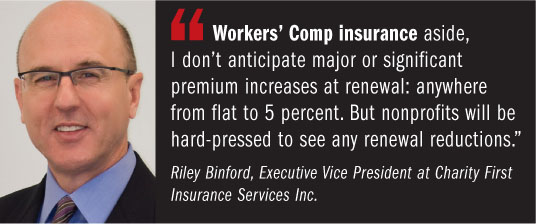 Riley Binford, executive vice president at Charity First Insurance Services Inc. in San Francisco, agrees that overall the nonprofit sector is seeing a firming market, however slight.
The upward pressure on pricing is especially noticeable in the area of property risks, which can account for a large percentage of a nonprofit's exposures.
"The property market is definitely changing due to the storm activity of the spring and summer of 2011," says Binford, who points out that property deductibles and other conditions are also getting a bit tighter.
"It's not surprising that some types of nonprofits, for example churches located in Texas and Oklahoma, are a bit concerned about their property insurance," he says.
DRASTIC MEASURES OFF THE DRAWING BOARD—BUT LITTLE ORGANIC GROWTH
In mid-2011, when NU last checked in on the social-services market, insurers reported that some social-service organizations, desperately short on funds, were developing drastic revenue-raising measures that, whatever their financial promise, would have significantly raised exposures and endangered existing coverages.
For example, Charity First, an MGA program manager for Travelers' social-services business for 25 years, last year had to turn down a request by a children's group home that had hoped to hire out its teenage residents as laborers.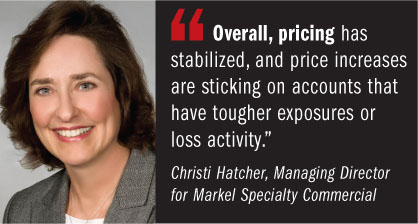 Fortunately, the number of clients pursuing such extreme actions, or otherwise venturing into unknown territory to try to raise funds, has waned.
"We are not seeing this type of activity nearly as much as we did, and it looks like most nonprofits are sticking with their core competencies," Binford says.
But organic premium growth at current insureds has remained somewhat flat and even declined, as per the latest renewal-cycle figures in June, according to Becky Holt, director of underwriting for insurance and risk-management specialist Canfield Insurance Solutions of Ephrata, Wash.
"Exposures at social-service organizations are not growing anymore. Most are getting rid of exposures by selling properties," Holt says. "A lot of nonprofits are putting their vehicles in lay-up and not even using them because they can't afford the maintenance."
At least one community-action organization Holt is familiar with has had to shutter its large Meals on Wheels program.
Some social-service groups have also not taken Canfield's loss-control advice to upgrade facilities and are deferring repairs. "Financially, they just can't address those issues," says Holt.
Canfield also has seen some salaried-staff cuts among its nonprofit clients as of the June 2011 renewal. "It seems like they're trying to use as many volunteers as they can," says Holt.
Insufficient funding has led some of Markel's nonprofit organizations to reorganize and merge with other social-service agencies, which obviously affects staffing, Hatcher says.
Lack of funds can lead to inadequate staff-to-client ratios and not enough money being devoted to maintenance of premises and adequate safety programs, all of which create greater exposures, Hatcher points out.
TOP COVERAGE CONCERNS
The top insurance concerns for social-service groups remain Professional Liability, Sexual Abuse & Molestation cover, and Directors and Officers.
While Abuse & Molestation and Professional Liability continue to be coverage requirements for many social-service classes, nonprofits overall now have a more heightened awareness of D&O coverage and Employment Practices Liability insurance due to recent high-profile news stories, Hatcher says. "There seems to be a trend for executive directors and board members to truly understand these coverages," she notes.
Workers' Comp for social-service groups is beginning to increase in some states, according to Charity First. "California is seeing some double-digit increases on renewals," Binford says.
"Workers' Comp insurance aside, I don't anticipate significant premium increases at renewal: anywhere from flat to 5 percent," he adds. "But nonprofits will be hard-pressed to see any renewal reductions."
Charity First is also seeing a trend in increased coinsurance penalties applied at the time of loss. "I can only surmise that because of years of very little inflation, most insureds have not updated their insurance values for a while, resulting in underinsured properties," says Binford. "Nonprofits should take time at their 2012 renewal to make sure their properties are properly valued to avoid being underinsured at the time of loss."