At least six people have died, and 16 others are missing after the Costa Concordia ran aground with more than 4,200 passengers and crew on board on Jan. 13, 2012.
The luxury ocean liner collided with a reef just mere hours after leaving the Italian port of Civitavecchia. Costa Cruises, a subsidiary of British-American Carnival Corp., owns and operates the partially capsized ship, which currently lies half-submerged off the coast of Isola del Giglio, Italy.
Click "next" to view slideshow.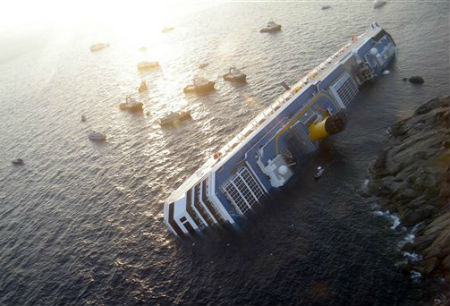 (AP Photo/Guardia di Finanza, ho)
The Costa Concordia leans on its side after running aground.
Details about the vessel and its ill-fated journey will continue to unfold. Experts have reportedly retrieved and begun to analyze the ship's black box. Carnival Corp. estimates that losses resulting from having the Concordia out of commission for the remainder of the year may range between $85 million and $95 million. Carnival self-insures for the loss of use of the ship, it says in a statement.
The company says it anticipates other costs to the business that are "not possible to determine at this time."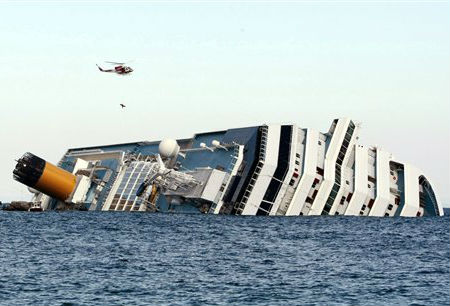 (AP Photo/Gregorio Borgia)
An Italian firefighter helicopter lifts up a passenger from the luxury cruise ship.
According to a bulletin released by Guy Carpenter and several news sources, the Costa Concordia is insured for about $513 million, with XL Group leading the insurance coverage on the Aon-brokered program.
Hannover Re says it expects a claim of at least $12.7 million from the incident, reports Guy Carpenter. RSA Insurance and Italy-based Generali Group also provided coverage, say reports.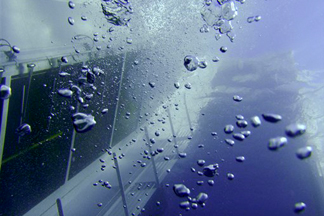 (AP Photo/Italian Coast Guard, ho)
The Italian Coast Guard captured this underwater photo while searching for survivors.
The Standard Club confirms it is the lead protection and indemnity insurer for Costa Concordia. P&I is a specialist class of liability insurance protection for ship owners and charterers.
According to its website, Standard Club is a mutual insurance association, owned by its ship-owner members and controlled by a board of directors drawn from the membership.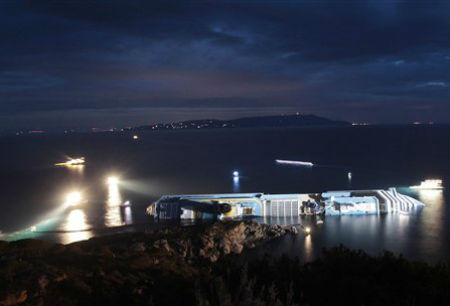 (AP Photo/Gregorio Borgia)
Oil removal ships near the cruise ship.
Rescue efforts have been temporarily halted due to choppy waters and mounting concerns about possible seepage of the 500,000 gallons of fuel on board.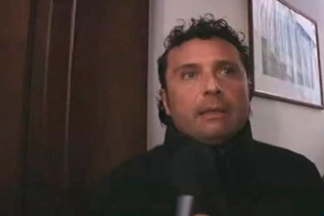 (AP Photo/MediaSat, via APTN )
Costa Concordia Captain Francesco Schettino speaks during a TV interview in Porto Santo Stefano Italy on Jan. 14, 2012.
Schettino currently sits behind bars, accused of an egregious lapse in judgment that caused the tragedy. Costa Concordia execs charge that the jailed captain made an "unauthorized deviation from the programmed course." Moreover, Italian authorities allege that Schettino abandoned ship in the wake of the disaster, leaving thousands of passengers and fellow crew members to ostensibly fend for themselves.