I'm approaching my one-year anniversary as editor of NU, and the job, without question, has affected the way I see the world.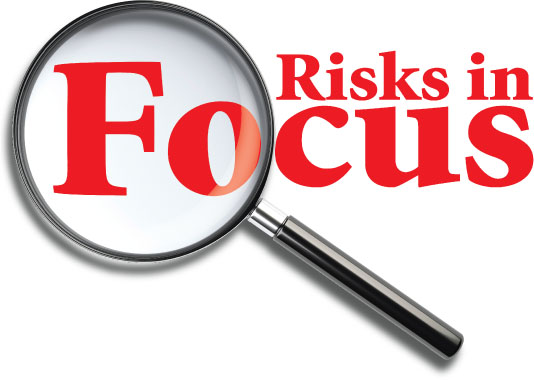 As I'm sure is common for many of you, perhaps all of you, I now see risks everywhere I look. Walking to lunch, I worry about the liability related to the wobbly flagstones paving the sidewalk in front of a local bank (someone is always trying to fix them, but never seems to get it right).
At home, I'm amazed at how blasé my apartment building's maintenance staff is about leaving loose power cords casually lying across hallways and stairwells.
Every store or business I pass I start to wonder about the unique risks inherent to the operation. What are the E&O issues faced by an optometrist at an eyeglass boutique? What special loss-mitigation efforts do jewelry stores need to undertake, with their small but precious cargo? What kind of total annual premiums must Starbucks pay?
Then, recently, I went to see "Sleep No More," a hot-ticket theater piece based on "Macbeth" that was "staged" (the wrong word completely) across a 100,000-square-foot, six-story former warehouse. Rather than being fixed in one place, audience members, alone or in small groups, had to go in search of both the actors and scenes.
Lighting ranged from dim to pitch dark, and the multilevel space offered more than 100 rooms to explore—some the size of a high school gym and filled with crumbling castle ruins or forests or graveyards (with the accompanying tons of dirt). Nothing was off limits. In smaller rooms, the audience could open suitcases, shift around furniture and rifle through drawers (which were sometimes filled with pins, knives or sharp medical instruments).
It was an absolutely amazing experience, but for the full three hours I was there, I couldn't stop thinking, "My God, how are they getting away with this from an insurance perspective?"
This emerging obsession with risk is reflected in a new series we officially launch with this issue: "Risks in Focus." On a roughly monthly basis, we'll take a deep-dive look at businesses with unique, compelling and often visually arresting risk profiles.
We kick off the series with an exploration of the underwriting world of undertakers. As you'll discover in the story that starts on page 16, funeral-home directors are a class of professional-service providers with some highly particular risks that have to be addressed: grieving relatives, dropped caskets, dangerous chemicals and even "extreme leakage." Hearses and crematoria also bring with them some special insurance challenges.
I don't want to give away any of the upcoming classes of (inherently interesting) businesses that we'll feature in the series, but I'm comfortable predicting that these are stories you will definitely want to read—and occasionally watch, as we include video.
And as promised in last week's editorial, you'll see a new feature on page 7: the "Essential 11," where we give you a quick recap of all the most important headlines from the past seven days.
Bryant Rousseau
Editor in Chief
201-526-1239
brousseau@sbmedia.com