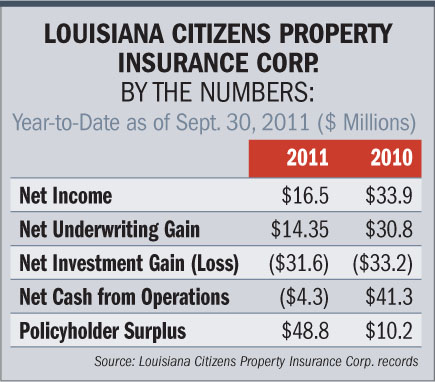 Louisiana Citizens Property Insurance Corp. doesn't think the state Supreme Court addressed all the issues it should have before reinstating what has become a judgment of more than $100 million for policyholders.
The state-run insurer of last resort ended 2011 with bad news—a ruling from the state's highest court that reinstated the award overturned by an appeals court: Each policyholder in the class could get $5,000 plus interest.
Now the insurer is asking the Supreme Court to reconsider its decision.
Citizens has been accused of failing to start the claims-adjusting process within the time frame set by law, following hurricanes Katrina and Rita in 2005.
Insurance Commissioner Jim Donelon called the ruling a "potentially devastating event."
The insurer "feels the Supreme Court did not answer all the questions presented to it, [but] rather just issued an opinion confirming the ruling by the trial court judge that his allowance of $5,000 per claimant was permitted," Richard Robertson, Citizens' CEO, tells NU.
"[The court] did not address several items, including a constitutional issue raised by us and the state attorney general concerning the ability to impose a penalty without any showing of bad faith or conduct on the part of the insurer," he adds.
Donelon says the worst-case scenario is that Citizens' maximum exposure to the decision is $200 million, if other eligible policyholders emerge.