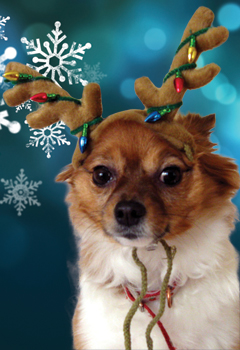 This month's title borrows from an editorial that appeared in the Sept. 21, 1897 edition of The New York Sun. Its genesis? The pen of an inquisitive 8-year-old girl whose schoolmates had declared that Santa was an elaborate fabrication. (We've all faced the same crushing revelation, right?)
At the time, The Sun was a prominent New York City newspaper, and when the girl approached her father, he famously said that, "If you see it in The Sun, it is so." Her inquiry eventually wound up in the hands of Francis Pharcellus Church, an editor at the paper. One might imagine that, through the eyes of a child, the newsman's last name only gave further credence to his soft, thoughtful words. Church took pleasure in addressing the question's underlying philosophical issues and how the young naysayers were obviously "affected by the skepticism of a skeptical age." He eloquently said, "There would be no childlike faith then, no poetry, no romance to make tolerable this existence" and that man—in intellect and being—is merely "an ant" or a speck in a vast universe.
Though I wouldn't consider myself sentimental, I would like to believe that, fundamentally, Church was right in delicately asserting that this celebrated holiday represents a state of mind, and that the kid in our hearts endures and dreams and still believes in the common decency and good will of others. Of course, Church never came across any of the scammers in this year's "Insurance Fraud Hall of Shame." Their heinous acts could leave even the eternal optimists among us doubting humanity. After all, we talk about how so many policyholders unknowingly misrepresent their risks. For the transgressions of this crop of criminals, insurers paid out a lot of money unnecessarily. Meanwhile, victims paid dearly, and with their lives in select cases.
One theme in this month's issue is dispelling misnomers associated with insurers' use of smart technology and various data to investigate claims. The new Risk Management column alludes to the negative connotation of an omnipresent "Big Brother" deity in examining fleet auto risks, while Peter Lynch and Paul Blanchard outline how prudent adjusters and subrogation attorneys are using EDRs to shape smoother claims handling and decision-making processes when evaluating liabilities. There is a lot of good stuff here!
The 2011 litany of dismal stories enumerating crushing economic hardships and curbed consumer spending have certainly curtailed a festive mood for many. Just take a look at my dog, Roxie, here. She is outwardly ungrateful while posing in this non-ironic headband from (grand) Mommy Dearest. With her trademark ears frowning, she radiates displeasure at the demeaning photo opportunity orchestrated by the plebes that fetch her Eukanuba.
Feeling the magic yet? Really though, does Christmas live in your heart, or perhaps faint optimism about the year ahead? Aside from Judeo-Christian dogma, this time of year seems to evoke the best (and worst) in all of us.
Roxie will surely endure more thrills in the coming year, and we here at Claims have some thrills of our own lined up. Our 2012 agenda will continue to represent a merging of media options so you can more readily access the information you need, when you need it. Be sure to go to PropertyCasualty360.com to look at the compendium of fraud tales and the in-depth companion to our "Legal Year in Review." Let's leave 2011 with good will to all and march our weary souls into 2012 hoping for light, love, and economic and emotional recovery.