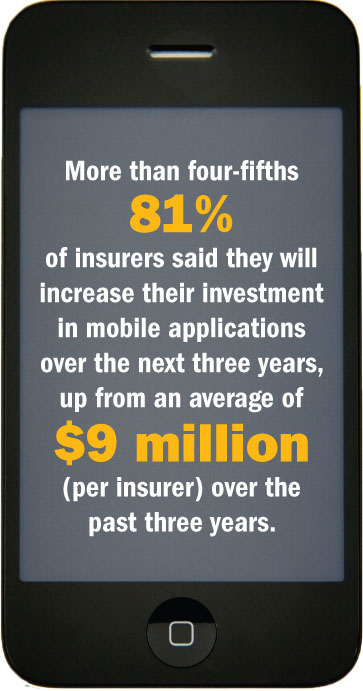 Plenty of room for improvement exists among insurers looking to maximize their customers' experience and gain new business, according to a new survey.
Insurers that individually invested $30 million, on average, in analytics and mobile capabilities over the past three years still believe they should be doing more to win over customers, according to the survey by Accenture.
Accenture gathered data from 119 major insurance companies around the world—equally divided between life and property-and-casualty carriers—in 24 countries. The survey was conducted by market-research firm Kadence Ltd. from February through May of this year.
The findings suggest an industry that recognizes its customers' needs but falls short in best serving the consumer.
For example, while the vast majority of insurers (91 percent) believe future growth depends on providing a special customer experience, most of them do not currently see themselves as providing differentiated products and levels of service.
More than three-quarters of the respondents (79 percent) rate themselves as "average" or "among the weakest in the industry" in their ability to provide customers with multichannel access to their services—including through mobile devices.
More than two-thirds (70 percent) rate themselves as "average" or "weak" in their ability to tailor products and services to customers' needs—and almost two-thirds (64 percent) gave themselves similar suboptimal ratings in their ability to provide innovative products and services.
"To pursue profitable growth, insurers need to achieve the kind of differentiation that allows organizations like Apple to charge a premium while building customer loyalty," Thomas Meyer, managing director of Accenture's insurance practice for Europe, Africa and Latin America, said in a statement.
Among the survey's findings:
More than two-thirds (68 percent) of insurers say they will increase spending on analytics capabilities over the next three years, up from an average of $21 million (per insurer) over the past three years.
Half (50 percent) of the respondents leverage data about customers' lifestyles (such as hobbies and interests) to analyze their needs and expectations, but just 37 percent of them leverage usage patterns, such as driving habits and personal needs, to do so.
Only 16 percent of insurers use external data such as social media "to a great extent" to supplement customer information available internally.
The findings also revealed that insurers recognize the potential of mobile, even if they admit they're behind the curve in utilizing that platform.
Only 15 percent of insurers, on average, provide services geared for mobile devices, such as information about products sold, quotations and account management, while more than half (54 percent) offer these services online. More than half (58 percent) of respondents, on average, said they will offer these services through mobile devices in the next three years.
More than four-fifths (81 percent) of insurers said they will increase their investment in mobile applications over the next three years, up from an average of $9 million (per insurer) over the past three years.
Insurers, Meyer said, should explore the possibilities that a mobile ecosystem offers: "By partnering with other key players, such as a bank or online payment service, a retailer, or a telecommunication operator, the insurer becomes part of a mobile initiative that gains wide adoption more quickly, offers greater functionality, and opens doors to large numbers of new customers."