The Occupy Wall Street (OWS) movement, which has now spread to a number of cities across the United States, will test both public and private entities when claims start rolling in, says one risk-management expert.
While most cities are accustomed to demonstrations, they may not be prepared for an ongoing movement like OWS, says Lori Seidenberg, a member of the Risk and Insurance Management Society's board of directors, who serves as board liaison to the society's Standards & Practices Committee.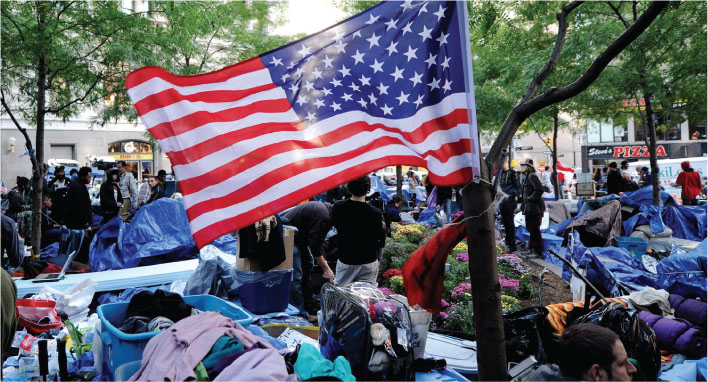 "Something like this could not have been anticipated by any risk manager," she says. "I know there is always a chance of a gathering in a park, but I don't think a prolonged occupation was on anybody's radar."
Seidenberg, also vice president of enterprise risk management for Centerline Capital Group in Manhattan, notes that while the perception is that Zuccotti Park is a public space, it is owned by a private organization. "I can't think that even [the owners] thought this would happen," she says, pointing out that at any time, they "can technically pull the plug on this."
The reason they haven't, she says, is that the owners don't want a negative outcome or to appear to be unsympathetic to occupiers, "even though it's causing them a lot of grief."
As well as impacting the park itself, she says the protest has a significant impact on local businesses. For example, even though portable toilets are set up, there are not enough of them, meaning that protesters frequently request the use the facilities of nearby shops and restaurants.
This creates more potential for injuries on their premises and for loss of income, Seidenberg says, adding, "I know a lot of businesses down there are hurting because the usual Wall Street regulars who eat in the restaurants are staying away. So they have contingent business-interruption loss."
Even though those businesses may be losing money, their losses most likely would not be covered by their insurance policies, she explains, as the loss is not the result of government or civil authority action.
"I think this is going to challenge some coverages if people can't get to the area or choose not to go there, or if it gets so bad that the city closes the park for health reasons. There is a lot of gray area in coverage, and it should be interesting to see what the carriers decide," she says.
And with potential liability issues, Seidenberg notes there are even more gray areas. Should someone be injured, such as a demonstrator, area employee or resident, "it is a privately owned park, so you would think the first recourse would be against the park owners—but the city is definitely involved." She wonders if there is an indemnity agreement between New York City and the park to provide coverage or pick up any claims made by the public.
Another consideration: If a protester is injured on another person's property, would the park owner be liable for that as well?
And if the occupiers are injured but are there voluntarily, can they be held responsible for their own actions, or would they be able to follow the letter of the law and sue the property's owner?
"Usually the intention of general liability is to cover accidental things that policyholders are responsible for," Seidenberg says. "And you have to prove some level of negligence as well. But if this is something that can't be anticipated, then you can't really establish negligent or sudden and accidental."
If sued, would the park owner in turn be able to sue the city?
"I definitely think there is going to be subrogation potential, and they will pursue subrogation to recoup costs—not just for lawsuits, but to maintain the park, and after they leave, to clean it up," she says, noting that the OWS site has become a tent city that boasts a medical tent, media tent and food tent, among others.
She adds that some local residents are also having trouble. "I've heard of cases where the protesters have damaged personal property. I also understand there have been confrontations [between protesters and local residents]," she says.
Public workers also are at risk. "The police who are there are being subjected to [conflicts] day after day. Their public health and safety is in question," she says.
"I think you'll start to see lawsuits coming from the people occupying Wall Street as well, and at what point do you determine liability?" she asks. "Is it something they caused themselves, or was there an expectation that the police would protect them from certain [risks]?"