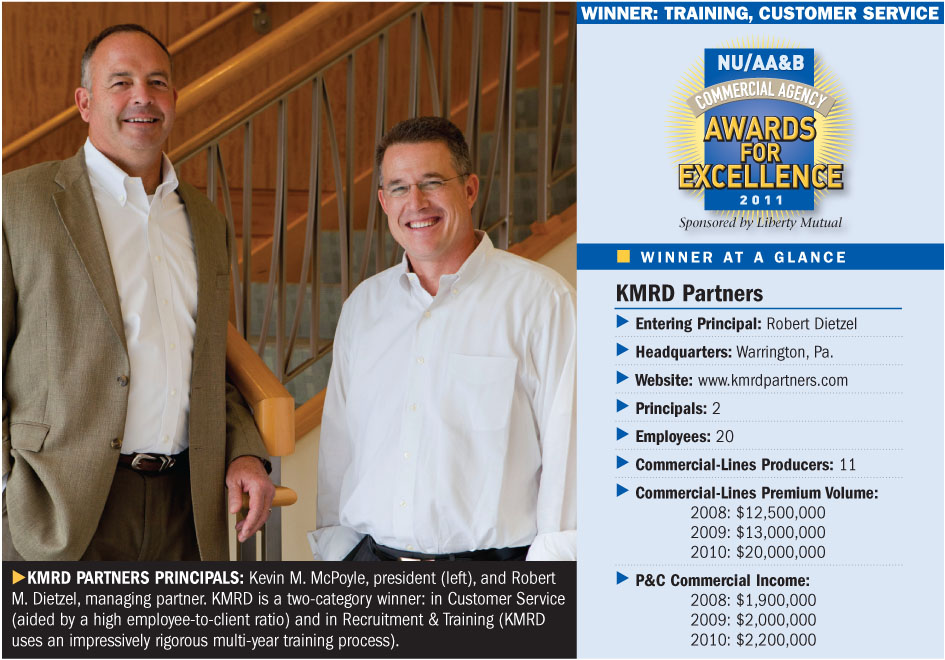 Having one of the highest employee-to-client ratios in the insurance industry—one servicer for every two accounts—means, as you might expect, that KMRD Partners, winner of the 2011 NU/AA&B Commercial Agency Awards for Excellence in Customer Service, can provide exceptional attention to every piece of business.
And indeed, the firm, founded in 2005 by Kevin McPoyle and Robert Dietzel after they spent 12 years at a top agency in Philadelphia, prides itself on its client-focused culture—which includes, for example, reviewing with a magnifying glass every term, condition and exclusion when a policy is first issued by a carrier.
"Most agencies are built on a volume of transactions," Dietzel says. "They simply do not have the resources to read every policy they sell in detail."
What might surprise you, however, is that this determination to staff the firm so that it can offer high-level risk-management consulting services—akin to what a lawyer or accountant offers—results in KMRD having to be somewhat selective about those companies with which it partners.
Because it delivers high-value extras to its clients, KMRD often charges a risk-management fee—which prospects sometimes feel raises the cost of insurance to an unreasonable amount.
"We meet this challenge without hesitation by demonstrating that this fee enables us to dedicate the resources that make it possible to actually lower the total cost of risk," says Dietzel. "We back this up with recent analysis that shows KMRD delivering a savings that is 12 percent better than the industry's average over the past six years when clients select us as their exclusive representative in the insurance marketplace."
What happens when a prospective client pushes back on the fee that other agencies that rely on commission alone aren't levying? "When you earn every dollar and deliver a return on investment, it is easy to talk about," says McPoyle. "If a prospect does not understand this approach, we stop our conversation and focus our resources on finding clients with values that align with ours."
The approach has paid off. The agency grew from $12.5 million in premium volume in 2008 to $20 million in 2010. "We developed a risk-management model that we thought would sell well at the time, and we were right," Dietzel says.
"Robert and I have been in this business for 18 years. We continue to meet executives, CEOs and owners and show them how we conduct ourselves. Judging from the comments we receive, I know we are doing something special here," McPoyle says of his agency, headquartered 20 miles north of Philadelphia in Warrington, Pa., that employs 20 individuals, including 11 commercial-lines producers.
The agency also has an office in Limerick, Pa. that serves the needs of small to midsize businesses.
RISK-MANAGEMENT MENTORS
Perhaps the key differentiating service that KMRD offers is its ability to act as the risk-management department for its middle- and upper-middle-market customers—companies not large enough to have their own full-time risk-management staffs, but big enough to have a wide variety of potentially catastrophic losses.
KMRD thoroughly assesses the operational risks and cost of risk that an organization faces, spending time inspecting the workplace to gain a first-hand perspective and to identify areas that could expose the company to uninsured losses. The agency then develops a cost-effective loss-control plan using a combination of insurance, engineering, contractual risk-transfer provisions, training and education.
"We understand that insurance is actually the most expensive way to transfer risk," McPoyle says.
With the client's input, KMRD next establishes a "Risk Management Initiatives Worksheet" that documents mutually established loss-prevention goals (with completion dates) and specifies the parties accountable for each step.
"We've allocated our resources so we can get deep into the various details of our clients' culture, risk appetite, exposures, operations and unsolved issues," McPoyle says, adding that his team has the tools to help clients with disaster-recovery planning, business-interruption analysis and mock OSHA audits.
"We do not just make recommendations; we help [companies] accomplish things they didn't have time to address in the past," Dietzel says. "When these risk-management initiatives become accomplishments, we show the carriers an improved risk profile which results in better pricing and coverage."
PROPRIETARY TECHNOLOGY, DATABASE GOLDMINE
In addition to its obsessive focus on risk management, another edge that sets KMRD apart is its use of technology.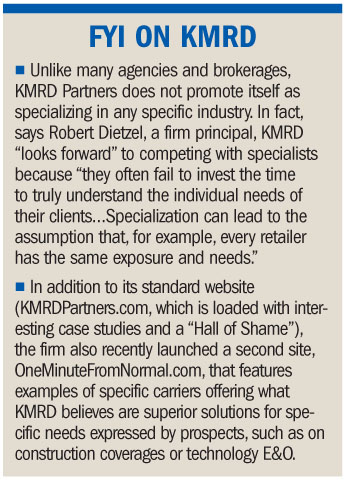 Its proprietary management system, KMRD XChange, is a full-powered collaboration tool that gives a client 24/7 access to its insurance files, including loss information and analysis reports, insurance-rating data, contract reviews and correspondence files.
And because the firm believes that collaboration is key to a successful client/agency partnership, the files are not only accessible on a "read only" basis—clients can also communicate changes by updating files themselves.
KMRD XChange also has numerous self-service features, letting clients prepare their own certificates of insurance and print their own auto ID cards.
The firm's document-management system enables it to consolidate all the forms-analysis projects it has ever done (more than 5,500, with more added every day). For example, it can search the system for all "General Liability Coverage Summaries" for various companies—enabling KMRD to compare a new or renewing client's rates, as well as coverage enhancements and restrictions, with others in the database.
"The value of this process is that a company receives the best coverage—not only the best coverage in its industry, but the best across all industries," says Dietzel. "We are not aware of any other broker that approaches the process in this manner.
"Most of the enhancements we negotiate [based on competitive benchmarks in the database] come at no additional cost," Dietzel adds. "The underwriter will often not offer an enhancement without being asked. By simply asking the question, we are able to make a difference for our client."
INTENSIVE TRAINING FOR NEW RECRUITS
KMRD, also a winner of the Recruitment, Training & Perpetuation category, only hires team members who can readily represent the agency's code of ethics, which is placed on the back of each employee's business card:
Integrity first.
Clients are the focus of everything we do.
Excellence is in the details.
We are continuously improving and learning.
Dietzel stresses that the agency finds employees through various channels and doesn't limit its search to only those with insurance-industry experience. "We look for folks who are business people first," he says, "and who also have the intellectual curiosity to absorb technical insurance and risk-management knowledge."
McPoyle recalls how one recent producer hire had worked for a national payroll-services company. This producer expressed frustration that his back office there could not execute on the products he sold—and therefore he thought he was making hollow promises to potential clients.
"Here's a guy who wants to do a great job selling, but also has the conviction and commitment to be great at customer service," McPoyle says. "Attitude trumps aptitude with respect to our initial evaluation of a potential employee."
New employees enter a training program—lasting, incredibly, several years. Weekly training sessions include more than 100 coverage areas, and new employees must master each one prior to working without supervision.
New employees also meet regularly with principals and executives, where coverage and policies are reviewed word by word to ensure the new employee understands how a policy is built and what the implications of a particular policy mean to the customer. Daily training sessions include "coffee talks" where the previous day's events are discussed.
McPoyle credits the training program with instilling a more precise agency-knowledge base. "Bob and I come from a mindset that places great emphasis on training. We have moved it up a notch—to observe, learn and participate in the process in a real-world environment."
The agency's mentoring program pairs each junior producer with a senior producer and a high-level risk manager; discussions occur around topics such as claims management and resolutions, paperless workflows and efficient operating processes.
Three employees work on every account, and a junior producer is unable to produce on his own for a period of several years. This process takes the pressure off new employees—but can be a problem for the impatient.
"For many people, this can be frustrating," Dietzel admits. "They were very accomplished in their previous careers, but now they can't sign a letter. It takes time and commitment on their part, but ultimately everyone will incorporate their unique skills with the KMRD philosophy of making a difference by managing the cost of risk."