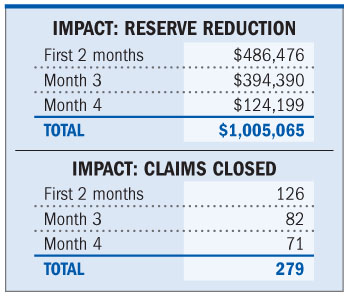 A publicly held company with offices throughout the U.S. accumulated more than $10 million in workers' comp claims over three years. The $3 million of reserves was a burden on its balance sheet and earnings. Its claims-reporting processes and management systems were not efficient enough to keep on top of the situation.
KMRD Partners redesigned the company's claims-reporting and management process, including training employees in the company's 48 offices. Each office had access to the company's claims-reporting, accident-investigation and return-to-work program forms and instructions via the internet utilizing KMRD Xchange.
KMRD also implemented a vendor-accountability program that ensured the client received the services it deserved.
In just four months KMRD's involvement yielded $1,005,065 in reserve reductions and 279 closed claims.