Life has few certainties, but I'd be willing to bet my existence that every single person reading this issue of NU remembers exactly where he or she was on Sept. 11, 2001. It's a day whose events have been seared indelibly into all our memories.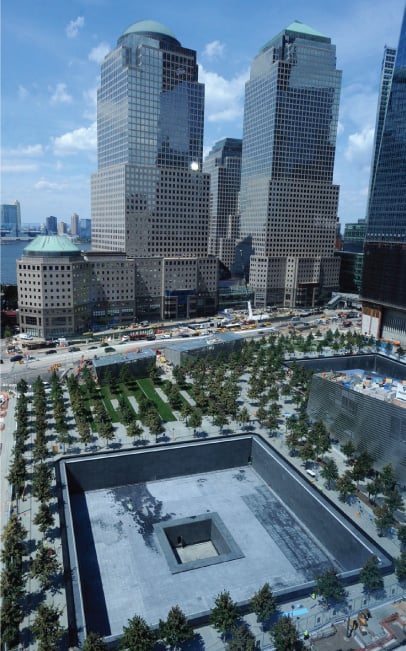 I lived then and still do a little less than two miles due north of the World Trade Center. The towers were an easy landmark for directions ("when you leave the subway, head for the WTC") and close enough that I felt I could reach out and touch them from my roof. They seemed to watch over my neighborhood like benevolent giants.
As it happens, I was in San Francisco on business on the day of the attacks. As I watched the towers fall on television, I heard a sound escaping from me that is best described by the great old Irish word "keening"—a sharp, piercing wail. And I discovered that what I had seen in movies, but had never really believed, was true—a brutal emotional shock actually can make you retch.
While I knew that tens of thousands of people were enduring unspeakable horror that morning, my thoughts were concentrated on one person: a best friend, whose wedding I had only recently attended, who worked on a very high floor of the South Tower.
For hours, I could only assume he was dead. Finally getting through to him to learn he had escaped and survived—unlike dozens of his colleagues—was, for me, the most intense moment of that awful day. (This friend is a well-known figure in the insurance industry, and his quotes are frequently featured in these pages.)
Given the concentration of insurance-industry companies in the towers, I know many of you lost friends and loved ones that day (see comments from leaders of Marsh and Aon on page 12), and I know that's a pain that never quite heals.
But oh-so-slowly the physical space at Ground Zero has come a long way in being repaired, with the National September 11 Memorial open, and One World Trade Center, formerly known as the Freedom Tower, rising high into the sky and signing up high-profile tenants.
And with a full decade now between us and that day, it seemed like the right time to ask insurance executives to reflect on and assess how the industry has changed in the intervening years.
While the details of the answers are all quite different, there is an overwhelming unanimity on one point: The events of that day permanently altered the property-insurance industry and the risk-management profession.
Bryant Rousseau
Editor in Chief brousseau@sbmedia.com