A fire, hazardous chemical spill or bomb within a building obviously would necessitate immediate evacuation to a safe location outside the building. So having a solid, rehearsed plan in place could mean the difference between life and death.
In fact, evacuation planning and fire drills have been required by fire prevention codes for decades.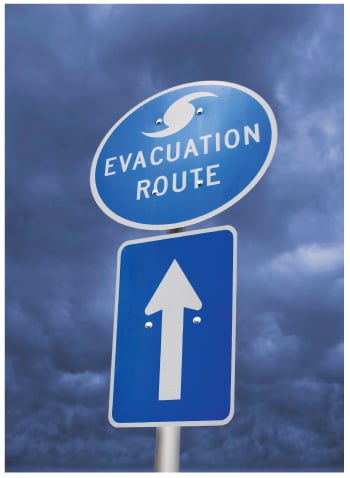 Occupational Safety and Health Administration (OSHA) regulations (29 CFR 1910.38) for employee safety in the workplace require emergency-action plans that include employee evacuation. An effective evacuation plan will include:
1. An Evacuation Team
An evacuation team should be organized with a leader, floor wardens, searchers, stairwell monitors, aides to assist persons with disabilities and assembly-area monitors.
While small facilities with a limited number of occupants will require a minimal team, a large facility with hundreds or thousands of occupants, such as a high-rise building, will require an appropriately larger team.
The evacuation team should also coordinate with the facility's emergency-response team and public emergency services.
2. Fire Alarms/Mass-Notification System
Make sure that everyone can hear and understand the evacuation-warning signal.
3. Adequate Means Of Egress
Walk all buildings and verify there is the required minimum number of exits as specified in the applicable building code, or life-safety code, and OSHA 29 CFR 1910 Subpart E.
Also keep in mind the travel distance to an exit should not be excessive. Exits need to be properly marked with visible signs. Any obstructions or impediments to egress—especially stairwells and landings used for storage—should be removed.
4. Safe Assembly Areas Defined
Identify safe assembly areas away from the building. Assign a separate assembly area for each floor or area of the building and post signs so everyone knows where to assemble for a headcount.
For buildings within a city center, scenarios where the closest assembly area may not be accessible, or may be used by others, need to be taken into account. For these cases, identify alternate assembly areas farther away from the building.
5. A Method Of Accounting For All Evacuees
Procedures should include a process to account for everyone known to be within a building—including visitors. A roster of all employees should be kept at the front desk along with the visitor log.
When a building is evacuated, the employee roster and visitor log should be removed by the receptionist and used to conduct an accounting of all persons.
Electronic-notification systems are common, and they can be effective tools if employee information is current and the systems can be used promptly and remotely following evacuation.
OTHER CRITICAL EVACUATION POINTS TO CONSIDER
Also identify anyone with temporary disabilities or functional needs who will need assistance evacuating. This may include people with mobility, sight, hearing or cognitive impairments. Plans should address their locations and how they will be evacuated or protected within areas of refuge while awaiting rescue by public emergency services.
Consider providing evacuation-assist devices and training staff to evacuate people with mobility impairments.
Manufacturing or other facilities where personnel must delay evacuation until they can safely shut down process systems require special planning and precautions.
ARMED INTRUDERS & LOCKDOWNS
If an armed person is known or believed to be inside a building and seeking to harm people, a protective action called "lockdown" should be employed.
Unlike evacuation, no internal team can move building occupants to safety when an armed perpetrator is roaming the building. Rather, every person must be able to hear a lockdown warning and take cover immediately.
A public-address system that can broadcast a lockdown warning throughout all buildings is essential. The system should be audible and intelligible throughout the facility.
A number of people should be able to broadcast a warning from multiple locations as soon as a threat is detected. Also keep in mind that the security desk located adjacent to the front door may be the first target of an armed aggressor.
Everyone needs to know exactly what to do when a lockdown warning is broadcast. The goal is for all to become silent and invisible—which will make it more difficult for the armed perpetrator to find a target.
Anyone present should hide within a closed and locked or barricaded room with the lights off. They need to be prepared to remain in lockdown for a lengthy period of time, until police or a recognized voice sound the "all clear."
TRAINING, DRILLS & EXERCISES
Training, drills and exercises are essential to ensure that everyone can execute the emergency-response plan. Evacuation drills also are required by many regulations. More importantly, they teach everyone how to take appropriate action to protect themselves and those around them.
Sound the fire-alarm system, emergency voice-communication system or mass-notification system to familiarize everyone with the warning sound.
Evacuation drills need to be designed to challenge people to find a secondary exit and have everyone travel to assembly areas. Train anyone assigned to assist people with functional needs and practice the use of evacuation-assist devices as part of the drill. Test electronic-notification systems and verify the ability to account for all evacuees.
Lockdown drills require only a limited amount of time and can be done in any weather. Before conducting a lockdown drill, raise awareness of lockdown procedures and then announce the drill. Evaluate to make sure everyone knows where to go and how to take cover.
Keep records of all drills—especially drills required by regulations—and review the records as part of an overall preparedness-program review process.