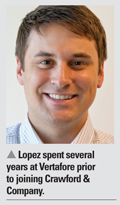 Much to our collective dismay, the claims profession continues to be an untold story in many respects. As new adjusters will readily tell you, the public perception of P&C insurance and how the industry prepares its troops is not always congruent with their day-to-day triumphs. Adapting and adopting training approaches to fit job constraints is a familiar, often perplexing struggle for organizations across the board, not to mention the individuals who help keep them humming along.
Also shaking up today's workforce and training mechanisms is what many have dubbed "The Millennial Invasion," referring to the entrance of those born in 1980 or later. Although the energy of this new wave of professionals has been disorienting for some, it has been catalyzing and refreshing for many more.
Claims' Christina Bramlet learned more about the phenomenon from Ricky Lopez, a bona fide Millennial himself and fresh face at Crawford & Company's headquarters in Atlanta, Ga. Lopez shared his own reality and how insurers' progressive learning strategies make sense for claims professionals across the generational divide.
Being relatively new to the P&C realm, what are you first impressions of it?
I spent the last four years either consulting for or directly serving on the training front. I started at Crawford a little over a month ago and have definitely been amazed at all of the avenues for career growth and learning the nuances of adjusting. In my opinion, insurers are staunch advocates of creating training resources that cater to the needs of their employees. Here at Crawford, management is always pushing everyone to seek growth opportunities and pursue certifications. Also, most of the companies I have worked with in the past would actually allow time during the workday to complete training on a particular application or CE.
In terms of impressions, claims adjusting is deceiving. Some look to insurance in general and think it is boring or a default option. There are mundane tasks at any job or career, but claims is unique in that you have a chance to impact policyholders' lives. It is an exciting world to be part of, and those outside the industry would have no way of knowing that. Whether on the front lines adjusting in the field or back at the office, everyone is pitching in and contributing.
How are impediments to learning addressed?
The time and funds required for education are considerations that should be carefully weighed. I think that insurance companies are progressive in this regard. For example, at Crawford the training is very much incentivized—not only for elevation at the company level but also for personal growth and specific skill sets. The company has established clearly defined career paths for property adjusters, and what is necessary in terms of the coursework , knowledge and certification(s) required for advancement. Adjusters realize that advancement opportunities await once these requirements have been satisfied.
As a "Millennial," what do you think insurers are doing to engage your demographic?
Well, I can only speak for myself, but I think that our generation wants to see a swift return on investment. Insurers are able to offer concrete expectations, and once certain steps are completed, you can progress to the next level. There has been a transition from the classroom model of learning to the Web and soon to mobile devices, where we can take courses on an iPhone, iPad, or smartphone. Knowing we don't have to necessarily incorporate this in the regular work means you will be able to brush up on certain concepts or even work toward completing a course while sitting at the doctor's office. So it doesn't feel as overwhelming when training isn't consuming a large chunk of the workday.
What is Crawford doing right to train Millennial adjusters?
Crawford is forming university subcommittees to connect with younger workers on a deeper level. The recent formation of the Young Professional Insurance Executives (YPIE) group is one notable stride. Part of the mission of YPIE is to tell the P&C story, but also to develop a forum where new entrants to claims have a voice to effectuate changes. We have formed groups of communities online as well. I like that training doesn't feel like being force-fed content. In a way, the preferences of today's worker of all ages are challenging the insurers as a whole to become more involved and grow skills that baby boomers have spent years carefully procuring. Interactive environments in lieu of prolonged classroom training and hands-on learning seem to be key. Compared to just 5 years ago, training looks a lot different. Today, you can just pull up a browser and join the virtual classroom of sorts and have a conversation with others in the industry. This is the future of training.