With insurance fraud ranked as the second largest economic crime in America (income tax evasion holds the top spot), surveillance is frequently used to help evaluate the legitimacy of insurance claims. Industry insiders estimate that carriers and TPAs spend more than $100 million a year on surveillance to investigate suspect and questionable claims.
With such a large investment, it is no surprise that companies want objective and precise claim savings information derived from surveillance to accurately calculate their return on investment (ROI).
Calculating Savings Is Tricky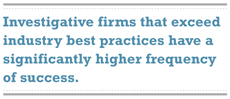 Quantifying objective claim savings based upon positive surveillance results can be a tricky proposition at best.
"We have found that the system we use to determine the ROI from surveillance cannot be calculated as an absolute or definitive claim savings number," says David Shoaff, the southeast region worker's compensation manager at ServiceMaster. "However, we have developed a scorecard that greatly enhances our ability to measure the performance of the surveillance vendor and generate acceptable claim savings data. There are times that other variables impact possible claim savings in addition to surveillance.
"Claims are very dynamic and rarely one dimensional," Shoaff continues. "There are clearly circumstances wherein claim savings are achieved, but they are also immeasurable. For example, there is a real and definitive deterrent by using surveillance within the workplace to investigate questionable claims. This deterrent has a true value to any business, but it is difficult to quantify and equate into measurable savings."
Whatever methodology is used to determine the ROI achieved from surveillance, it is absolutely necessary to use a consistent metric that is approved by management, conservative by design, and routinely reviewed. This review process is critical to ensure that the subjective inputs are compatible with the established claim savings formula.
Collected ROI information that is maintained over a period of time can also be an important trending resource.
According to Glen Distefano, COO of Sunz Insurance in St. Petersburg, "Determining the ROI from surveillance is an imperfect science; however, we are confident and comfortable that when successful surveillance is obtained, it does reduce our claim exposure. Equally important, we use this ROI data to develop specific claim trending patterns. These trends are just one of the many factors that positively impact our claim decisions.
"Surveillance can provide a substantial economic benefit to the carrier," Distefano adds. "Not only will it ultimately save claim dollars, but depending upon the jurisdiction, the carrier is legally bound to investigative and report suspect claims. I am a believer in surveillance. It can and does work. It must be effective, professional, and surpass all best practices to consistently have a positive impact on claims results."
What Is Positive Surveillance?
Surveillance is a regulated industry, and specific licensing is required in most states.
"Surveillance is the unbiased documentation of a person's activities," according to Dave Nottoli, a licensed private investigator and fraud expert with 20 years of experience. "When referring to a successful, positive or effective surveillance within the context of an insurance claim, the claimant's documented activities clearly exceed his stated physical abilities. Simply put, this contradictory evidence impeaches the claimant, ultimately minimizing the value of his claim," he says.
Obtaining successful and effective surveillance results is often viewed as simply a matter of luck. However, the facts are clear: Investigative firms that exceed industry best practices have a significantly higher frequency of success compared to companies that deviate from these high standards.
In addition to the surveillance vendor, the claims handler must have the ability to properly identify the red flags associated with the claim in order to facilitate an investigative assignment. It all starts by identifying which claim should be investigated.
The successful working relationship between the adjuster and the surveillance vendor will have a direct impact on the ability of carriers/TPAs to achieve a positive ROI on their surveillance expenditures. The success of this unique and dynamic relationship is the foundation to building a program that will create positive surveillance results, thus justifying the surveillance expense.
A culture of fraud awareness within the entire defense claim team is paramount and must be developed and maintained. This cooperative effort includes the adjuster, employer, defense counsel, and investigative vendor. All decisions must be based upon the facts of the claim and the integrity of the investigation to ensure that righteous claims are paid and suspect claims are investigated.
Today it is more important than ever to justify every expense and to properly ensure that a positive ROI is being obtained when using surveillance. It is clear that effective and successful surveillance does lead to claim savings. Insurance research entities and investigative organizations estimate that, on average, companies save approximately $7-$10 for every dollar spent on anti-fraud efforts. In our current economic environment, that is an investment paying real dividends.