The typical P&C insurance company claims professional is dedicated, highly skilled, and, according to data, more than 45 years old. Senior claims professionals have accumulated a wealth of experience and knowledge, but the industry needs to take a hard look at where the next generation of talent is coming from.
Of course, the talent problem is not unique to claims. Insurance is just one of many industries facing a shortage of skilled professionals. By some estimates, 50 percent of today's insurance agents will retire in the next 10 years, leaving the industry without its highest-producing salespeople, and almost 70 percent of adjusters are past the age of 45. There are already shortages among mid-level claims professionals with the necessary skills in advanced analytics. To make things worse, insurance stands among the three least-attractive industries for college graduates to enter, ranking 97th out of 100, according to The Wall Street Journal.
Transforming Programs
Attracting and keeping the best and brightest members of the workforce requires a transformation in how insurers manage ability, motivation, processes, and tools. For instance, consider ability first: employees must have the right skills and knowledge to be effective. There are three critical elements that support this goal. The first is making sure jobs and roles are clearly defined in terms of the skills, knowledge, and behavioral requirements needed to drive results. Once this is done, companies must ensure that their learning programs are targeted to individual needs based on those jobs and roles, and made available to enhance performance. The third element is continually monitoring learning programs to keep them aligned with changing market realities.
To accomplish this, the insurance industry needs to re-evaluate not only its traditional recruiting practices but also its methods of handling the existing workforce. The insurance industry has developed what is essentially an "apprenticeship" model for developing talent in claims processing. The learning curve is long, and promotions for adjusters and underwriters are slow. Adjusters may become locked into a particular area, without receiving exposure to a broader range of disciplines. New Expectations, Challenges
This model does not really fit the way younger workers look at the world and the workplace. Those dubbed "Millennials," or part of Generation Y, for example, tend to expect immediate feedback at work, a flat, organizational structure, and career development based on recognizable contributions to the success of the business, not necessarily based on time served. Additionally, younger workers operate in a digital environment where information is shared broadly and instantaneously, not passed down through a defined hierarchy. This new crop of workers is collaborative and team-oriented, and may take access to technology for granted. Millennials' use of technology creates a seamless environment that mingles business information, communication with friends, and personal activities.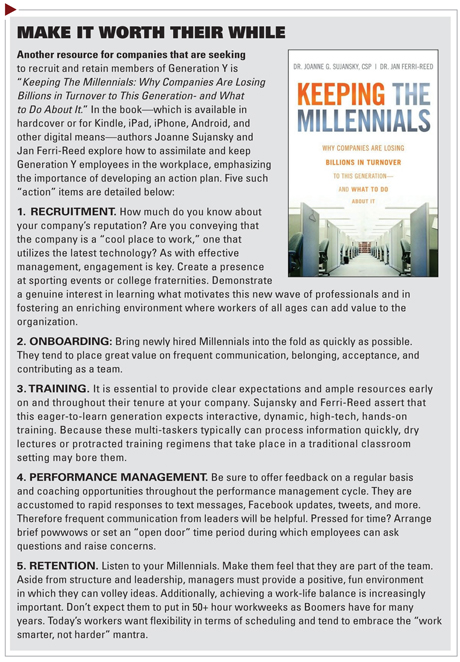 When these individuals enter the workforce—especially in non-glamorous industries such as insurance—they often find that their personal use and knowledge of technology goes beyond what the organization currently provides or accepts. The corporate structure, understandably concerned about issues of privacy, security, and compliance, may discourage or forbid the use of some types of social media or mobile communications. This may not sit well with younger workers who are contemplating a career in insurance.
Another problem for the industry is what we call the "pipeline" approach to recruitment and retention. Following this philosophy, insurers recruit large numbers of employees to retain just a few who ultimately stick with the business. They do this rather than put the effort into finding people with the kind of interest and aptitudes who would make proficient claims professionals in the first place.
Being Proactive
While the chances of insurance turning into a "glamour profession" in the next few years are slim, there are some meaningful steps P&C insurers can take to address the coming claims talent shortage.
Communicate better. Insurance companies need to communicate consistently and clearly with their potential pool of recruits. Reaching Millennials may require new avenues, using channels such as social media and mobile applications, and new messages. For example, the idea that insurers cross-train their claims workforce resonates strongly with Millennials. The increasingly sophisticated technologies used by claims professionals are of strong interest to younger applicants, as well.
Rethink recruiting techniques. During the financial crisis of 2007 and 2008 and the following years, many insurers cut back not only on recruiting and hiring but on related initiatives such as mentoring and training. Insurance companies are not only reinstating such programs, but some are moving toward "sponsoring" university programs, examining, for example, how to build the workforce of the future by providing funding to local universities to help them develop their actuarial and underwriting capabilities for undergraduate students. Much the same way that insurance companies are analyzing their best customers and pursuing them aggressively, they must apply the same rigor and analysis to sourcing and hiring the employees with the best skills, behaviors and competencies.
Reposition claims as adding value, not cost. Our experience with insurers' talent management programs indicates that many potential recruits are drawn to the revenue-producing side of the insurance business, for example, to the sales field or underwriting. Insurers need to emphasize the importance of the claims function, not only in reducing expenses, but in also providing the kind of customer service that leads to real competitive differentiation. Experiment with new operating models. Once employees have come to work, they need an environment in which they can thrive. As noted, however, many insurers are still locked into organizational structures that do not support this goal. Insurers need to integrate people, processes, information and technology to create more effective operating models and a more rewarding work experience. For instance, some insurers are developing workload balance models, supported by collaboration technology, that direct work to the right teams or individuals, regardless of physical boundaries. More efficient approaches to claims processing can free up adjusters in their efforts to address problem claims, adding a new level of interest to the work while increasing the value added through the function.
Look ahead, not back. Too many talent management programs look back to measure performance, rather than look forward to determine what factors are really indicative of future success in the claims field. What we call "human capital analytics" can help insurers answer important questions: What programs really drive better workforce performance? Which top performers in the organization are at risk of leaving and how might they be enticed to stay? Answers to these questions and others like them can have measurable impacts on performance: cutting HR expenses, reducing workforce costs, increasing employee productivity, and improving service to customers.
A Reality Check
There are signs that some organizations are coming to grips with the reality of an aging claims workforce. Lloyd's, for example, announced the launch of the Lloyd's Claims Talent Programme last fall, with the intention of recruiting and training 50 claims professionals over the next 5 years. Other insurers are instituting (or re-instituting) formal mentoring programs for young professionals—programs that, in some cases, had been dropped during the financial crisis as the companies scrambled to protect profitability.
As companies strive to address the anticipated shortfall in claims talent, they should also keep in mind the need to communicate effectively with the established, mature claims team. These individuals not only represent the institutional memory of how to process claims properly, detect irregularities, and provide outstanding service; they essentially drive the claims engine every day. Companies need their motivated presence now more than ever. Forcing them to adapt new technologies without familiarization and training can be disruptive and demoralizing.
As an important first step in addressing the technological issues involved in recruiting and retaining both new professionals and seasoned workers, some insurers have opened up dialogues between their human resources and IT departments. The idea, in part, is to identify areas where individual use of technology may be ahead of where the company currently is operating. Social media is a prime example; younger workers were well ahead of the corporate curve in their adaptation of Facebook, Twitter, and other social media channels. The insights and observations of these workers have been invaluable in developing tools that incorporate social media in the search for unusual or suspicious claims activity.
Generational differences have always existed in the workplace, but rarely has the divide been so sharp between the technologically adept younger workers and their experienced (but less tech-savvy) older counterparts. In confronting the growing claims talent gap, insurers must act quickly to keep older workers' knowledge and skills in place while undertaking a smooth transfer to a new generation of technologically sophisticated, eager younger workers.