The data source for this report is the National Association of Insurance Commissioners Annual Statement Database via Highline Data, which is a Summit Business Media affiliate of NU. All data is net of reinsurance and current as of early July.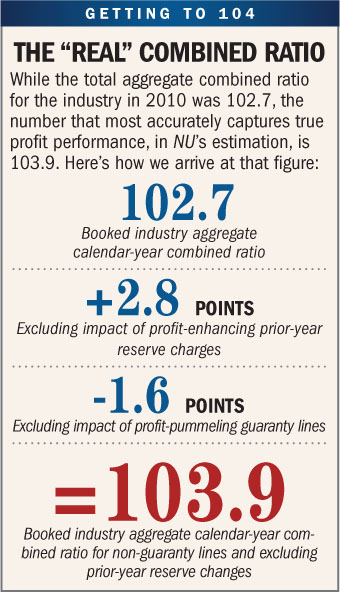 Data for our Top-100 and Top-20 group rankings was retrieved from the Insurance Analyst PRO online product of Highline Data, which excludes data for some state funds (including the State Compensation Insurance Fund in California), per an agreement with the NAIC.
For information on Highline Data, contact Chris Rogers at 877-299-9424.
Rankings: Groups and companies are ranked based on net-premiums written for 2010. Data for the rankings is from the "Underwriting & Investment Exhibit" of U.S. statutory filings.
Group-premium totals are based on aggregated results of combined and individual filers calculated by Highline. As a result, the group totals for the Top-20 groups do not always correspond to the sum of the individual companies listed.
Combined ratios shown on the ranking exhibits are essentially calculated as the sum of a loss ratio (ratio of incurred losses, including loss-adjusting expenses, to earned premiums) and an expense ratio (which compares underwriting expenses such as commissions to written premiums). Combined ratios also include ratios of dividends to earned premiums for companies that reported dividends to policyholders.
Line-of-Business Results: Industry-wide combined ratios and underwriting profit/loss figures for individual lines of business are based on data from the Insurance Expense Exhibit (IEE) of U.S. statutory filings. Differences in the companies reporting IEE data and Underwriting & Investment Exhibit data explain small differences in industry totals presented on these charts and NU rankings.
Loss-Reserve Development: Development data from Schedule P, Parts 2, One-Year Development column. Net-premiums earned from Schedule P, Part 1, Latest Accident Year.