An artist looking for a dramatic subject for a painting might want to consider depicting this: an insurer's struggle getting people to buy coverage for their multimillion-dollar collections.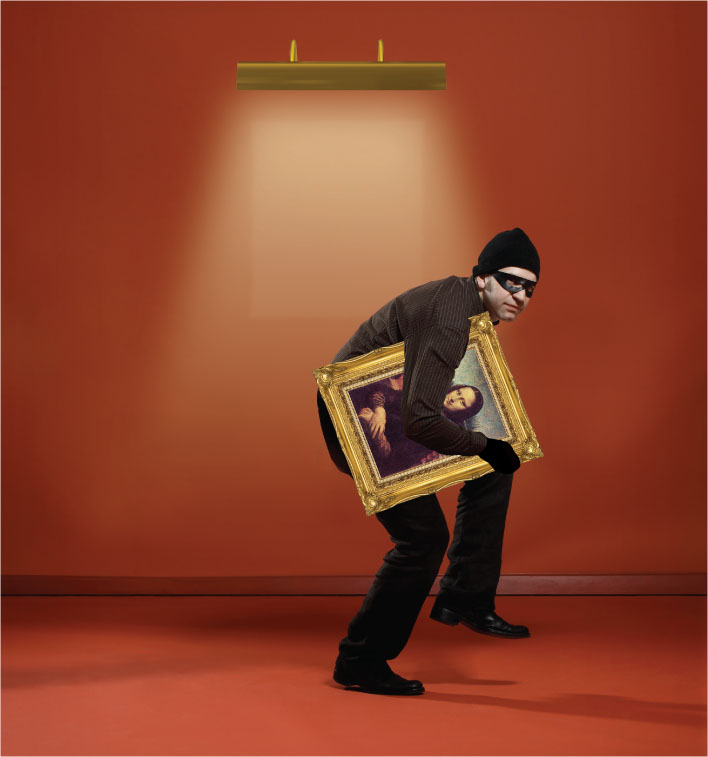 Here's an image with which to start: When Mary Sheridan, assistant fine arts manager for Chubb, talks about getting some art enthusiasts to insure their collections, she says she does a "lot of beating my head against the wall."
"You come up against the same thing: 'I've had my collection for 30 years, and nothing has happened to it,'" she laments.
But mishaps do happen, and not infrequently considering how fragile art often is—a slender sculpture, delicate installation or a painting on canvas that is entirely too susceptible to water damage or an errant elbow.
One common way for a loss to occur is when an artwork is being shipped, whether from a gallery to a residence or between an owner's many homes.
But works of art, or other collectibles, don't need to be in transit for accidents to happen—power outages, burst pipes or a clumsy uncle can do the trick.
Of course, there is also Mother Nature. And, as the plots of many movie thrillers remind us, the risk of robbery.
"There are tons of unexpected events you can't control, no matter how secure you think your collection is," says Katja Zigerlig, vice president of art, wine and jewelry for Chartis's Private Client Group.
About 50 percent of the claims Zigerlig sees are for accidental damage or breakage. And should something like this happen, collectors may be surprised to discover there is no coverage under their homeowners' policy. Wine isn't covered either. Neither is damage caused by a flood or earthquake.
"People assume a homeowners' policy covers them, but it doesn't, and it's a shame to learn that after the fact—after something is broken," says Laura Bergen, vice president of marketing for American Collectors.
Robert Pittinger, director of underwriting for AXA Art Insurance Corp., says a typical homeowners' policy simply "does not anticipate a large collection, which creates coverage gaps. Our policies address the very specific needs of this specialty niche."
MAKING THE CASE FOR COVERAGE
When Zigerlig tries to convince potential clients of the need for coverage, her case for insurance as a good investment goes something like this: "I'll ask them if they think health insurance is a good investment, and they inevitably say yes. Even if someone is not a smoker and exercises and eats right, they understand there are always circumstances beyond your control."
She'll then point to the economics, which she says are clearly in favor of having an art policy.
"The cost-benefit of this insurance is worth it," Zigerlig says, with Chartis's coverage costing about 15 cents per $100 of appraised value.
Chubb's rates are in the same general range. A person with a collection valued at between $1 million and $2 million can expect to typically pay $1,500 to $2,500 per year for insurance, says Sheridan.
And if a painting is damaged, insurance isn't only covering the cost to repair it—insurers will cut a check to cover the depreciation in value it suffered as well.
So why then are Sheridan and other insurers in the art space "constantly running up against people that do not insure?"
Theories vary. Some wealthy collectors may have privacy concerns. Others self-insure. Also, insurance creates a paper trail (and the accompanying tax implications).
But AXA's Pittinger believes the art world is becoming more insurance-conscious.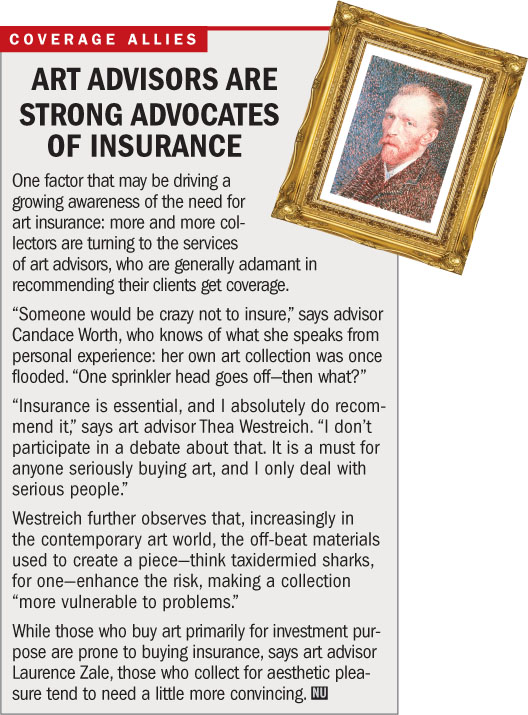 "We're getting calls daily from collectors who just bought a new painting and want to insure," he says. "They see the news clippings—the published losses of stolen artwork from galleries or homes."
EXPANDING COLLECTOR BASE MEANS BUSINESS GROWTH
The fact that many seasoned collectors don't yet have insurance means there is plenty of untapped business for those agents and brokers who can crack the coverage code.
Also offering opportunity is that the world of serious art collectors—once a small and select bunch—has become much wider and more diverse over the last 10 years.
"Young, hedge-fund guys" are getting into the game and becoming passionate about their new hobby, Sheridan says.
"We're definitely seeing new faces," adds AXA's Pittinger. "There are more people attending art shows, asking questions. It's a broader, growing audience—and larger collectors are looking to expand as well."
Much of the cash flowing into the market is "new money," notes Zigerlig. The recently rich begin to buy expensive jewelry, develop a taste for better alcohol, and then buy art pieces to keep up with the Joneses (or Guggenheims). All of a sudden, they have a $300,000 painting on the wall.
"You may not hit a home run the first time you buy something," Zigerlig says. "But by the third year of collecting, you know more—your eye gets better. That's where we want to step in and protect your possessions."
And beyond the rather rarified precincts of fine art, producers with expertise in the collectibles market in general should soon be seeing, if they aren't already, a spurt in their business. Why?
The large and growing number of reality-based TV shows—from the classic "Antiques Roadshow" to newer favorites like "Pawn Stars" and "American Pickers"—are leading many to wonder, "What is my stuff worth and do I need it insured?" says Bergen of American Collectors.