On June 17, a ceremony was held for Bob Khosropur, chief claims officer of Narragansett Bay Insurance Company and this year's Claims Professional of the Year. As ACE chairperson, Claims Editor in Chief Christina Bramlet presented Bob with the award in recognition of his ingenuity and dedication.
"We are very excited to honor Bob for his ongoing commitment to learning and adopting claims technologies to raise the bar in claims handling efficiency," said Bramlet. "During a career spanning more than 20 years, he has embodied the attributes fitting of this distinction, having instated 'best' practices and systematic changes to propel his organizations to excellence."
Fresh off the heels of his acceptance speech, Claims Assistant Editor Catherine Couretas spoke with Bob about what led to this moment.
What was your initial reaction to receiving the award?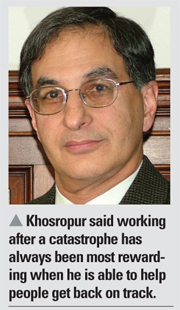 While I knew that I had been nominated, it was nonetheless a very big, pleasant surprise. I have always admired the accomplishments of those who have dedicated their energies to improving and enhancing claims service.
Your nomination mentions your "best-of-the-best" strategy. How has that shaped the claim operations for which you are responsible?
Narragansett Bay Insurance Company (NBIC) is a "start-up" specialty insurance company with a mission to underwrite only personal homeowners' policies. We all operate under the notion that we can continue to distinguish ourselves through surprisingly great service. How we approach claims handling from philosophy to personnel, claims systems, and catastrophe response all point to using the best resources available to solve our customers' worries quickly and efficiently.
The majority of your career has been spent at more well-known national insurers. What has been different about your current position as chief claims officer at a smaller company?
The most notable difference is being involved with the whole business of insurance and applying my involvement where it is most beneficial. This cross-pollination is rarely found in a large company. For example, I manage the piece of underwriting here which inspects and appraises all new risks within the underwriting period. From this position, I can use my claims experience to safely open our products to customers we might otherwise have not written, and conversely I can improve our portfolio of risks by applying more prudent underwriting guidelines. I also contribute to the writing of our forms, which leads directly to delivering great claims service through the written word of policy benefits.
How do you apply Six Sigma principles to claims?
The exercise of effectively analyzing and then removing defects from your operational processes lends itself to creating claims strategies for improvement. Beginning with what outcome you expect versus what result you are achieving, this discipline allows you to make corrections and maintain the corrections to the ultimate benefit of customers. As an example, I survey all customers after a claim is closed, even if we are denying their claim. This feedback provides the data to understand what is working and what is not. It also allows me to understand what changes will give us the greatest benefit as a superior service provider.
What do you enjoy most about working in claims?
Working after a catastrophe has always been rewarding because of the direct impact made while helping people calm down and feel that things will get better. Also, my current position is very enjoyable in that I am building what I believe in. What I've enjoyed the least taking a call from a customer who does not feel confident about their claim being handled well—this is an experience I strive to minimize whether through my own actions, or the management of my staff and processes.
What do you hope to accomplish as you move forward in your career?
My main goal is to be a contributor in building NBIC to become a super regional homeowners' specialty carrier. There are essentially 10 of us that manage this company, and it is really a team effort. It would be a tremendous success if NBIC becomes a self-sustaining, profitable, well-known company.