The thunderstorms in the U.S. that struck from May 20 to May 27 may have caused between $4 billion and $7 billion in insured losses, according to catastrophe modeler AIR Worldwide.
AIR says the losses reflect insured physical damage to residential, commercial, and industrial properties, including to structures and contents,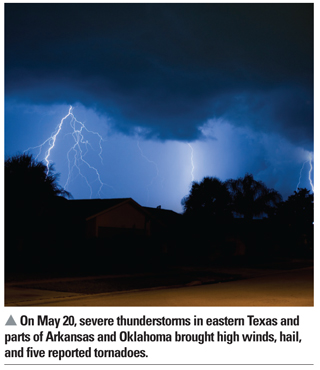 automobiles, additional living expenses (ALE) for residential claims, business interruption (BI) claims, and the effects of demand surge. The estimate does not reflect "non-modeled losses, including loss-adjustment expenses," the cat modeler added.
"The month of May, normally the most active month for tornadoes, began quietly," said Tim Doggett, principal scientist at AIR Worldwide. "For 3 weeks, only a handful of isolated tornadoes were reported. But on May 20, severe thunderstorms in eastern Texas and parts of Arkansas and Oklahoma brought high winds, hail, and five reported tornadoes. Over the next 7 days, more than 150 confirmed tornadoes raged across the heart of the country."
Doggett said the severe weather "funneled across a corridor that stretched from Lake Superior to central Texas and east through Missouri, Tennessee, Kentucky, Ohio, and to the East Coast, impacting more than 20 states in all."
One should note that the individual meteorological elements that caused the tornadoes are not unusual. "Large, strong jet stream disturbances happen occasionally; persistent low-pressure frontal systems are common, especially in spring," Doggett added. "Moreover, the storms that developed occurred where they are expected to occur at this time of year."
He did point out, however, that it is unusual for all of the factors that contribute to the development of severe thunderstorms to have aligned themselves so optimally in the same place at an opportune time. "To get optimal intense instability, shear and lift all in the same place for a long period of time is a relatively rare circumstance," Doggett said.
Partner Re estimated the net loss for this event, which will be recorded in the company's second-quarter 2011 results, will primarily impact its catastrophe, North America, and global (non-U.S.) specialty subsegments.
In late May, catastrophe modeler Risk Management Solutions projected that losses from the April storms would range between $3.5 billion and $6 billion.