LOUISVILLE, Ky. (AP) — Churchill Downs workers scrambled to corral horses driven from their collapsing barns when a tornado hit the famed Kentucky Derby horse track. Officials must now decide when races can resume after several buildings including a chapel were damaged.
The National Weather Service confirmed today that a tornado it was tracking on radar did the damage Wednesday night.
Officials had no reports of injuries to humans or horses. Some minor injuries were reported elsewhere in Louisville, which was inundated by torrential rains that caused flash flooding.
At least nine of the track's 48 backside barns were damaged, as was the chapel. The damage displaced about 200 horses and one barn was flooded by a water main break. The powerful winds also damaged living quarters for about 100 people and arrangements were being made to provide them temporary shelter.
Much of the track was spared, including the iconic twin spires above the clubhouse overlooking the finish line that were apparently not damaged, track President Kevin Flanery said.
No damage has been reported at the nearby University of Louisville, which is sparsely populated at this time of year, said John Drees, a university spokesman. Elsewhere in the city, high water from the torrential rains briefly trapped a couple of people in their cars, and a hospital reported that it treated two patients hit by falling trees.
The worst damage, though, was concentrated at Churchill Downs, said Chris Poynter, a spokesman for Louisville Mayor Greg Fischer. Dozens of power poles went down near there and thousands were without power for a time.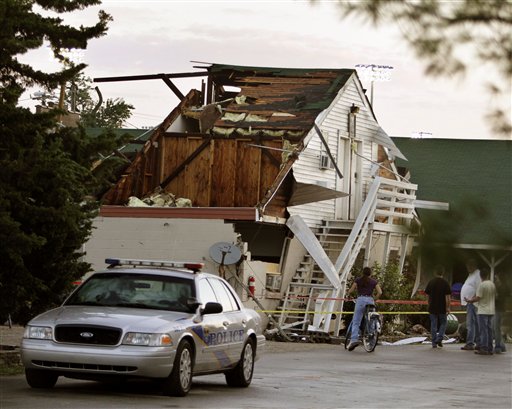 People view damage to Barn 23 in the stable area of Churchill Downs after a tornado hit the race track Wednesday night in Louisville, Ky., in this view from Thursday, June 23, 2011. The National Weather Service sent teams out Thursday and determined that the funnel cloud reported in the area was the cause of the damage. (AP Photo/Garry Jones)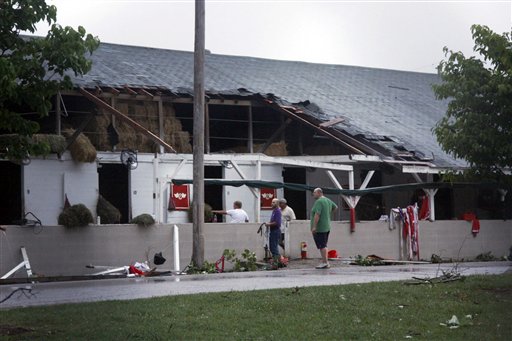 In this image, people assess damage at barn 40 in Churchill Downs after storms hit the area on Wednesday, June 22, 2011. (AP Photo/The Courier-Journal, Pam Spaulding)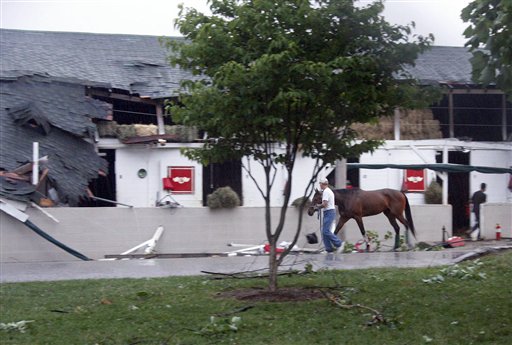 A horse is walked out of barn 40, which was damaged at Churchill Downs after storms passed through the area in Louisville, Ky. Although at least nine barns were damaged, no injuries to people or horses were reported. (AP Photo/The Courier-Journal, Pam Spaulding)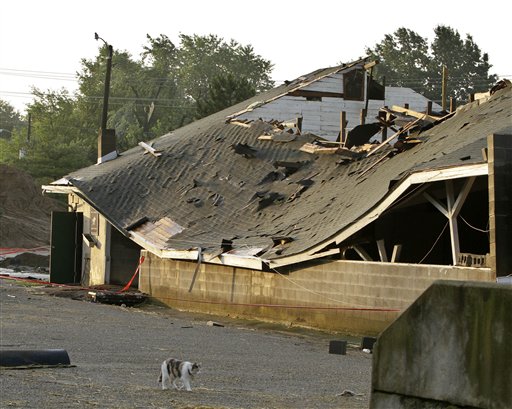 No horses housed in this heavily damaged barn in the stable area at Churchill Downs were injured following the tornado that hit the Louisville, Ky. race track Wednesday night. (AP Photo/Garry Jones)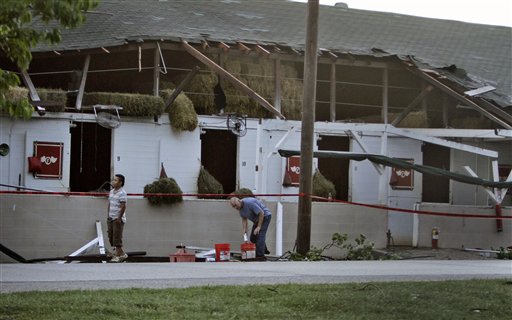 Workers clean up in the stable area at Churchill Downs in Louisville, Ky. Thursday, June 23, 2011 following a tornado touchdown at the race track on Wednesday night. (AP Photo/Garry Jones)