For the CEO of Crum & Forster, Doug Libby, who voluntarily describes himself as "a contrarian," there is little not to like about the $294 million deal, closed in February, that adds First Mercury Financial Corp. to his group's specialty-insurance operations.
Libby believes First Mercury's excess-and-surplus lines businesses gel perfectly with the "out-of-the-box" thinking and underwriting culture that he has ingrained in C&F's admitted-specialty operations for over a decade.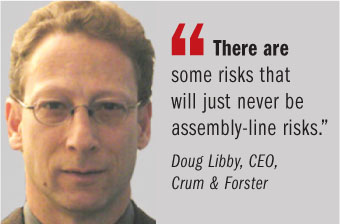 The former lawyer, who once worked as general counsel for an investment-banking firm, draws a parallel to the arbitrage departments of Wall Street firms as he describes his approach to the insurance business—a strategy he has followed since becoming CEO of Seneca Insurance (now a subsidiary of C&F) in 1989.
Wall Street firms "look at the values of certain types of securities, try to figure out what they're really worth, and then set up certain kinds of arbitrage." In the same way, a specialty insurer can ask, "Where does the market have it wrong?" focusing on outlier risks that commercial-insurance-class plans don't capture appropriately, Libby says.
He gives the example of the auto-repair class for workers' compensation in California, assuming it carries a fictitious rate of $2.50 per unit of payroll for the sake of discussion. "You can write a luxury car dealership that is worth a 50-cent rate. Or you can write a truck-repair facility that has an enormous tow truck to pick up buses on the side of the road"—a risk that might reasonably command a rate that is much higher than the class rate.
"The system works in such a way that there are often opportunities at both ends," Libby says. "If you really think about underwriting and get to know industries well, there's opportunity to make more money."
That's what newly acquired First Mercury has done for nearly 40 years—developing expertise in writing liability insurance for security guards, detectives, alarm installers, safety equipment, and distributing its insurance products under the CoverX brand.
C&F is taking a page out of CoverX's playbook as it expands its writings in workers' comp for elevator-maintenance contractors in New York City, according to Libby, who contrasts the approach of a thoughtful niche underwriter and a typical carrier.
Instead of just consulting industry-class manuals for underwriting and loss-control guidelines, "I sent out a team of loss-control, claims and underwriting [professionals] who met with a number of elevator-maintenance contractors in the Bronx," Libby says. "The elevators don't get tougher" than in that borough, he says, noting that some are more than 100 years old, with concurrent maintenance problems that occur with age.
"I have always been interested in thinking outside the box [in an] industry [that] is all about boxes," he says.
"At Seneca, our approach was always to focus on lines where underwriting judgment and experience make a difference," he says, adding that the strategy is equally applicable to E&S and specialty-admitted business, highlighting expertise that Seneca developed writing vacant buildings.
In general, the insurance industry has expended tremendous effort to move toward an assembly-line method of risk assessment. "We're trying to go the other way. There are some risks that will just never be assembly-line risks," he says.
Before January 2008, when Libby took the CEO spot at C&F, he says the mix of business was tilted toward standard lines, which made up roughly 70 percent of the C&F book. Now it's approximately 70 percent specialty, he reports, noting that the figure could increase in future years—after the First Mercury deal is fully digested.
In addition to security-specialist CoverX and related insurers First Mercury Insurance Co. and First Mercury Casualty Co., C&F also picked up as part of the deal American Management Corp. (AMC), a specialist in insurance for fuel-related businesses including service stations, repair garages and fuel-oil jobbers.
AMC's business is very closely related to the energy business written by C&F's Fairmont Specialty, Libby says, highlighting a Fairmont niche: propane-gas distributors.
Libby sat down with NU for an exclusive interview in early June, two days after C&F announced a rebranding initiative that will put most of First Mercury's $300 million book of E&S casualty business (minus some small MGA programs) together with existing C&F, Seneca and Valiant Insurance E&S business under a new banner—CoverXSpecialty—and under the direction of Richard Smith, chair and CEO of First Mercury.
C&F also announced that AMC and Fairmont Specialty energy-related businesses will have a combined book of over $150 million in gross premiums.