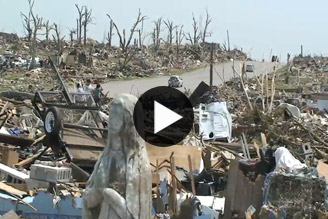 To experience firsthand how the insurance industry is responding to the tornado that took out a large swath of Joplin, Mo. on May 22—the EF5's path through the city was nearly a mile wide and about 7 miles long—I "embedded" on June 7 with State Farm Insurance, spending the day with a local agent, two catastrophe claims representatives and an auto-lines specialist so I could witness the company's concerted response to the devastating storm that left more than 150 dead and 1,000 injured.
In the accompanying video, you'll see footage that shows just how extensive and intense the damage was. We also visited with a State Farm agent who has been active in Joplin for 25 years; and we went onsite to a policyholder's home that had been leveled by the storm with two dedicated catastrophe-claims specialists.
In addition to the video, the text below offers some impressions of what I saw and heard during my time in Joplin.
Buddy System Averts "Meltdown"
"I'm sure I would have had a meltdown by now if I had not had the help of those State Farm partners," says Karen Rutledge, State Farm agent, in describing the impact of State Farm's "Buddy System," where agents in unaffected areas offer their help to their colleagues in the center of the storm. "I could not have provided the service I wanted to provide if I hadn't had that help. These are agents who are willing to walk away from their office and the way they make a living to come and help somebody else."
The agents, many with claims experiences, were there to greet the "overwhelming" influx of policyholders. Not only were these buddies helping to write advance checks—they even set up a generator for Rutledge so when she arrived back from Chicago the morning after the tornado struck, "my team had power to operate the computers, take calls, help all the people coming in."
Bathtub Refuge
Asked about some of the stories that most stuck out amidst all the turmoil and trauma, Rutledge says, "There's just been so many people that were actually in their homes—nothing left—and I asked them where they were in the home and over and over I have heard it was the bathtub. Word has gotten out over the years that the safest room in your house is possibly the bathroom. So many stories of people riding out the storm in their bathtub and that being all that was left and not even in the same place in the house—maybe it was in the yard. It's just amazing, seriously, that there were not more [fatalities]."
Seconding what Rutledge says about the tub, Steve Simpson, a catastrophe field claims representative for State Farm, talked to a young married couple renting a house who got in the tub at the last second, pulled a mattress over them, "and they ended up two houses down, still in the bathtub, and the husband's truck ended up where the bathtub used to be." (Hear more of this story in the video.)
Tech & The Tornado
Both Rutledge and the catastrophe claims reps I met with pointed out how much the technology they use has changed when responding to such events.
Claims reps now bring with them aerial photos of a policyholder's property when they go to evaluate damages, which they use to help make sure their measurements onsite are as accurate as possible.
And a device as ubiquitous as the digital camera has made a big difference, too, says Jasmine Coleman, another State Farm catastrophe field claims representative with whom I toured a totaled home. The digital approach gives them an opportunity to both see the photos immediately—and take vastly more than they could in the (not-too-recent) days when they carried Polaroids.
"On my ride back from Chicago," says Rutledge, "I actually was able from my Blackberry to gain access to the voicemails people had sent me and file the claims on my iPad through State Farm's application. I was doing that in the car while my mother was frantically trying to get me back to where I needed to be. That same technology is available for the customers. I had numerous customers file their claims online, either through a computer or an application on their telephones. [Not too long ago,] we would have been trying to hand write this information and would have been only able to fax it."
Lessons Learned
"Every person I've spoken with says their next house is going to have a basement and a safe room," Simpson says. Indeed, the family who lived in the destroyed home we visited survived in their safe room—and left a poignant "We Lived" message on one of their remaining exterior walls, letting friends and neighbors know they had pulled through.
"I think now when we talk to people about the coverages on their homeowners' policies, and we talk about here's what we estimate with the tools we have on what it's going to cost to rebuild—that we now have the experience to know the tools we work with are legitimate. And you need to seriously consider this even though you think, 'Oh well, I could only sell it for this,'—which has nothing to do with the cost of reconstruction—and I think people will realize that those [increased coverages] are worth considering."
The other lesson both insureds and prospective policyholders are likely to take away? "That catastrophes do happen. And now we know because we've all experienced it, and it can be us, and it was us."
Personal Perspective
While I was mentally prepared for what I would experience in Joplin—and had probably seen hundreds of photos and nearly an hour of video clips—witnessing it in person was like a body blow to the senses. I found myself constantly whispering to myself "Unbelievable"—because it was, simply, hard to accept as real carnage on such a mass scale.
The storm's path was so wide—and its winds of such force—that there were neighborhoods where block after block after block was nothing but rubble. And I'll never forget the trees—many still standing, but utterly denuded of all leaves, looking like stark skeletons on the desolate landscape.
As it happens, I went to a photography exhibition the Friday before I left for Joplin of images taken by the U.S. Army in Hiroshima in the weeks after the atomic bombing. And what I saw in Joplin was eerily, horrifyingly similar.
Decompressing, Post-Disaster
The last two weeks have been highly emotional and stressful times for Simpson, Rutledge, and Coleman. How do they plan to decompress when they are finally able to focus again on their personal lives?
"I have my State Farm trip to Disney scheduled for June 25 with all of my family and grandchildren, and I am definitely going," says Rutledge. "We've had an EF-5 tornado, and I am going to Disney World."
"What I do typically [when I return after a months-long assignment] is I walk into my house and literally just relax, complete release," says Coleman. "I will take a good long nap that will probably be a day and a half."