It seems each year, in seeking out the weirdest and most wacky insurance claims, animals have a starring role in circumstances that lead to strange calls to insurance companies.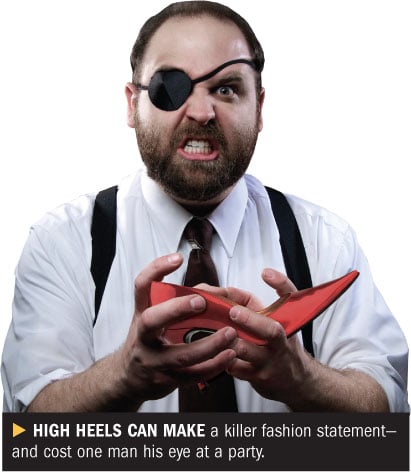 This year is no different—animals again feature prominently. But the most unusual claims this year also involve toilet paper, invisibility potion, and an unfortunate incident involving a high-heeled shoe and an eye.
"We have clients that, you can say, like to throw some wild parties," says Pete Pietrowski, head of claims for Chartis Private Client Group, an insurer of high-net- worth clients. Apparently, one party had many guests, both upright and horizontal.
"One of the guests, a woman in high heels, stepped back and onto the face of a guy who I guess was passed out," Pietrowski continues. "He lost the eye."
Pietrowski's stories illuminate a point: money does not equal brains, but it can amount to big payouts for Chartis, even if the company does everything it can to prevent it.
Property RISK MANAGEMENT GONE BAD
The company works with clients to fortify homes against windstorms, and it worked brilliantly with one policyholder whose house did survive a bad storm, Pietrowski says. That is, until he chose to light some candles after the storm since the power was out. Then he went out.
"The windows were opened and the curtains swayed in the breeze," he tells. "The house survived the storm, but not the fire. The guy has backup generators now."
Another policyholder after a storm decided to try and drive through some flood water. He made it, but the inside of his car was soaked.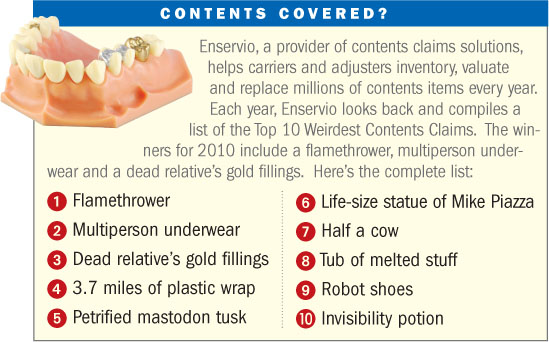 "He thought it would be a good idea to use a leaf blower to dry the floor mats," Pietrowski says.
The insured propped the gas-powered blower up inside the car aimed at the floor and went in the house to take a shower. Some time elapsed and, in the end, Chartis was paying a $3 million claim for damages to the car and the home, Pietrowski says.
The leaf blower caught fire, and the car was parked in the garage. By the time the policyholder smelled smoke, a wing of his home was charred.
CLAIMS GO TO THE DOGS
Speaking of garaged, expensive cars (and returning to yearly animals-make-for-good-unusual claims stories):
"An insured went out of town and let his friend stay at his house to watch his dog," says American Collectors Insurance via e-mail. "The insured had a 1969 Camaro with a very shiny new paint job. The dog got into the garage and, seeing his reflection in the car, started to scratch at the car frantically—apparently perceiving his own reflection to be another dog."
"The dog scratched around the car, damaging both door panels and the front and rear quarter-panels, while trying to get at his reflection," continues the insurer of collector vehicles and collectibles.
Pet health insurance provider Veterinary Pet Insurance Co., part of the Nationwide Insurance group of companies, gives out the Hambone Award each month to the policyholder with the quirkiest claim. The award is named after an insured dog that got stuck in a refrigerator and ate an entire ham while waiting to be freed.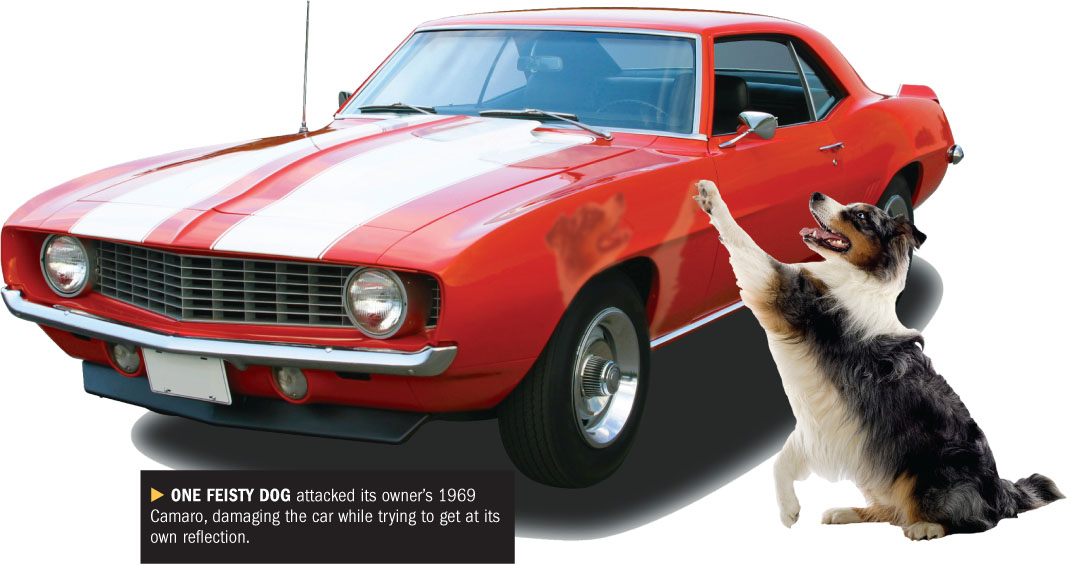 Last year one dog, prone to snapping at the vacuum, lawn mower and other loud equipment, met its match when she attempted to take a bite of a running chainsaw. A happy ending later, Darci lucked out with a few stitches. No word on whether she learned her lesson.
Half A Cow, Multiperson Underwear
Sometimes it isn't the circumstances of the claim but the actual items that are allegedly lost or damaged that cause a rising of the eyebrow, a smirk and a giggle.
Enservio of Needham, Mass., helps carriers and adjusters valuate and replace content items. In doing so it racks up enough scratch-your-head items to come up with a yearly top-10 list of weirdest content claims.
The list in 2010 included invisibility potion, 3.7 miles of plastic wrap, multiperson underwear (motto: "Half the fun is getting in them…the other half is up to you.") and a flamethrower.
The list also includes half a cow and a "tub of melted stuff." The firm could not elaborate on which half of the bovine or what kind of "stuff."
Flies, Drag Queens
Unusual claims are not limited to personal property. Liability claims provide more than enough fodder for seekers of a claims-related chuckle.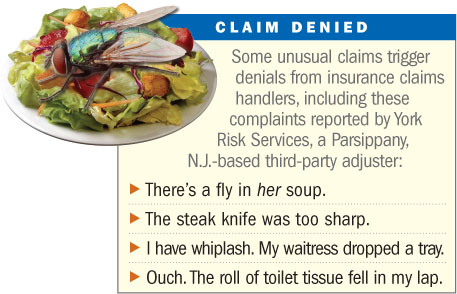 "An individual walking on a sidewalk filed a claim and said the ice and snow was not adequately removed from an apartment complex, which caused him to break his ankle," recalls Melanie Elias, director of claims for Burns & Wilcox and its in-house third-party administrator, Minute Man Adjusters. "He left out the fact that he was dressed in drag and high on cocaine."
In another case, a man out to dinner with his wife in Texas said he saw a fly in his wife's salad and filed a claim because he became ill after seeing the fly.
"I thought it was a joke at first," says Alda Southard, senior adjuster with York Risk Services Group of Parsippany, N.J. "He claimed he suffered from hypertension and anxiety—that he couldn't eat anymore at restaurants."
The wife, says Southard, also allegedly suffered damages since she got nauseous.
"We denied the claim, based on the fact there was no injury," Southard concludes. "No one actually ate the fly."
Iveley Donat, casualty adjuster with York, says he recently denied a claim from a man claiming he got whiplash in a restaurant when he turned quickly after a server dropped a tray.
Donat also denied a claim from a man who sliced his finger while cutting into a steak at a restaurant.
"He claimed the knife was jagged and too sharp," deadpans Donat.
Yet the winner from York might be the woman who filed a claim and said she received injuries when a roll of toilet paper fell on her lap while she was…well…you know.
Yeah. Claim denied.