On June 1, tornadoes roared through the Metro-Springfield, Mass.-area, with violent winds causing damage in about two dozen communities through ripped-off roofs, uprooted trees, scattered debris, and at least four dead throughout the state.
Massachusetts Insurance Agent Paul Zielinski was on the scene conducting insurance damage surveys in the days immediately following the disaster. According to Zielinski, the damage was far worse than expected and shown through the general media outlets and wire services.
Below and on the following pages you will see many of the more than 300 images he took along with descriptions of the damage he saw and experienced while conducting surveys.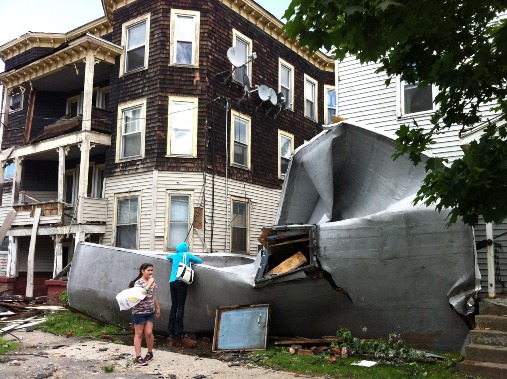 Many multi-family homes in West Springfield suffered heavy damage. Here children look over a metal roof that was stripped off a 3-family building a block away and deposited in front of another 3-family that was ultimately condemned. (Photo Credit: Paul Zielinski)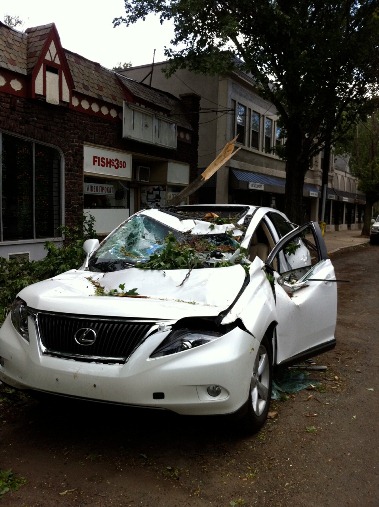 One of many vehicles that sustained heavy damage along Main Street, in West Springfield, MA where the first tornado touched down at approximately 4:30 PM, June 1, 2011. Most suffered damage from flying or falling debris and trees/tree limbs. However, some were actually thrown like toys, including tractor trailer trucks. (Photo Credit: Paul Zielinski)
A 3-family home that was completely destroyed. It was one of the first dwellings hit when the tornado first touched down in West Springfield. Tragically, a mother covering her child with her own body in this dwelling's bathtub, perished. Other 2 and 3-families in the vicinity were heavily damaged or destroyed. (Photo Credit: Paul Zielinski)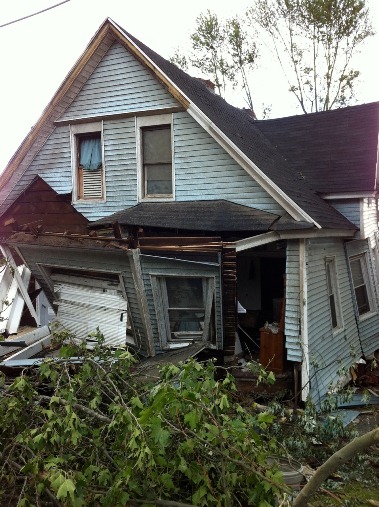 This 2.5 story home in West Springfield was lifted off its' foundation, turned and dropped by the tornado. The photo above shows the second floor porch now on the ground level. Below are other photos of the same home. (Photo Credit: Paul Zielinski)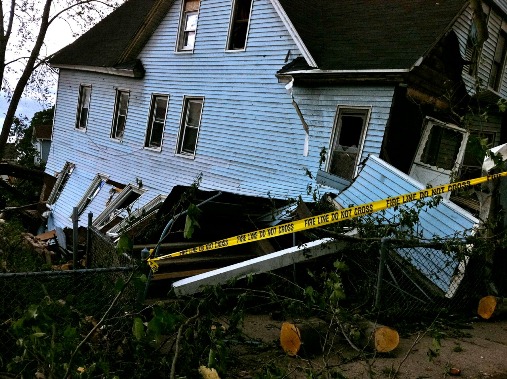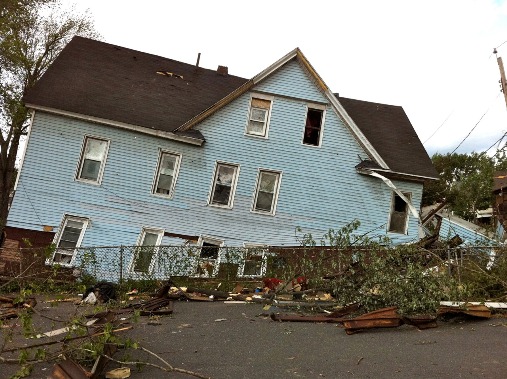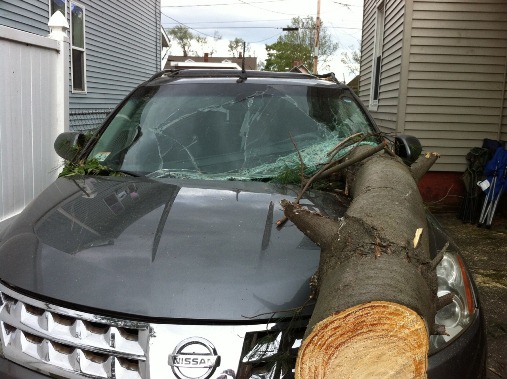 A large tree limb that was shot through the windshield of this Nissan Murano and penetrated the passenger compartment pushing the dashboard completely up against the front seats. (Photo Credit: Paul Zielinski)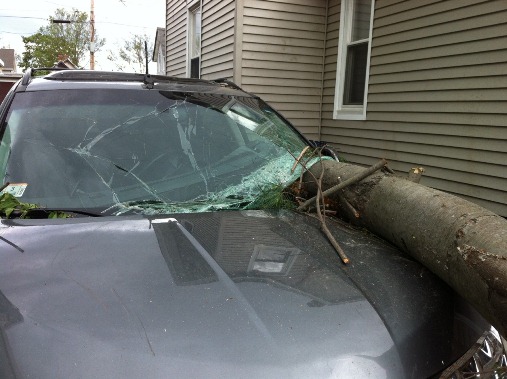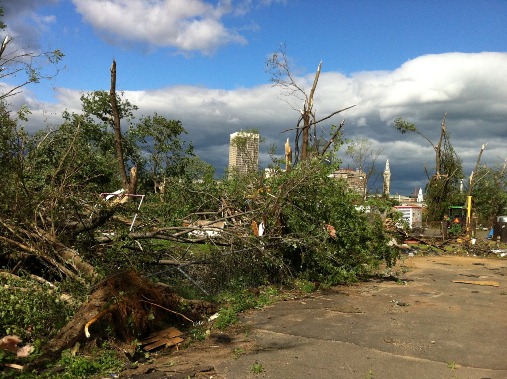 Tree damage in West Springfield just before the tornado then crossed the Connecticut River to the east and into the City of Springfield's central business district, which can be seen in the background. (Photo Credit: Paul Zielinski)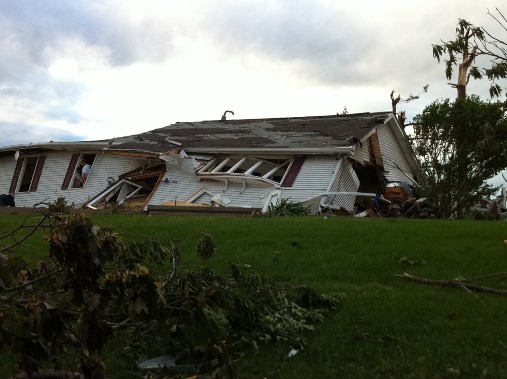 In Springfield, MA after the tornado exited the downtown business district, it proceeded eastward into the central and southern suburban/residential sections of the city destroying or heavily damaging homes and schools. (Photo Credit: Paul Zielinski)
St. Michael's Academy in Springfield looks as if it was bulldozed through the middle. It, like several other public and private and parochial schools in that area of Springfield, were either heavily damaged or completely destroyed. (Photo Credit: Paul Zielinski)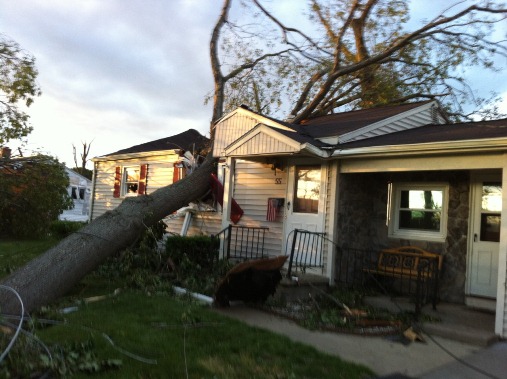 While thousands of homes were damaged or destroyed by the winds from the initial tornado, a large number were damaged by trees that were toppled or blown onto them. This home was cut in half by one such large tree. Many homes that were damaged by the first tornado were either further damaged by the subsequent tornadoes (the last of which was an unconfirmed rain-wrapped tornado) or sustained heavy water damage from the rain that accompanied them. (Photo Credit: Paul Zielinski)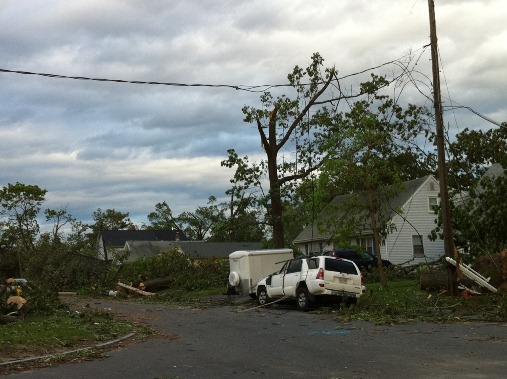 Overhead utilities, homes and vehicles were all heavily damaged or destroyed in the path of the destructive tornadoes. (Photo Credit: Paul Zielinski)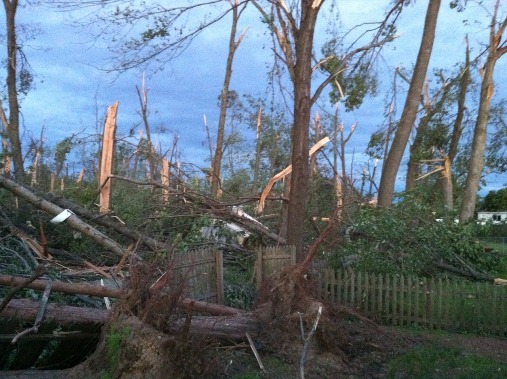 Heavily wooded areas within Springfield that had towering 100+ foot oaks and were adjacent to thickly-settled residential areas were cut down to roughly 20 foot tall stubs in many cases. (Photo Credit: Paul Zielinski)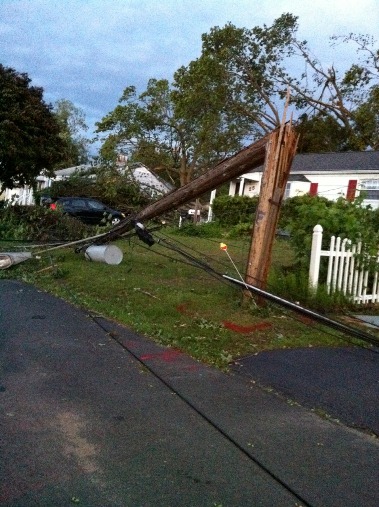 Utility poles were snapped like toothpicks or simply lifted up out of the ground and thrown about like twigs. (Photo Credit: Paul Zielinski)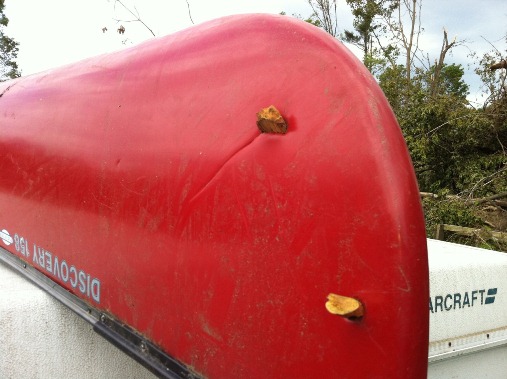 As the tornado churned a path eastward, it left the city of Springfield entering the small suburbs of Wilbraham and Monson, Mass. The force of the deadly winds are illustrated by this canoe in Monson where small branches completely penetrated the hull. (Photo Credit: Paul Zielinski)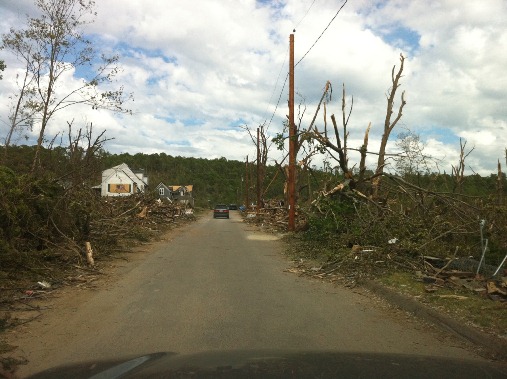 The initial tornado appeared to gain significant strength as it plowed into the small working-class town of Monson, Mass., just east of Springfield, leveling nearly everything in its path. Entire neighborhoods with tree-lined streets were decimated. The utility poles that are shown are all new replacements after the storm. The original poles were snapped off or pulled out of the ground. (Photo Credit: Paul Zielinski)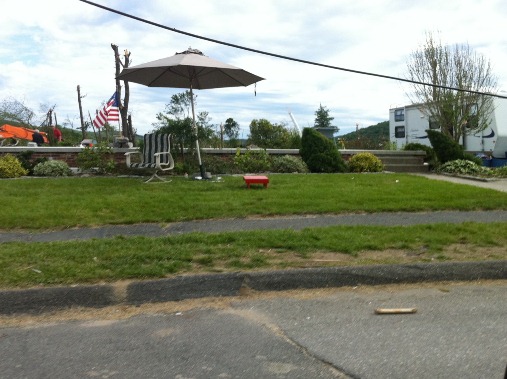 Only a foundation remains of a home in Monson, MA. The homeowners later set up an umbrella and chair on their front lawn…one of the few possessions they salvaged. (Photo Credit: Paul Zielinski)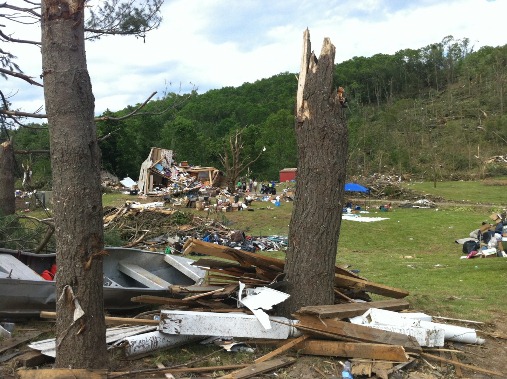 Homes and entire neighborhoods were completely leveled in parts of Monson, MA. The tornado's path can be seen in the background heading up over the hills and clear-cutting trees in its path. (Photo Credit: Paul Zielinski)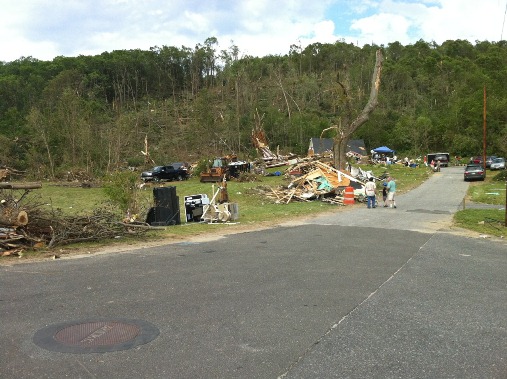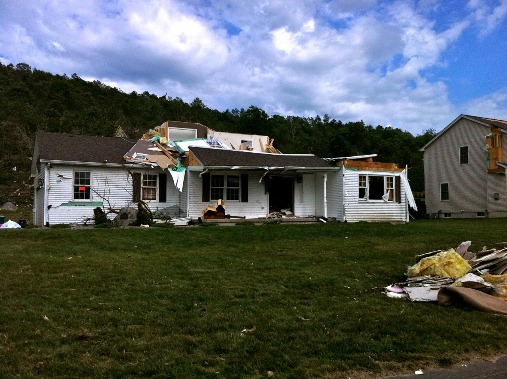 Even newer housing developments in Monson, MA did not withstand the tornado's fierce wrath. Utter destruction of homes here left residents to salvage what little they could. The photos on this page show a neighborhood in rubble, a consequence of being located right in the middle of the tornado's path. (Photo Credit: Paul Zielinski)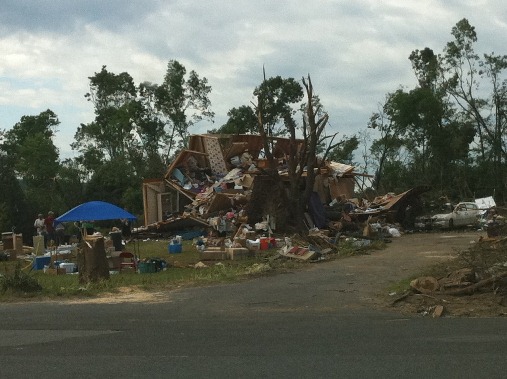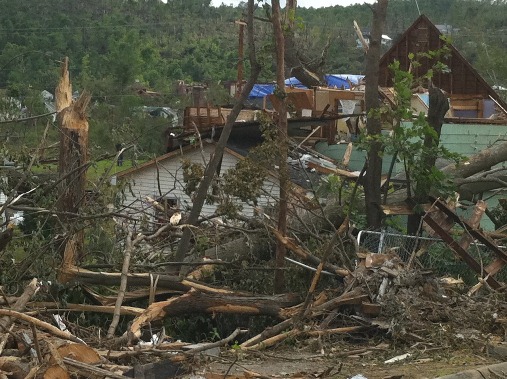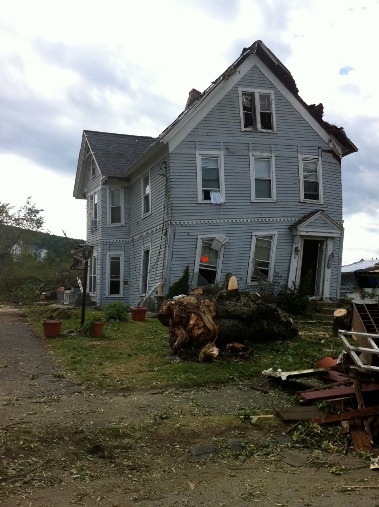 Interestingly, many century-old homes still remained standing, although many were heavily damaged by the tornado. Unfortunately, this home was later condemned. Notice the twisting this home experienced as shown by the front window screens compared with the window frames. (Photo Credit: Paul Zielinski)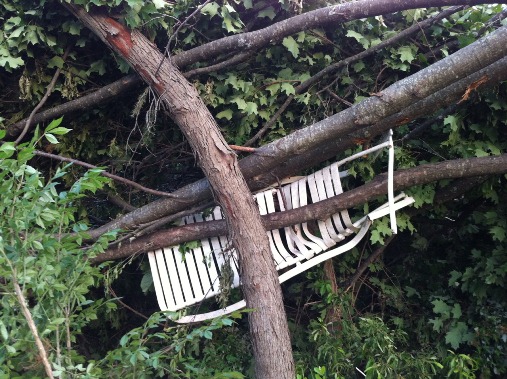 A lawn chair tangled in a 25 foot tall pile of trees that were leveled in Wilbraham, MA, just east of Springfield, and just west of Monson. (Photo Credit: Paul Zielinski)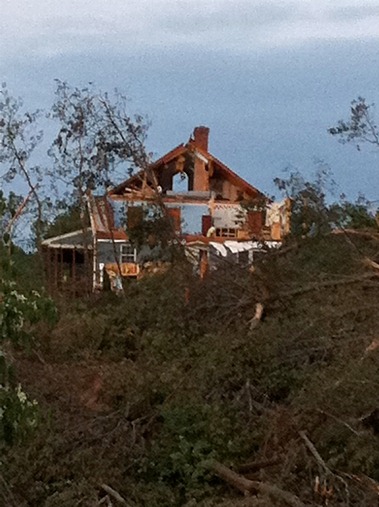 Only the front walls, and parts of the lower rear walls remain of a newer 2 story home in Wilbraham, MA. (Photo Credit: Paul Zielinski)