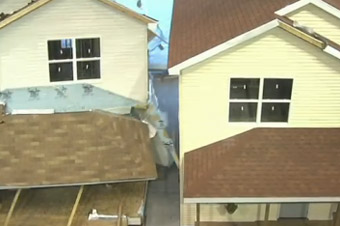 In October 2010, the Insurance Institute for Business & Home Safety (IBHS) conducted several full-scale high-wind/hurricane test demonstrations at its multi-risk Research Center in South Carolina.
Two identical looking, 1,300 square foot, two-story homes were placed side by side in the test chamber and subjected to sustained wind conditions and high-wind gusts that reached hurricane-force levels.
One test house was built using conventional construction standards common in the Midwestern U.S., and the other was built to IBHS' code-plus FORTIFIED for Safer Living® superior construction standards as they would apply in the Midwest.
As you will see in the video below, the conventionally constructed home collapsed, while the FORTIFIED home remained standing.