Sanjay Mohan, head of the insurance practice at Infosys Technologies in San Francisco, says more and more auto-insurance buyers are changing their habits and going direct to such carriers as GEICO and Progressive.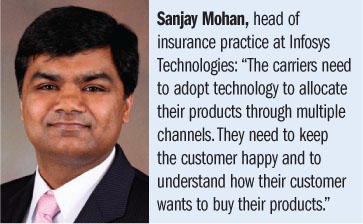 This presents a big challenge to independent agents and the companies that distribute through them.
"The carriers need to adopt technology to allocate their products through multiple channels," says Mohan. "They need to keep the customer happy and to understand how their customer wants to buy their products."
Accomplishing this will involve the creation of multiple buying channels—direct from carrier or agent for example—to satisfy the customer's preferred way of dealing with the insurer.
(See Allstate's recent $1 billion purchase of Esurance as one example of how carriers are responding to this evolution in buyer behavior.)
Many carriers, Mohan says, will need to modernize their computer systems to meet this growing customer demand for instant quotes.