EL RENO, Okla. (AP) — A violent storm system powering through a wide swath of the Midwest and South on Wednesday spawned tornadoes and powerful winds that turned homes into splintered wreckage and cars into crumpled shells and killed at least 13 people.
The system, which followed closely behind the one that spawned the massive twister that struck Joplin, Mo., and killed more than 120 people, moved into the Oklahoma City area Tuesday evening as worried commuters rushed home from work.
Several tornadoes touched down in the state's largest city and its suburbs, killing at least eight people and injuring at least 60 others, including three children who were in critical condition, authorities said.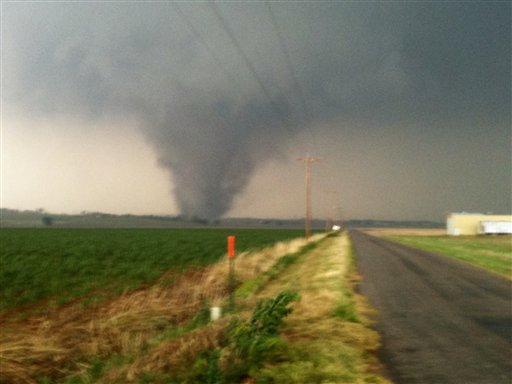 This photo provided by Shelby Barrow shows a tornado near Chickasha, Okla., Tuesday, May 24, 2011. A line of violent thunderstorms roared across middle America on Tuesday, with several tornadoes touching down in Oklahoma and high winds pounding rural Kansas. (AP Photo/Shelby Barrow)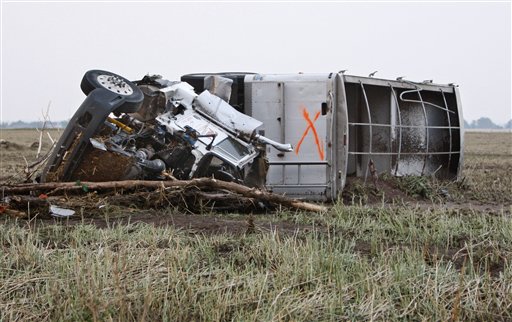 A truck marked with an "x", lies on its side in a field following a tornado in Piedmont, Okla., Tuesday, May 24, 2011. The "x" is usually an indication that a vehicle has been checked for survivors. (AP Photo/Sue Ogrocki)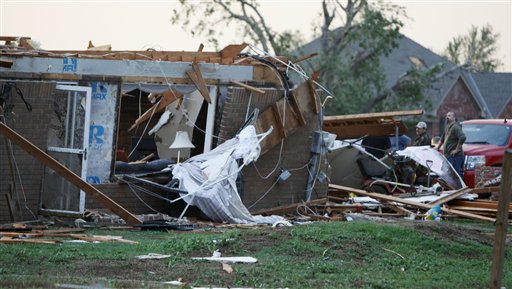 A house destroyed by a tornado stands in front another, at rear, showing only minor damage, in Piedmont, Okla., Tuesday, May 24, 2011. (AP Photo/Sue Ogrocki)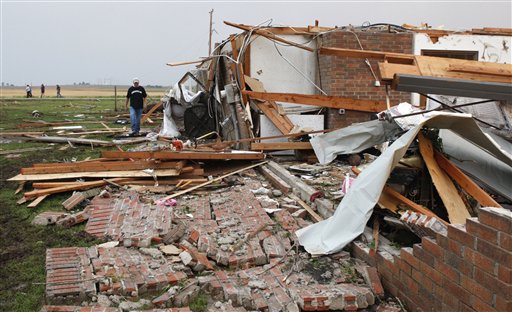 Matt McElvany walks past the home of his friend, Brent Boutwell, not in photo, in Piedmont, Okla., following a tornado Tuesday, May 24, 2011. (AP Photo/Sue Ogrocki)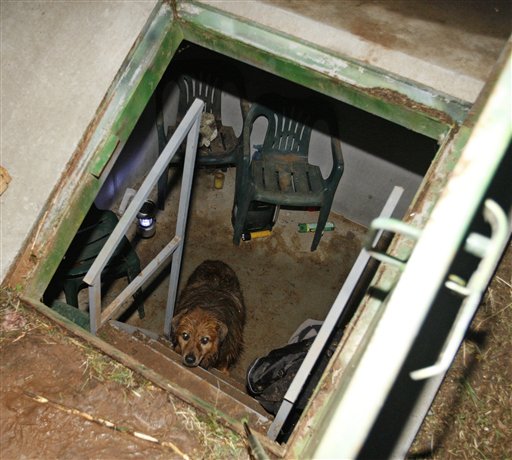 Duke the dog looks up from a storm shelter at the Robertson home in Piedmont, Okla., Tuesday, May 24, 2011. Duke was actually in the bathtub during the start of the tornado, and later found running in a pasture. (AP Photo/Sue Ogrocki)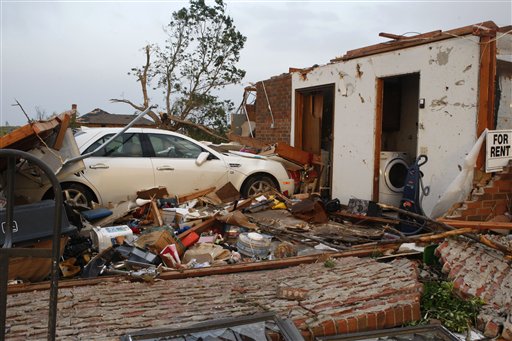 A car sits in what used to be the garage of a brick home in Piedmont, Okla., following a tornado, Tuesday, May 24, 2011. Several tornadoes struck Oklahoma City and its suburbs during rush hour, killing at least 13 people and injuring at least 60 others, including three children who were in critical condition, authorities said. (AP Photo/Sue Ogrocki)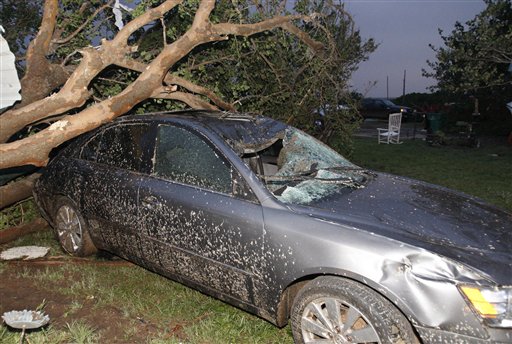 A car is crushed under a fallen tree following a tornado in Piedmont, Okla., Tuesday, May 24, 2011. (AP Photo/Sue Ogrocki)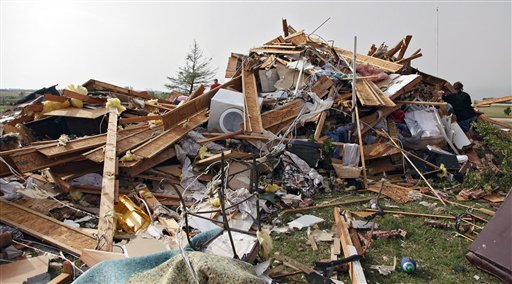 The remains of the house owned by Scott and M'Lynn McCann that was destroyed by a tornado west of El Reno, Okla., are shown Tuesday, May 24, 2011. (AP Photo/The Oklahoman, Chris Landsberger)