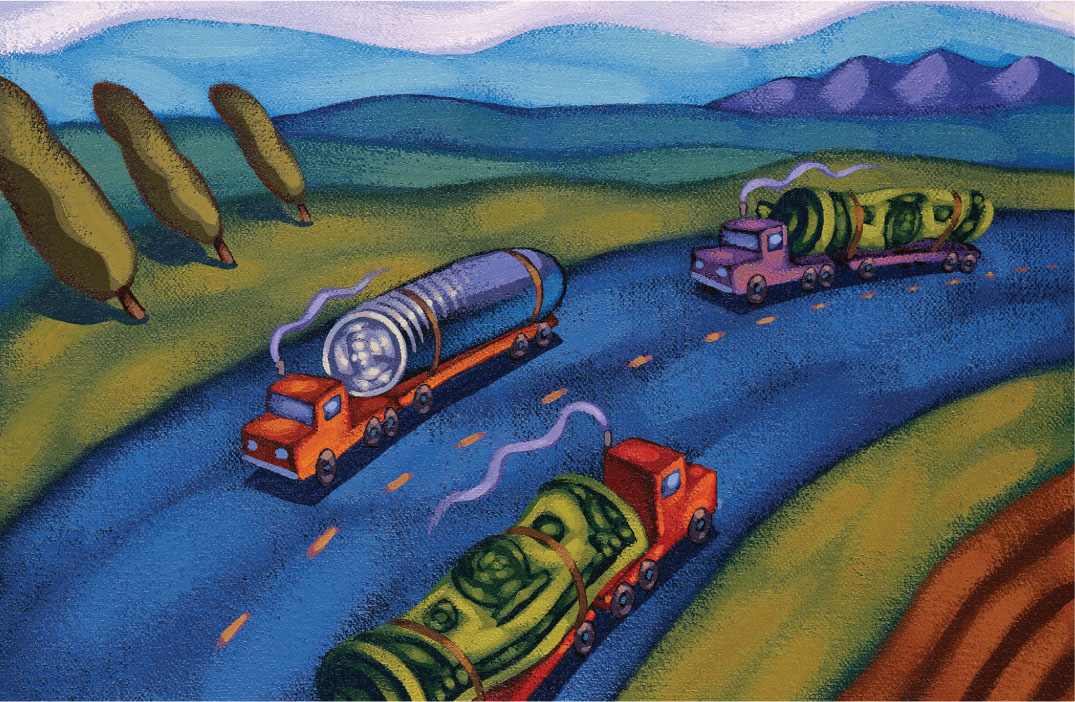 The inland-marine marketplace mirrors many other insurance segments as carriers continue to deal with a soft rate environment. The market is "fierce" and "continues to be competitive," says Joseph Tracy, president of Travelers Inland Marine. "There's more competition, with a couple of [new] entries" looking to cash in on a historically profitable line of business.
But those entering the field—as well as established players—aren't likely to have an easy go of it, at least for the foreseeable future.
Jerry Theodorou, vice president of insurance research and publications for Conning, says reports of economic recovery are "not too encouraging" in the short term. Construction remains sluggish. Loss costs are rising.
"The exposure base for organic growth is not there. These are tough conditions," he says, and will remain so for at least the rest of the year.
The most recent report from MarketScout showed that inland-marine rates were down by 3 percent. Tracy had a slightly more optimistic take on the current economic conditions: "Maybe [prices] have flattened out," he says.
CONSTRUCTION, TRANSPORTATION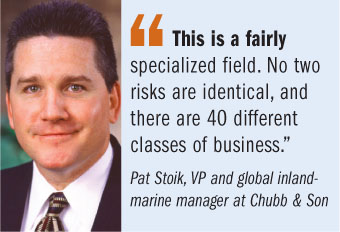 Inland marine is described as a "bellwether line of business" by Pat Stoik, senior vice president and global marine manager for the Chubb Group of Insurance Companies. Two of its key coverage areas, construction and transportation, are "impacted first by an economic crisis"—and they are the "first to show signs of recovery."
Right now, Stoik has glimpsed a few small indications of improving conditions: Some building projects have been taken out of mothballs, and inventories are being rebuilt.
"I haven't uncrossed my fingers yet, but there has been some uptick in business," Stoik says.
But along with these hints of good news, some new challenges are emerging, especially on the regulatory front. New federal standards are shifting the landscape—making it even harder to set rates.
One example is the new power given to the Food and Drug Administration, which now can condemn shipments of cargo for "presumed contamination." Another is the Compliance, Safety and Accountability (CSA) program.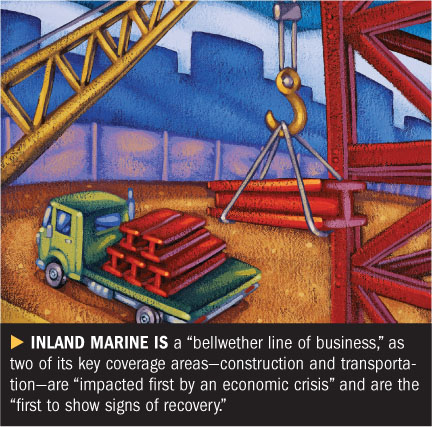 The CSA was put in place to improve the safety of the trucking industry and monitor drivers. In the view of Sam Rizzitelli, transportation portfolio director for Travelers Inland Marine, the law is well-intended—but with good intentions comes a cost.
To comply with CSA, trucking companies had to invest in expensive on-board equipment to capture the required data, but most insurance forms are not yet designed to cover the loss of this equipment—or the data.
"The valuation of this risk is different," Rizzitelli says. "When you lose this [on-board equipment], you lose compliance. Then you need to hire someone to retrieve it."
Though it is "yet to be seen how it helps us," CSA could potentially be beneficial for insurers, Stoik says. "If the objective is safety, then fewer accidents equal less cargo damage," he explains. "That's a benefit."
The law could also assist risk managers. W. Michael "Mike" McDonald, vice president of enterprise risk management for Quality Distributions, says that CSA, for which his company has been preparing for two years, will "indirectly" help by making drivers' records more readily available.
"The driver takes his record with him wherever he goes," says McDonald, who also sits on NU's Risk Managers Advisory Board. "Trucking companies can order it up."
Trucking companies are also seeking to adhere to new standards in securing cargo, McDonald adds.
ROBBERY RISK
Quality Distribution has also invested in a satellite-tracking system to combat yet another risk: McDonald says there has been an upsurge in trucking-related theft, an observation supported by the industry. For McDonald, the concern is the cargo, since Quality Distribution's tanker trucks haul hazardous materials.
"What I worry about is someone stealing a rig who doesn't know what kind of dangerous cargo he has," McDonald says.
But many thieves know exactly what they want off a truck—and the level of sophistication of their plans to get it, unload it and "fence" it is astounding.
Maurizio Scrofani, president of CargoNet, says its database, used by insurers, authorities and victims, is loaded with shared information about cargo thefts.
The relatively new national information-sharing system is gaining traction, says Scrofani. "We're adding features all the time to make it easier to use," he says. "We're beginning to connect the dots, and we are gaining a lot of energy from a credibility standpoint."
Among the intelligence that can be minded from the database: Base metals, such as copper and aluminum, are top targets today, he says.
After a hard freeze in the southern U.S. thieves began hungering after food, even stealing a truck of tomatoes.
Thieves are now sometimes getting their own trucking business license, Stoik says. This fraudulent business steals two or three shipments, sells it and closes up shop—only to open up another "business" somewhere else because the license is inexpensive.
"It comes down to the fact they are incredibly opportunistic," Stoik says. Insurers have adjusted and are now incorporating length of service into the underwriting of a trucking company, he adds.
Combating theft is a "constant battle we fight," says Stoik. "Thieves don't sit idle."