From a choice of more than 50 providers, Zurich and the Chubb Group of Insurance Cos. were named as the number 1 and 2 overall favorites of insurance buyers in the annual "Risk Manager Choice Awards" in the "best overall" insurance companies category.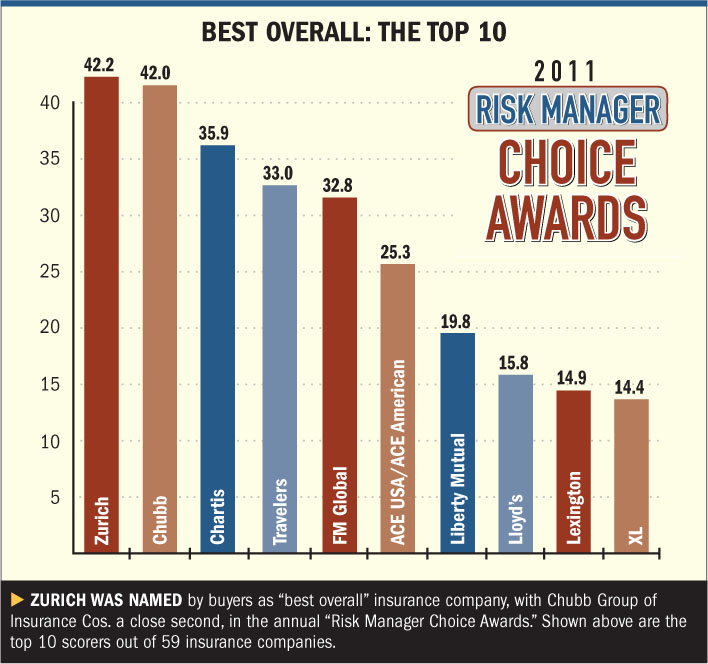 Zurich was first choice, with a 42.2 score, just edging out second-place Chubb, which came in at 42.
Chartis came in third with a 35.9 tally. Travelers placed fourth at 33, with FM Global coming in fifth at 32.8 percent.
The results are based on a survey of 364 insurance buyers by the Flaspöhler Research Group, in partnership with NU.
FM Global Scores High Marks
In a section of the survey that rated "evaluation and selection factors" used by risk managers to choose their carriers, Johnston, R.I.-based FM Global fared exceptionally well, topping the list in six of the seven categories (see chart on page 27). The company scored an impressive 7.97 out of nine points for Underwriting Capabilities (Lloyd's was second at 7.82) and 7.74 for Financial Value (Chubb was second at 7.40).
Interestingly, in these troubled financial times, when risk managers are so mindful of the financial stability of their carriers, this year Berkshire Hathaway was rated first for "financial security," with 8.30 out of nine points. FM Global was second with 8.14 points.
LINES OF BUSINESS
Risk managers were asked to rank carriers for 14 lines of business (see chart). Carrier FM Global, which specializes in commercial property coverage, came in first for business interruption at 54.5, with Zurich second at 23.9.
FM Global also led in property coverage with a 50.2 score. Zurich was second at 20.7.
Evaluation/Selection Criteria Ratings