Bob Blitshtein, president and CEO of Insurance Data Processing (IDP), likens the current technology landscape to a battlefield—one where small independent agents are in danger of being annihilated by much larger, better-armed competitors.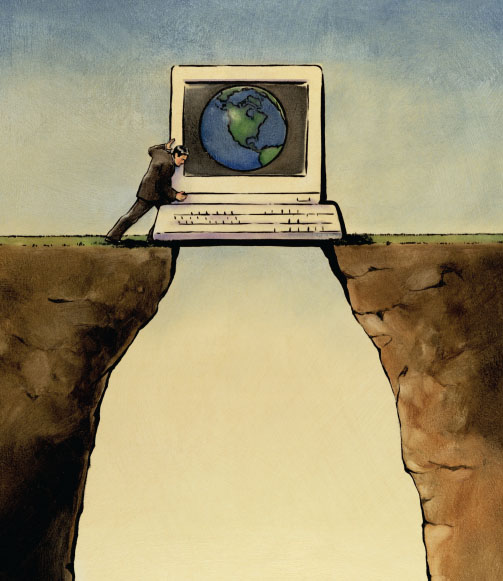 Having invested many tens of millions of dollars into technology over the past few years, large underwriters have developed tremendous competitive advantages, perhaps foremost among them the ability to write personal-lines business in real time.
This real-time functionality—the ability to research, quote and deliver the policy to a customer all in real time—represents a significant hurdle that smaller agencies must find a way to clear if they are going to stay in the race.
"Independent agents are falling behind because they are not using agent portals that provide real-time quoting or are not using agent portals at all," Blitshtein says.
"The large carriers—those with captive agents—have completed making their investments into agent portals," Blitshtein continues. "Now the pressure is on independent agents, and their carriers, to compete with this [formidable] machine."
LEVELING THE PLAYING FIELD
Blitshtein, whose Philadelphia-based company has been supporting the small agent and carrier through software development since 1949, explains that the major problem for the small agent is building the technology bridge between the producer and carrier that enables real-time quoting.
While independent age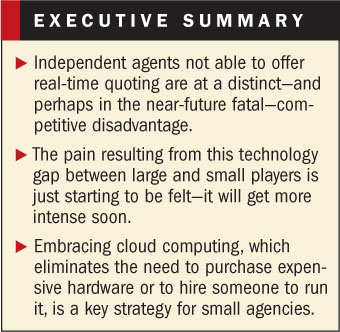 nts do have some policy look-up capability that carriers are feeding into, "inquiry functionality is not sufficient to drive new business opportunities," Blitshtein says. "Independent agents need to leverage real-time quoting to stay competitive with captive agents."
This is not an issue that can be solved unilaterally: Agents need to reach out to their carriers and push them—hard—to get onboard with real-time technology solutions, such as IDP's InsuraSphere Agent Portal, if they want to be competitive with the captive-agent companies and other large carriers capable of furnishing the needed technology.
"Small agents are only starting to feel the pain," Blitshtein warns, noting that the technology investment of the large carriers is just now coming to maturity. "And it is going to get a lot more painful. Without [real-time quoting], you are out of the game."
BRIDGING THE GAP
Applied Systems Inc. came up with its own, initial answer to the bridge-building problem back in 1999 with Transformation Station—a link between carriers' and agents' data-management systems.
Brian Stamper, Southeast regional sales manager for Applied, says providing a bridge for producers and carriers is a huge time saver for agents in making available multiple quotes from different carriers without needing to rekey the information.
Providing further solutions for agencies, Applied plans to unveil soon features within its agency-management system that will help automate the marketing process.
"In 2011, we are taking routine tasks off people and putting them on the automation system," Stamper says. "That yields huge benefits for agents—quicker service for insureds, more time for [high-value] marketing opportunities, and no need to add service staff. All of these elements contribute to higher revenues and profits."
The only thing holding an agency back from embracing advanced technology solutions is lack of knowledge and understanding of the capabilities that are out there, Stamper says. "Once they [understand], they jump on board."
HEAD TO THE CLOUD
Bill Bunker, president of Vertafore Agency Markets, says small agencies really need to focus on "getting out of the information-technology business" entirely, opting instead for outsourced, cloud-computing services that in his view are the "key strategy" to the future of small agencies.
Cloud computing eliminates the need to purchase expensive hardware or to hire someone to run it.
"This is a big advantage to a small agency," observes Bunker. "It takes the burden of technology off their plate and provides the protection and back-up they need. It enables the small agency to have more powerful tools. We take on the burden of managing information technology for them."
With the chance to get a lot of computing horsepower without massive investments in servers or other IT infrastructure, agencies seeking to improve their productivity and streamline their data entry should seek to upgrade their software and take advantage of the more robust abilities of today's agency-management systems, Bunker advises.
Technology improvements, like those offered within Vertafore's AMS360 agency-management system, include real-time rating technology that works with the carriers with which an agent is appointed. This makes the process of quoting personal-lines business streamlined and efficient—and gives a boost to productivity.
Another example of a cloud-based solution is Vertafore's Sircon product, a "producer lifecycle management" system that allows agents to handle their licensing and continuing-education needs online.
Bunker points out that while so much progress has been made on making the personal-lines business more efficient, the challenge to do the same for commercial lines remains. Even the basic business owners' policy remains a complex chore, with few rating systems available for it.