If Republicans were in search of a friendly venue for their message of spending cuts and regulation reduction, they found a warm embrace a few short blocks from Capitol Hill at the recent meeting of the Independent Insurance Agents & Brokers of America in Washington D.C.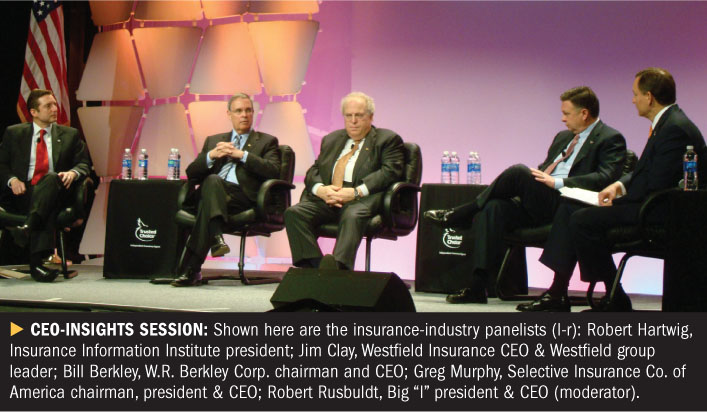 Close to a thousand insurance-industry representatives attended the association's annual Legislative Conference and Convention April 13-15 to share with their elected representatives their concerns and views on key issues before the government.
The highlight of the three-day event was a visit from Speaker of the House John Boehner (R-Ohio), who highlighted the major differences between Republicans and President Obama over the federal budget and how best to address the nation's staggering debt.
Boehner accused Obama of doing nothing more than campaigning when the president, in a speech given the day before Boehner's, said he would cut the federal budget deficit by $12 trillion over a 12-year period.
"It is 18 months before the election, and the president is out there giving a campaign speech as opposed to saying something serious about how we deal with the debt limit and how we deal with the fiscal crisis that we face," Boehner said. "I can't tell you how disappointed I was in what the president had to say."
Boehner added that the only concrete debt-reduction proposal the president made was "to raise more taxes."
"Washington doesn't have a revenue problem," Boehner declared to applause. "Washington has a spending problem."
He said this problem is affecting jobs because the government's borrowing and spending means less is being invested in the communities and sectors that create jobs, such as those jobs independent agents create in their communities.
He stressed the Republicans' stance is that the "health-care law that you grapple with" needs to be repealed, and that short of repealing it outright, "we will do all we can to dismantle it piece by piece."
He noted the repeal of the 1099 reporting provision in the health-care law that would have required small businesses to file tax forms for purchases and services of more than $600 in a year from individual vendors beginning in 2012.
He said the provision would have cost more in filing and compliance than it would have taken in.
Boehner went on to say that there is a "regulatory juggernaut" underway by every agency in the federal government to impose more regulation on businesses.
Zeroing in on the Dodd-Frank Act, he said the law punishes everyone except those who created the problem that crippled the economy in the first place.
REFORMS NEEDED
In contrast to Boehner, Sen. Mary Landrieu (D-La.), at the same gathering, acknowledged that the current deficit, which is more than $14 trillion, cannot be sustained and needs to be addressed.
However, in Landrieu's view, it cannot be achieved by cutting alone; a combination of fiscal and tax reform, including revenue enhancement, will need to be implemented to do that, she noted.
She added that any time the budget has been balanced within the past 45 years, revenues coming into the general treasury, relative to GDP, have equaled 20-21 percent. Today, that figure stands at 18-19 percent.
She stressed the need for compromise to "get the ship sailing in the right direction."
On one specific business topic, Landrieu, who is chairwoman of the Senate Small Business Committee, said while passage of a federal flood-insurance program extension is in the process, "we are not out of the woods yet."
Questions around the program's more than $20 billion in losses still need to be addressed. She added there is a need to have insurance deal with catastrophic risk throughout the country, making it affordable for all Americans. (See "Privatizing Flood Insurance" sidebar.)
EVERYTHING IN MODERATION
The day before Boehner and Landrieu addressed the agents, a meeting of the IIABA's Young Insurance Agents listened to an appeal from Rep. Heath Shuler (D-N.C.) asking agents to urge their representatives to take a moderate course on issues and "get something done."
Shuler described a partisan gulf that he believes is doing much harm to America because political extremes on the right and left are not engaged in finding solutions to today's problems.
"We have to bring this country back to the center," Shuler said.
The political division—fueled by the "entertainment media" that promotes partisan bickering over a discussion to develop solutions—is leading America to become a second-rate country, he remarked.
As a Blue Dog Democrat (a group of conservative Democrats who promote an agenda of fiscal responsibility), he says it is necessary for the current rancor to be abandoned and politicians to work at compromise and finding solutions.
As a former insurance agent whose family has been in the business for a few generations, he noted how difficult being an insurance producer is and the importance of bringing that knowledge to Capitol Hill. He added that many in Congress don't know what being an entrepreneur is like.
Turning to the issue of the budget, he said Congress needs to give America a 10- to 12-year budget that will put the country on the right fiscal track. He said it will be difficult, and not everyone will like everything in the bill because "it is too big," but it is imperative that it be done.
"We will do what is right—even if it costs us our election," Shuler said. "And it very well may cost some of us our election."