Independent insurance agencies typically hold a major asset on their balance sheets: the (often significant) cash in their bank accounts.
However much money it is, cash is a short-term asset—but one with long-term implications.
As the agency principal, have you analyzed this asset lately—in the same way you've evaluated your producer team, agency-management system, carrier contracts or book of business?
The principal needs to take an analytical, dispassionate look at his or her cash management: By doing so, the owner may be able to improve the agency's profitability.
An agency may think that as long as it carries large balances in its checking accounts, it will not pay service charges. But agency owners need to understand the importance of carrying those balances effectively every month to not only offset service charges, but also to manage both the unique liquidity and rate of return on the dollars.
All banks offer business-deposit products such as checking and savings accounts. However, a good banker will recognize the insurance agency's unique cash-management needs and will work with the agency owner to become familiar with the business's cash flow and financial goals. A hands-on banker will periodically perform an account analysis.
The good banker, in effect, will create a banking package that includes investment options for the funds (within the agency's liquidity needs); and a checking account for day-to-day transactions with balances needed to offset monthly service charges.
These accounts—coupled with a state-of-the-art online banking and reporting system—can help the agency enhance revenues, reduce expenses and streamline efficiencies.
A $2,000 DIFFERENCE
To understand how effective a properly managed banking package can be, here are two examples of agencies carrying an average monthly balance of $350,000.
Agency A carries its $350,000 balance in a checking account and succeeds only in offsetting the $50 monthly service charge ($600 annually) with the earnings allowance. However, the agency is not taking into consideration the excess balance available for investment.
On the other hand, Agency B has discussed with its banker the average monthly balance it expects to carry, its monthly outgoing expenses and its financial goals for investments.
At an earnings allowance rate of 0.6 percent annual percentage yield (APY), the banker and the agency principal determined that $100,000 is the required balance to offset the $50 monthly service charge ($600 annually) and that the additional $250,000 is available for investment.
Based on liquidity needs, Agency B's $250,000 is placed in a savings vehicle—a business money-market account. The account earns a 0.8 percent APY and allows for up to six withdrawals per month.
Agency B therefore earns interest on the $250,000 and can transfer funds to the checking account to cover monthly disbursements. This results in annual cost savings and increased revenue of $2,600 contributing to the agency's overall profitability.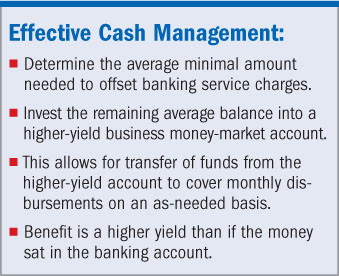 Other investment options include a variety of CD programs, such as matching-maturity CDs and CD ladders, which allow an agency to match the maturity dates to financial demands.
Agencies also can use a sweep account that automatically sweeps excess cash into an overnight investment account.
A comprehensive online-banking system complements the deposit-services banking package and can significantly improve workflow efficiencies and cash flow.
A solid system will offer real-time account history, balance transfers, direct deposit of payroll, wire transfer and ACH (automated clearing house) capabilities. In addition, remote deposit allows an agency to electronically deposit checks from its office.
Working with a banker that has the insights and flexibility to perform this type of account analysis, based on the agency's particular needs and cash flows, provides the agency principal with another tool to help the agency grow and prosper.