Although pet insurance used to be a line of coverage that did little for pet owners and proved difficult for insurers as well, one company believes it has found the recipe for success in the niche.
"It all comes down to the underwriting and being a fair deal to the customer," says Dennis Rushovich, CEO for Hartville/ASPCA Pet Insurance in Canton, Ohio.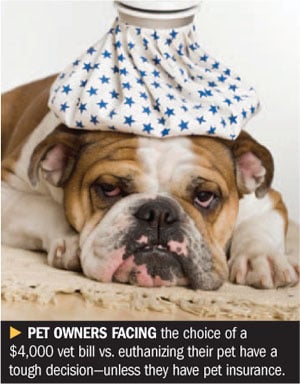 As more people buy, pet insurers are able to offer more benefits, he adds. "The products have continuously improved, and the industry as a whole has improved."
The pet-insurance industry has "become more transparent to the consumer," Rushovich says. "We try our best to explain what is and what isn't covered."
To deliver its pet-health policy offerings covering dogs and cats, Hartville works with Fairmont Specialty, part of the Crum & Forster Group. Hartville, through a wholly owned MGA subsidiary known as Petsmarketing Insurance.com Agency Inc., does the marketing, pays claims and handles customer service—"all the things a managing general agent would do," Rushovich says.
"We market pet-insurance products under our name, as endorsed by the ASPCA," Rushovich says, noting that in March 2006, an exclusive strategic-partner agreement for pet insurance was signed with the ASPCA (The American Society for the Prevention of Cruelty to Animals). That meant marketing of the product migrated to the ASPCA Pet Health Insurance brand.
"We have a good brand to market under—and good marketing," Rushovich says, noting that his firm has seen 300 percent growth in the last five years, also attributing the spike to continual product improvements.
From an underwriting profit perspective, the success of the product hinges on the company's claims data—about 12 years worth.
Pricing factors include the animal's breed and age, among other things, Rushovich says. "For example, a bulldog is much more prone to illness than a poodle."
The pet owner's ZIP code is also important, he says, explaining, for example, that "a veterinarian in Manhattan obviously is going to charge more for services than a veterinarian in Idaho."
Explaining the use of the pet's age as a pricing factor, he says that, just like humans, as the pet gets older, their medical treatment costs rise.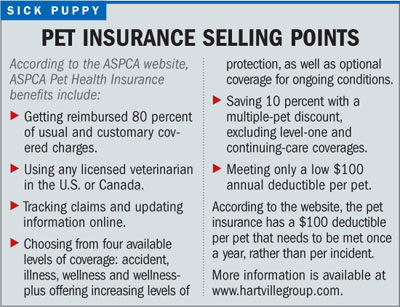 In determining individual rates, a base premium has been established and surcharges based on the criteria are factored in. Policies are then closely monitored. Rates are assessed and set annually.
"We continually look at our breeds. Sometimes we bump up surcharges; sometimes we can reduce surcharges for certain breeds," he says. ZIP codes are monitored as well—in case costs begin to rise in an area or the owner of the pet moves to a new location.
For mixed breeds, "we typically ask for the predominant breed," he says. When this isn't evident, there is a separate class labeled "mixed breed." Typically, Rushovich explains that the mixed breeds perform better "because with pure breeds you get inbreeding," which can lead to congenital and hereditary conditions.
In addition to being a revenue source for the ASPCA (through royalties for use of its trademarks), the coverage furthers the association's mission, Rushovich says, noting that people who have pet insurance euthanize less.
People facing the choice of a $3,000-$4,000 vet bill vs. euthanizing have a tough decision, especially in the current economy, he says. "If they've got pet insurance, it obviously saves the animal," which is the mission of the American Society for the Prevention of Cruelty to Animals—a nonprofit organization which gets most of its revenues from donations.