The bed and breakfast market is a potential growth area for insurers as this comfy niche of the travel industry attracts a growing number of travelers seeking unique, but budget-friendly accommodations.
"There is a lot of growth in the B&B segment. It seems to be staying profitable, even with the shrinking economy," says Brent Skiles, assistant vice president for Bala Cynwyd, Pa.-based Philadelphia Insurance Cos., which has been offering B&B insurance nationally for nine years.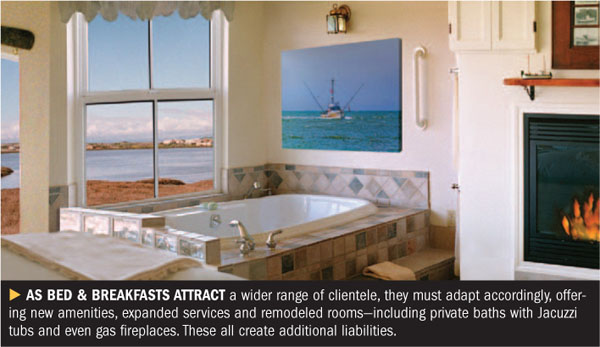 B&Bs began to gain in popularity over large hotel chains around the summer of 2008. "That's when gas prices started going up to $4 a gallon," says Jay Karen, CEO of the Professional Association of Innkeepers International, based in Haddon Heights, N.J.
Skiles, who works in his company's Colorado branch, adds, "Locally in Denver, people go downtown or up to a mountain for a 'staycation.' They're staying close to home and spending less money, and B&Bs are getting that business. It's nice lodging for a relatively inexpensive cost."
Only a few insurance providers specialize in B&Bs, Karen says. "It's a unique niche. Some 82 percent of innkeepers live on the premises. It's a strange blend of home and business. A lot of insurers don't know what to do with them."
Capt. Yohn and Melanie Gideon, owners of the Captain's Inn Bed & Breakfast in the small fishing village of Moss Landing in central Monterrey Bay, Calif., learned that all too well. The couple could not find an insurer when they began to renovate their three historical buildings nine years ago.
"I didn't have pipes that were up to code yet. The particulars made agents nervous to write it up," Melanie Gideon says. "I finally went to an historical building association and got a membership, [and that's how] my building got covered. It was hard."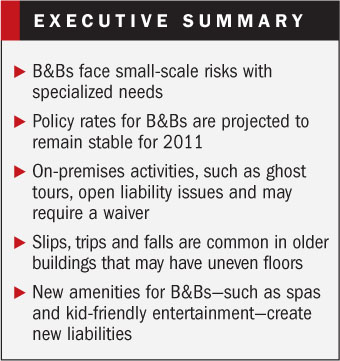 B&Bs are small businesses that have special needs, so B&B owners tend to stick with insurance providers that understand their unique requirements, Gideon notes. "We do a lot of small packages, like offering massages, and I rent bikes and backpacks for beach walks. I need to be able to insure those—and not on a huge scale."
UPGRADED RISKS (GHOSTS INCLUDED)
As the innkeeping industry attracts a wider range of clients, many B&Bs have adapted by adding new types of amenities not traditionally associated with this lodging type. This, in turn, has challenged insurers and agencies to work to keep up with these evolving needs, says Jayme Stewart, vice president at Calvista Insurance Agency Inc. in Hollister, Calif.
In California, for example, shared bathrooms are out at B&Bs, Stewart says. "Now they're remodeling rooms with private bathrooms with Jacuzzi tubs and even gas fireplaces."
Other inns are becoming more focused on family-friendly activities, like inflated jumping pillows and blowup castles for the kids. While these efforts are understandable from a business-development perspective, they do create additional types of liabilities, Skiles notes.
One entertainment extra that is both a unique attraction and an unusual insurance risk: Some B&Bs claim to be haunted and host ghost tours for their guests.
B&B owners with such ghost tours—like the Lizzie Borden House in Fall River, Mass., and The Myrtles Plantation in St. Francisville, La.—need to make sure they're working with their agent and put proper controls in place from a risk-management standpoint.
"If you're going to be taking people up to the attic, you need to be prepared. You don't want to kill Grandpa or put him in the hospital," Skiles says. Get the controls in place, make sure the tours are appropriately conducted, and get waivers. "Everybody hates waivers, but if you're going to [offer] a ghost tour, you probably need a waiver."
STEADY RATES, SPECIAL PACKAGES
In terms of insurance rates, prices for policies in this line of business will remain stable for 2011, says Stephanie Maynor, senior marketing specialist for Markel Corp. of Richmond, Va., which includes B&Bs and country inns among its categories of coverage.
Markel, which continually reviews its coverage enhancements to meet the B&B industry's evolving needs, offers various specially designed packages such as guest-inconvenience coverage and historic-property coverage. It also has special endorsements like specialty-inns enhancement.
Every B&B should carry commercial packages for building and contents, business income, general liability, as well as inland marine and commercial auto if the vehicles are owned in the business name, Maynor says. The most common risk-management issue for the B&B niche continues to be slip, trip and fall incidents.
"Since many of the buildings are older, sometimes the floors are uneven," Maynor says.
Alcohol can increase the risk. "You do have a lot of slip-and-fall claims, especially in wine-tasting country in California," says Stewart.
Another coverage area that needs to be considered: historical construction. "A lot of these inns are 100 years old," says Stewart. "You need a replacement-costs endorsement and, in some cases, historical endorsements."
Calvista represents five different insurance companies that offer parts-and-replacement costs and content limits. Markel offers coverage for historic buildings and unique property, as well as for special events, pools, ponds, lakes and other unique B&B risks, Maynor says.
Technology cover is now being offered for innkeepers concerned about online reservations and hackers gaining access to customers' personal information—but it can be expensive, Stewart says.
Bedbugs are also a hot topic right now, but B&B owners have been proactive in this area for quite some time, Maynor notes.
For coastal B&Bs in hurricane alley, the biggest factor is having any insurance at all. Some innkeepers are going "bare" because they can't afford $20,000 property insurance on a four-room B&B, Karen says. Others have considered creating a captive insurance program for B&Bs, he adds.
Yet there has not been much B&B movement in the captive arena. "We have not heard anything," says Louisiana Commissioner of Insurance Jim Donelon, who says there have been no applications from B&B owners "in a couple of years."