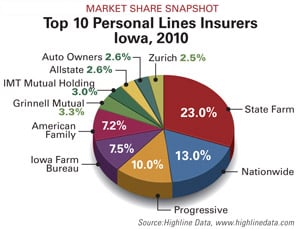 A tornado destroyed 12 to 15 blocks in the southwest corner of Mapleton, Iowa and damaged neighboring areas when it struck about 7:20 p.m. Saturday, April 9. In total, the tornado destroyed about 100 homes beyond repair, and has displaced an estimated 500 to 600 residents.
The tornado was on the ground for three and a half miles and measured three-quarters of a mile wide at one point, according to the National Weather Service office in Valley, Neb. The twister was measured to be on the lower end of an EF3, which carries wind speeds of 136 to 165 mph.
The tornado was one of several reported in Iowa. The weather service said it had confirmed a total of four smaller twisters that touched down near Early and Nemaha, damaging several homes.
Below and on the following pages are photos taken from the scene of the destruction, both from the air and on the ground.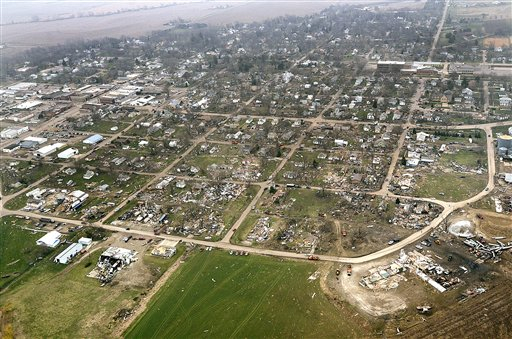 Destruction in Mapleton, Iowa, in this aerial photo on Sunday, April 10, 2011. The tornado was one of several reported in Iowa. The weather service said it had confirmed a total of four smaller twisters that touched down near Early and Nemaha, damaging several homes. (AP Photo/Sioux City Journal, Tim Hynds)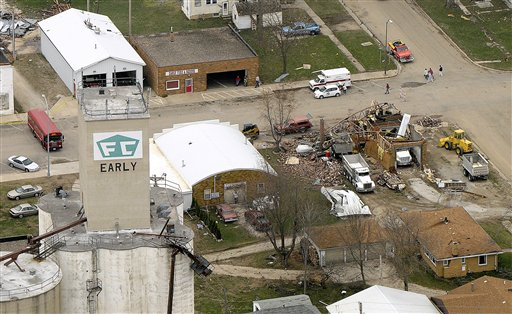 More destruction, this time in Early, Iowa, is shown in this aerial photo on Sunday, April 10, 2011. The small town was hit by a tornado on Saturday which also caused damage in Mapleton, Iowa. (AP Photo/Sioux City Journal, Tim Hynds)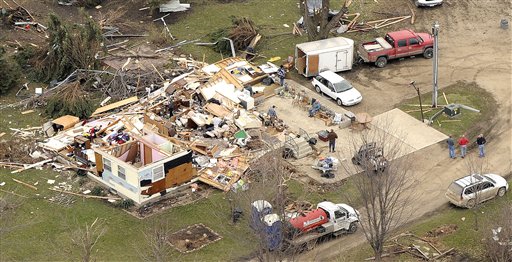 More destruction in Early, Iowa, is shown in this aerial photo on Sunday, April 10, 2011. (AP Photo/Sioux City Journal, Tim Hynds)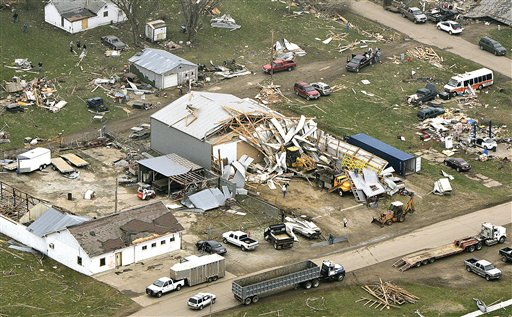 Destruction is shown in Mapleton, Iowa, in this aerial photo on Sunday, April 10, 2011, The tornado was one of several reported in Iowa. (AP Photo/Sioux City Journal, Tim Hynds)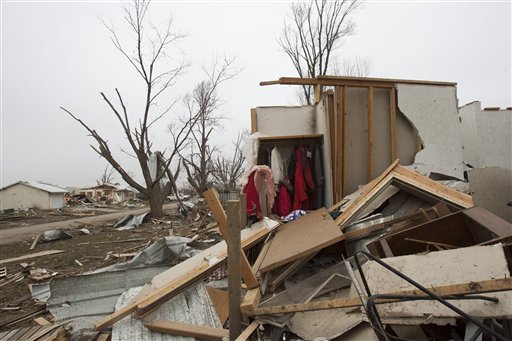 Rubble from damaged homes litters the street in Mapleton, Iowa, Sunday, April 10, 2011, after a large tornado flattened a grain elevator and destroyed homes and buildings on its weekend rampage through this small western Iowa town. (AP Photo/Nati Harnik)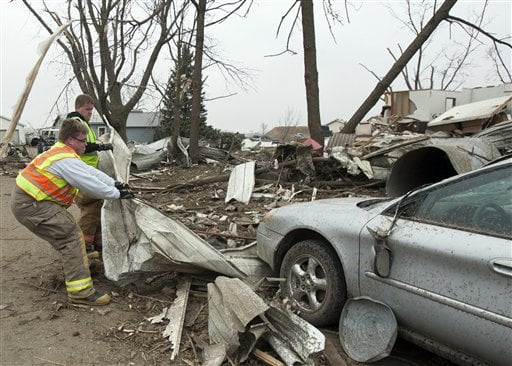 A cleanup crew removes debris in Mapleton, Iowa, Sunday, April 10, 2011. Authorities reported no serious injuries.(AP Photo/Nati Harnik)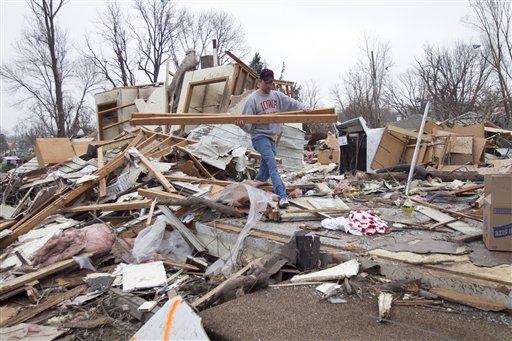 Casey Conover helps clear debris around a house in Mapleton, Iowa, which was destroyed Sunday, April 10, 2011, after a large tornado flattened a grain elevator and destroyed homes and buildings on its weekend rampage through this small western Iowa town. (AP Photo/Nati Harnik)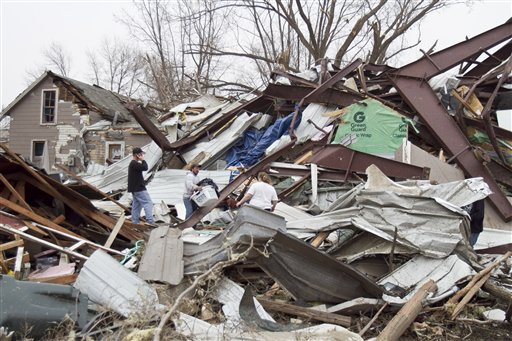 Jason Mauch, center, carries a basket of belongings from his destroyed house in Mapleton, Iowa, Sunday, April 10, 2011. (AP Photo/Nati Harnik)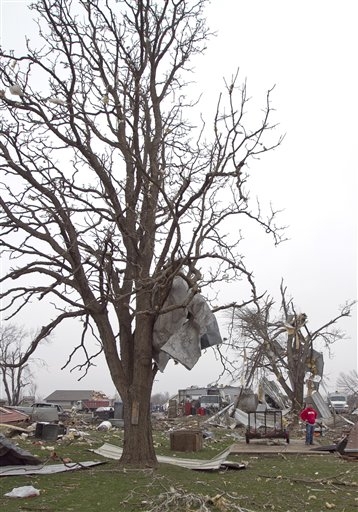 A resident in Mapleton, Iowa, stands near trees where large metal sheets are lodged, Sunday, April 10, 2011.(AP Photo/Nati Harnik)