No matter where one stands on the issue of global warming, there are practical reasons for Main Street producers to embrace the environmental movement. Because by doing so, they can address a burgeoning insurance need among their small- and midsize customers—and grow their own books.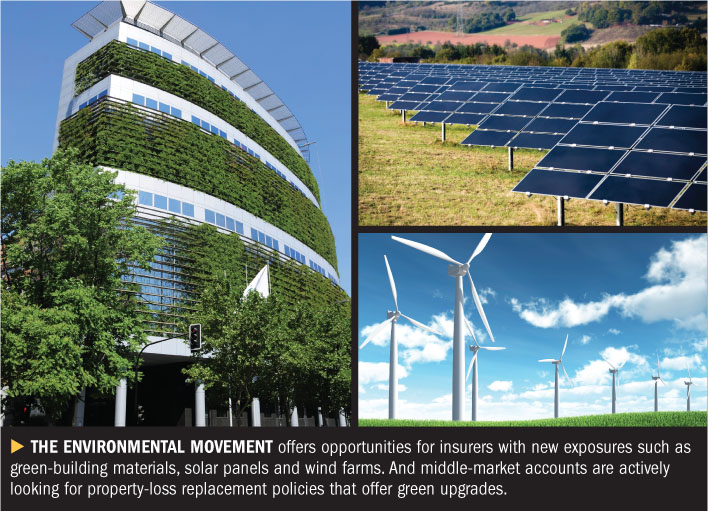 As both energy costs and green consciousness continue to rise, commercial clients of all sizes, and homeowners, are adopting new technology and building techniques to help them cut consumption.
These investments have sparked a growing demand today for environmental insurance solutions, and carriers are providing an increasing number of offerings to meet the needs of a market that is expected to become even larger in the years ahead.
Fireman's Fund: Small Surprise
When Fireman's Fund Insurance Co. launched its green coverage in 2006, the feeling was that the primary interest would come from large commercial real-estate players, said Stephen Bushnell, senior director of emerging industries for the Novato, Calif.-based company.
As a result, its initial coverage was targeted to cover replacement for LEED (Leadership in Energy and Environmental Design) construction.
But unexpectedly, Mr. Bushnell said, it turned out that many middle-market and small accounts showed interest in green coverage—not so much for LEED certification, but to go beyond replacement cost after a loss and to be able to upgrade the property with environmentally friendly materials.
"We did not expect small business to be that tuned into green," he said. "Our small-business underwriters tell us that this is a big differentiator when they are out there selling their products."
He added: "The future for environmental insurance is strong. Utility bills are only going up. And even if the price of oil and gas goes down a little, the environment remains a concern. More contractors and architects are seeing the benefit. It is not too much of a stretch to say that LEED will be the way to build buildings [going forward]."
The Hartford's Hybrid Aproach
At The Hartford Financial Services Group, the company has been developing a portfolio of products covering the green space, running from property to inland marine to commercial auto and some personal lines.
Scott Shapiro, the company's senior vice president of applied research and product development, said customers have a growing interest in securing coverage to replace or upgrade their property with green-compliant products if there is a loss.
Unveiled in 2009 for middle-market commercial customers, the Hartford offers $100,000 property-loss replacement with green alternatives. Commercial auto policyholders can secure a policy to help them upgrade to hybrid vehicles after a loss.
New on tap, the company has introduced a policy that allows homeowners to purchase optional coverage to rebuild to green standards.
The company also has a variety of new coverages for commercial marine, builders and other markets seeking to become environmentally friendly and meet LEED standards, Mr. Shapiro said.

There is also coverage being offered for equipment breakdown in a business-owners policy. This coverage allows policyholders to move to environmentally efficient equipment.
"As new capabilities come online, we want to make sure we keep current and customers have the peace of mind that [their risk] is covered," said Mr. Shapiro.
Last year, the Hartford recognized the need for consolidating its renewable energy practice under one roof, noted James Gardiner, assistant vice president and head of the company's renewable energy practice. The company is developing a national practice that will have a full line of insurance offerings by the end of this year.
The focus, he said, will be to make sure that agents and brokers will have the resources available to them that they need.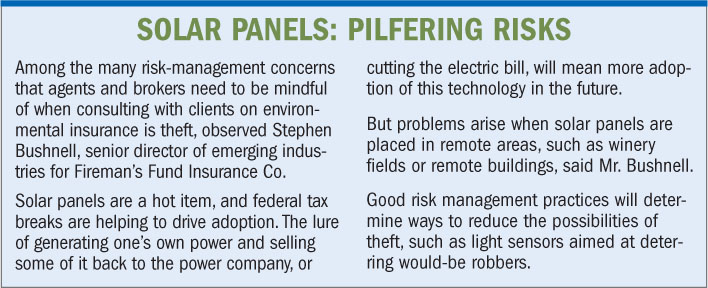 "Smart agents and brokers focus on what is driving their business, and we see major agents and brokers building their environmental practice," said Mr. Gardiner. "Where a few years ago going green was a social statement or movement, now it is becoming part of any construction. We are committed to understanding the distinct needs of this industry."
Chubb Minds the Gaps, While CNA Sees Opps in Upgrades
Chubb Group of Insurance Cos. has added endorsements to its property coverage that fill in gaps in policy language that could have made it difficult to keep a building environmentally sustainable, according to Bill Puleo, a vice president.
Case in point: Imagine a building with a LEED-Silver rating. If the building were built to replacement standards years later after a loss, it might not achieve the same rating. The endorsement provides the necessary upgrades to keep the rating. Another endorsement allows the property owner to upgrade further than the prior specifications.
Under the business-income provision of a commercial policy, Chubb also provides for additional downtime that is sometimes required for more green materials or equipment, said Mr. Puleo. These coverages apply to any size accounts.
Chubb views the potential for growth as endless, and Jim Albertson, clean technology segment leader, says the company wants to be involved at the very beginning of a project and grow with that account, providing for the client's insurance needs into the future. That also means helping the agent or broker from the point of sale to fulfillment of the client's insurance solutions.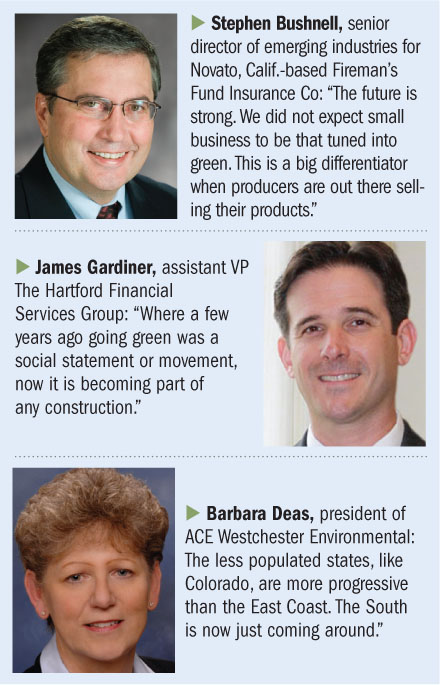 The coverage Chubb offers can include unique exposures: for example, the owner of a large warehouse who allows a utility company to lease space on the roof for solar panels. Risks could include structural integrity of the building or proper access to the roof for fire protection.
Chicago-based CNA offers a replacement coverage program, too, said Bob Wenning, underwriting director. The company offers the upgrade to green-level material and energy efficiency under a policy endorsement that is based on a percentage of the property insurance premium.
As the economy improves, Mr. Wenning said he expects clients both in the government and the private sector to consider these coverages more often. Agents and brokers in the small- and middle-market area may see opportunities in property owners who postponed green upgrades due to the economy but are now eager to catch up.
A Range of Risks at ACE
Unlike other insurers, ACE offers its environmental coverage on a wholesale basis through ACE Westchester Environmental, as well as on a retail basis through ACE Environmental Risk.
Barbara Deas, president of ACE Westchester Environmental, said on the wholesale side the company's practice focuses on small- and middle-market contractors and consultants.
The company provides coverage for a range of risks covering bio-fuel facilities, solar-panel contractors and wind farms (both active and in research and development), geo-thermal systems, fuel-cell producers, and other environmental sectors.
In terms of the geographic reach of green, "In certain areas this is a new idea catching on faster than others, mostly on the West Coast," said Ms. Deas. "The Southwest through the Northwest are the leaders. The less populated states, like Colorado, are more progressive than the East Coast. The South is now just coming around."