Catastrophe models may be the best tools that insurers and reinsurers currently have to assess possible losses from major natural events, but even though their use is ingrained into the property insurance industry, reliance on model results remains highly controversial.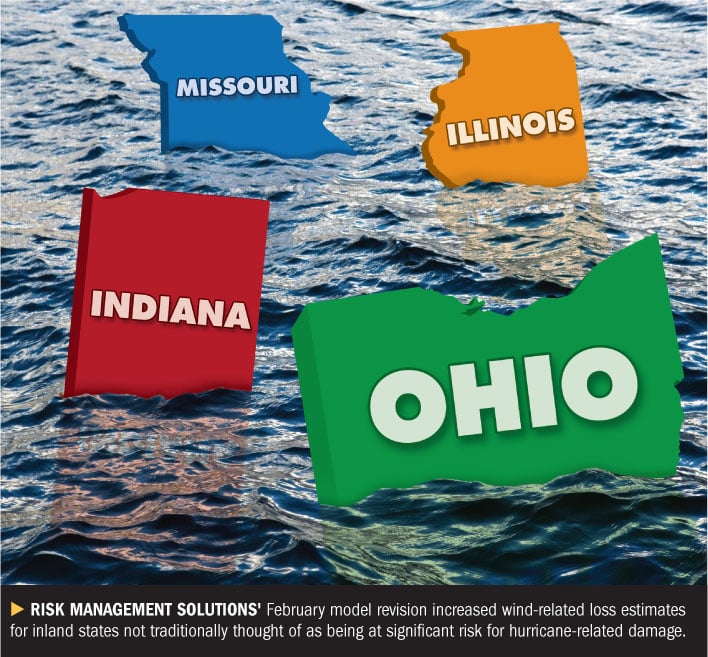 Nothing may illustrate the point more than when a modeler announces a revision to its model that could double loss indications for some portfolios, as Risk Management Solutions (RMS) did at the end of February. In some cases, loss results could increase even more, according to some model experts.
"Basically, this makes Ohio a coastal state," said Frank Pierson, executive vice president and chief technical officer at New York-based reinsurance brokerage firm Holborn Corp., commenting on the RMS revision which increased wind-related loss estimates for inland states not traditionally thought of as being at significant risk for hurricane-related damage. "Companies will have to look at the new results the models give and figure out a transition."
RISKS ONCE OVER THERE ARE NOW HERE—MAYBE
"Adjustments to where companies are vulnerable will differ depending on the lines of insurance and location," said Claire Souch, vice president of natural catastrophes and portfolio solutions at RMS, which said that changes in loss results in the market portfolios it analyzed fall between increases of 20 percent and 100 percent.
Florida remains the risk it always was, but "Texas and the Gulf states now contribute more to the overall risk profile," Ms. Souch said.
Newark, Calif.-based RMS said it expects a wind-risk increase in each hurricane-prone state on an industrywide basis, but portfolios with a large concentration on the coast will actually show the smallest increase in wind losses.
They may even decrease, RMS said. For instance, the Florida panhandle up through Louisiana may see a decline of risk, Ms. Souch said.
Non-coastal exposure and commercial or industrial business will show the largest increases.
Ms. Souch said the adjustments to the model were made because "there is a significant amount of new data into how hurricanes behave," including a storm's interaction with land. Specifically, research after Hurricane Ike unveiled new insights.
During Ike, "roofs were damaged at much lower wind speeds than expected, given the [existing] understanding of construction and building codes," said Ms. Souch. RMS worked with engineering consultants to re-examine code enforcement and mitigation efforts throughout hurricane states, she said.
To some, the changes were not a huge surprise. According to one expert source who declined to be identified, RMS was always thought to be "a little light in inland risk."
Up In The Air
Tim Doggett, principal research scientist at Boston-based AIR, said his company released its revisions last summer, but there was not an overall "earth-shattering change"
But Mr. Pierson countered that one of his client's Texas exposure went up 74 percent using the AIR model.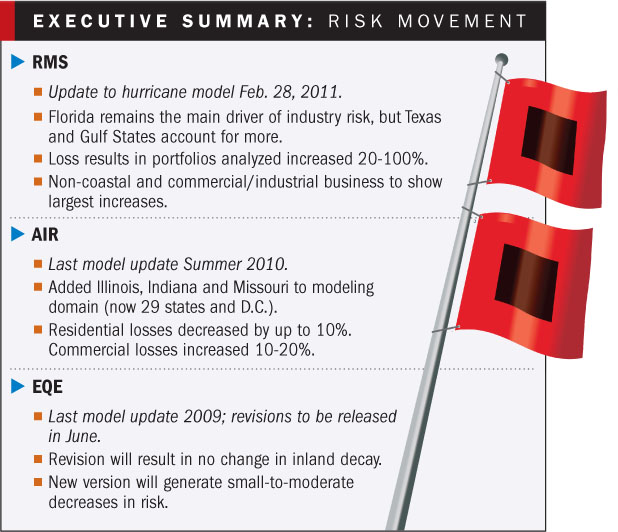 Mr. Doggett said of the new version that there are "infinitely more data points" available, but that even with what the firm called "extensive updates to the hazard and vulnerability components" of the model, its update "does not change AIR's overall view of hurricane risk in the United States."
After the changes, residential losses decreased by up to 10 percent and commercial losses increased between 10 percent and 20 percent, AIR said. The firm acknowledged that lessons learned from Ike included a better understanding of inland losses, prompting AIR to add Illinois, Indiana and Missouri to its modeling domain of 29 states and the District of Columbia.
EQECAT Fine-Tunes Its Model
The third of the popular modelers is Oakland, Calif.-based EQECAT, which released its last update to the model in 2009 and is working on revisions to be released in June, said David Smith, senior vice president of model development.
Like AIR, Mr. Smith said the new version is "not dramatic on results," with "no change in inland decay."
Mr. Smith said EQE's model performed well for Hurricane Ike, and that the revisions it is making are "not in response to any particular event that occurred."
"The model includes refinements more than any fundamental change in the way we view risk," he added. Generally, the new version of EQE's model will generate "small-to-moderate decreases in risk."
All the modelers mentioned the busy 2004 and 2005 hurricane seasons for providing them with a wealth of data—information the past several years of quiet hurricane seasons have allowed them to truly delve into. Building codes, mitigation efforts and demand surge were plugged into these formulas, which now include countless new data points to provide clients with the most sophisticated, accurate assessment of risk, each modeler told NU.
NUMBERS AS GOSPEL OR GUIDE?
Not everyone believes the models are beams of light for an industry that would otherwise be in the dark without them.
But the industry, and those who regulate and rate the financial strength of its participants, do think that way, according to critics.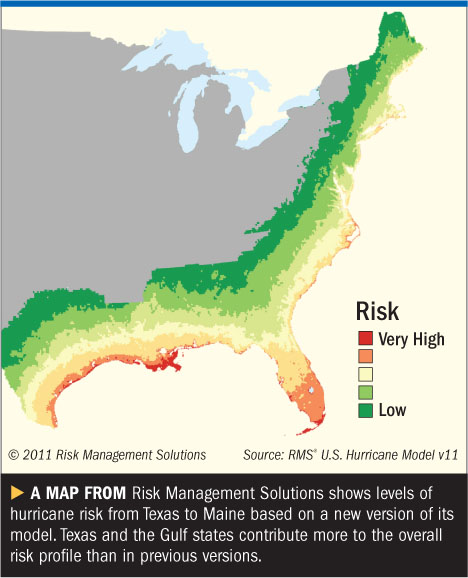 "Insurers are using models for a lot of things, yet the insurers do not know how they work—even those at the top of the insurer," said J. Robert Hunter, former Texas insurance commissioner and now director of insurance for the Consumer Federation of America. "If the black box spits out a number, it is gospel."
The industry relies on models too much, and "there are incentives for modelers to compete by coming up with ways to get higher rates, which the insurers jump at," he added.
Even the smallest tweaks in models have a "huge effect" on rates in states, according to Sean Shaw, former insurance consumer advocate in Florida, now with the Merlin Law Group.
"The problem is no one understands them," Mr. Shaw said. "They are a mystery to me and, I'm sure, legislators. Yet everyone gives them authority, and they put upward pressures on rates."
Karen Clark, president and CEO of Karen Clark & Co., a catastrophe risk and risk-management firm in Boston, said the problem with models is they come up with point estimates instead of ranges of probable maximum losses (PMLs). And if loss results can change 100 percent for a particular region after revisions, models can "cause massive disruption" to places like Cape Cod, Mass., where insurers pulled out because of a model revision a few years ago. (Cape Cod may be an area worth looking at again, according to the new models.)
Ms. Clark, who developed the first hurricane-catastrophe model and in 1987 founded the first catastrophe modeling company—Applied Insurance Research, which is now AIR Worldwide—said RMS' latest model revisions drive up exposure indications for mid-Atlantic states by 150 percent.
"This is silly," she said. "Models get you in the ballpark. Insurers should be coming up with a benchmark of their own risk—a range of large loss scenarios that are transparent and they can understand."
Insurers need to take a step back to a more "meat-and-potatoes" approach and not allow the models to put them in a "straightjacket they can't get out of," she added.
"Models are blunt tools," Ms. Clark said. "Benchmark the model. If you look at the output and it doesn't make sense for your book, consider your own data."
"A model update does not necessarily mean a better model," she continued. "There are many model interdependencies, and sometimes when you try to fix something, you break something else."
Ms. Clark suggests an independent test of the models and the development of some standards the industry can agree on.
"We're never going to know exactly. Let's come up with a range," she said. "We are so enamored with the science. We need to bring back a little common sense."
Holborn has had clients that have so distrusted the models that they buy much more reinsurance than the models suggest.
Mr. Pierson said he will be interested to see if insurers are able to pass along the additional money they spend on reinsurance to consumers. He expects some upward pressure on reinsurance pricing because of recent model revisions, and he predicts companies will be forced to buy more reinsurance in order to keep net losses after reinsurance flat.
STAMP OF APPROVAL (PENDING)
Actuarial consultant Martin Simons, who is a member of a team that investigates models for the Florida Commission on Hurricane Loss Projection Methodology, said the new RMS model has not been approved and insurers cannot use it (but reinsurers can). He said because all states rely on this Florida commission to put its approval stamp on the validity of a model, everyone is waiting.
The professional team on which Mr. Simons serves, which includes a meteorologist, a structural engineer, a computer scientist and a statistician, are set to review RMS' model at the end of the month.
"We'll have lots and lots of questions," Mr. Simons said. "If there is any bias in the model, we'll find it."
Mr. Simons called hurricane models "the best things we have right now" to assess risk and recommended companies use more than one to minimize uncertainties. He said a majority of companies use two. (See a similar argument for using multiple cat models on page 26.)
RMS had submitted a model to the commission two years ago, and Mr. Simons' team "believed it was biased toward the high side." The modeling firm went back to work on it some more, he said.
Asked if a rejection by the commission hurts modelers, Mr. Simons said, "enormously."
When word comes down that the commission has rejected a model, it hurts the modeler's wallet and reputation in the insurance industry.