Days after Hurricane Harvey slammed into Texas, the slow-moving storm wreaked more havoc Tuesday when it caused Houston's Addicks Reservoir to overflow and breached a levee in nearby Brazoria County.
At least 11 people have died so far in the wake of Harvey, according to a count by the Weather Channel. Among those who died was a Houston police officer who drowned in his patrol car.
Thousands more people have been displaced from their homes.
Rainfall breaks U.S. record
Several rain gauges southeast of downtown Houston report more than 51 inches of rain from Tropical Storm Harvey, according to CNN and NBC News. That marks the most rain ever recorded in the contiguous United States from a tropical storm that made landfall. The previous record was held by Tropical Storm Amelia, which hit Texas in 1978.
3rd landfall
Harvey is taking aim at Texas again, predicted to make landfall Wednesday on the Texas-Louisiana border, after inundating the Houston area with record rainfall and deadly flooding.
(Source: YouTube)
As the storm makes landfall again, Harvey was expected to pack winds of up to 45 mph and drench the upper Texas coast and southwestern Louisiana with anywhere from six to 12 inches of rain before heading inland, according to a National Hurricane Center advisory.
"Port Arthur seems to be in the cross-hairs," Bob Yawger, director of the futures division at Mizuho Securities USA Inc. in New York, said in a telephone interview. While people were optimistic overnight, "that sense of optimism is starting to go down the tubes," Bloomberg reports.
Evacuees
Houston's George R. Brown Convention Center is hosting more than 10,000 evacuees — double the number of cots available. Those who couldn't get a cot were given pillows and blankets to sleep on the floor, Red Cross spokeswoman Betsy Robertson said.
Houston Mayor Sylvester Turner said city officials were looking for more shelter space. Mayor Turner also indicated he had requested emergency supplies for an additional 10,000 people from the Federal Emergency Management Agency, according to Bloomberg.
The Houston Police Department has rescued more than 4,000 people from floodwaters, chief Art Acevedo said in a televised press conference Tuesday evening.
"At every passing hour, more boats are getting into the water," Acevedo said at a briefing for reporters. "For all the Monday morning quarterbacking out there, there is not hindsight for an event that's never occurred."
Take a look at flood scenes from Harvey's aftermath: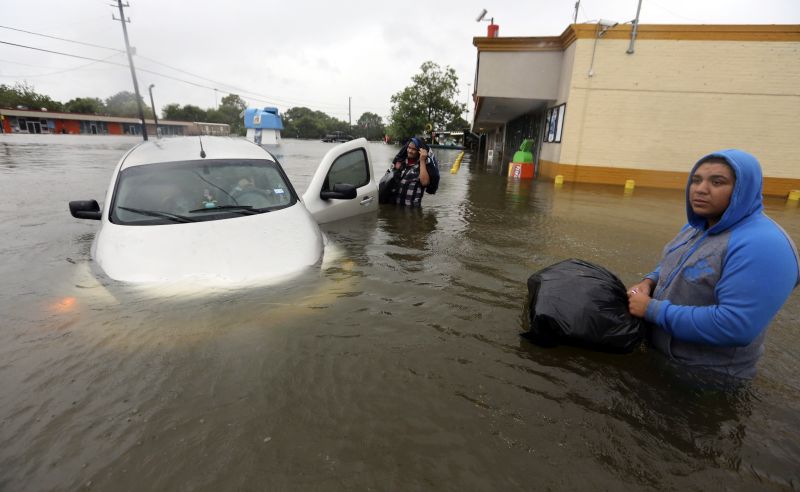 Conception Casa, center, and his friend Jose Martinez, right, check on Rhonda Worthington after her car became stuck in rising floodwaters from Tropical Storm Harvey in Houston, Texas, Monday, Aug. 28, 2017. The two men were evacuating their home that had become flooded when they encountered Worthington's car floating off the road. (AP Photo/LM Otero)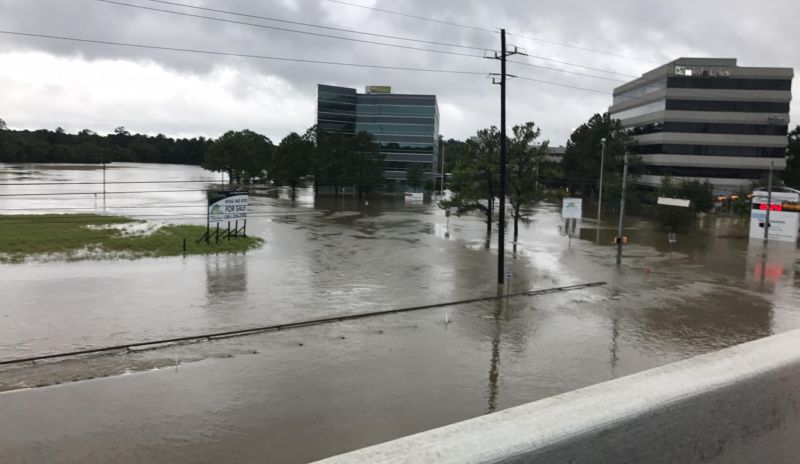 Flooded Houston streets and commercial buildings. (Photo: Alexandra Gort/BELFOR Property Restoration)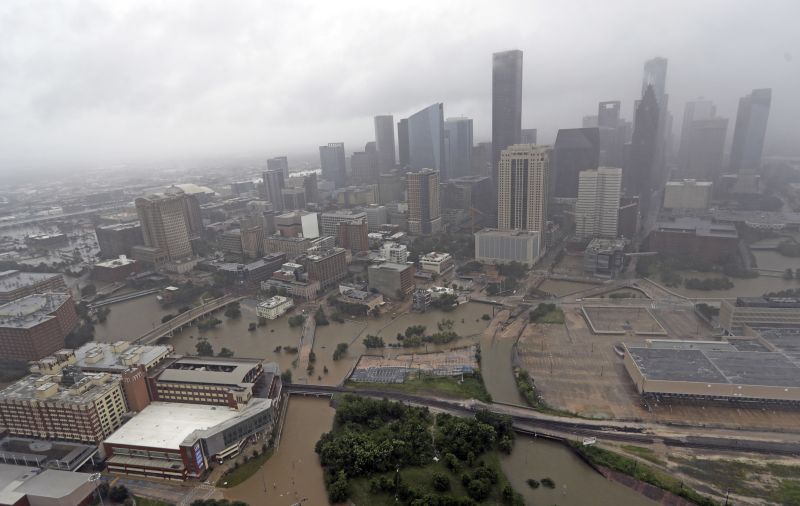 Highways around downtown Houston are empty as floodwaters from Tropical Storm Harvey overflow from the bayous around the city Tuesday, Aug. 29, 2017, in Houston. (AP Photo/David J. Phillip)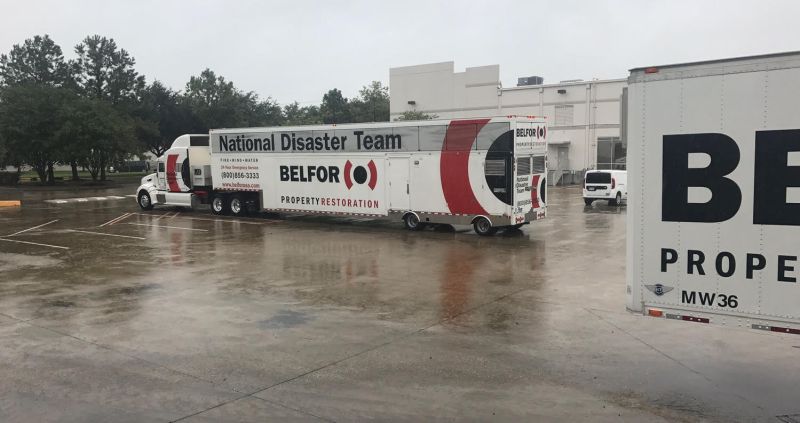 Belfor's Houston office with the Natural Disaster Team Mobile Command Center at the ready. (Photo: Alexandra Gort/BELFOR Property Restoration)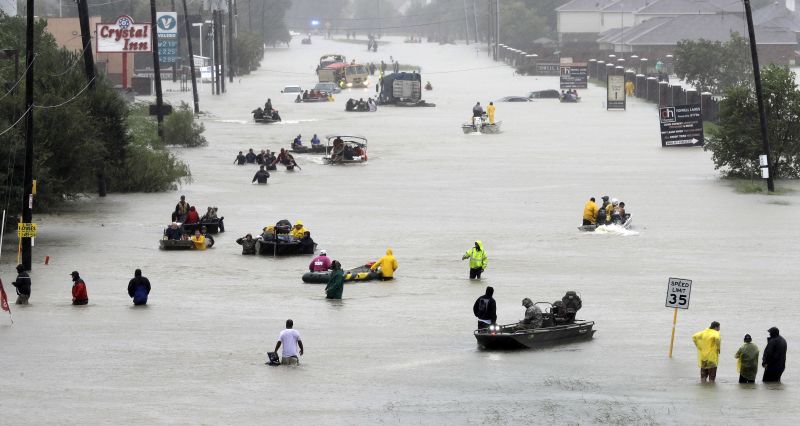 Rescue boats fill a flooded street as flood victims are evacuated as floodwaters from Tropical Storm Harvey rise Monday, Aug. 28, 2017, in Houston. (AP Photo/David J. Phillip)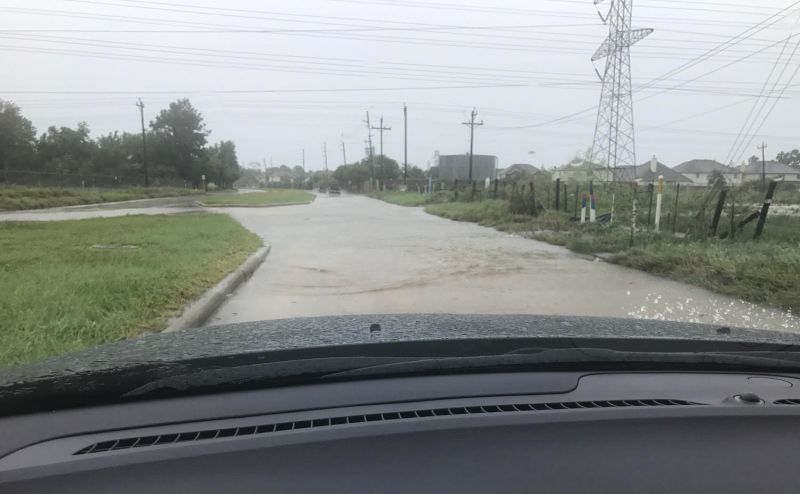 A Belfor employee navigates the flooded streets of Houston. (Photo: Alexandra Gort/BELFOR Property Restoration)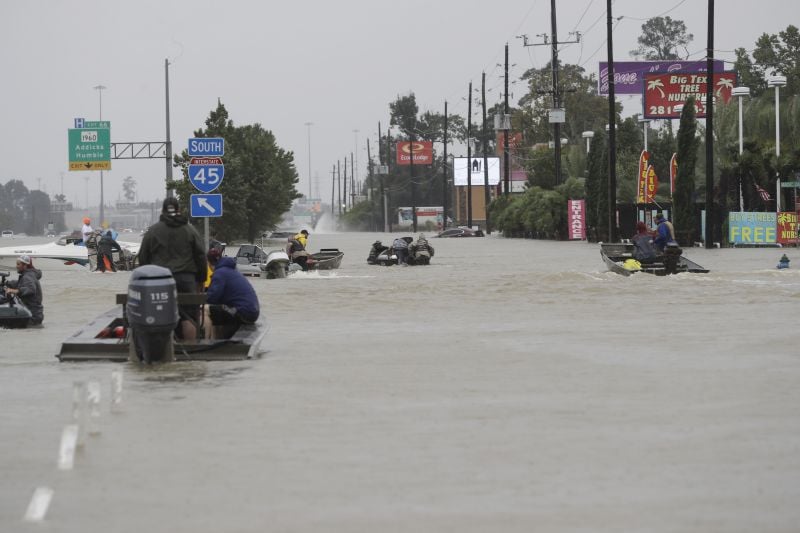 Volunteer rescue boats make their way into a flooded subdivision to rescue stranded residents as floodwaters from Tropical Storm Harvey rise Monday, Aug. 28, 2017, in Spring, Texas. (AP Photo/David J. Phillip)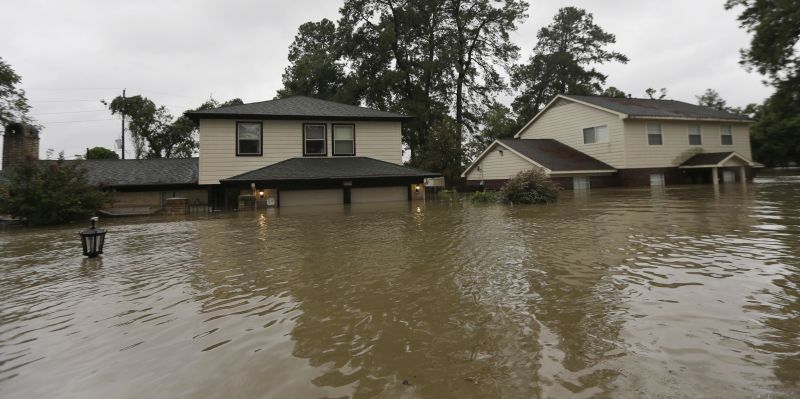 Floodwaters from Tropical Storm Harvey surround homes Monday, Aug. 28, 2017, in Spring, Texas. (AP Photo/David J. Phillip)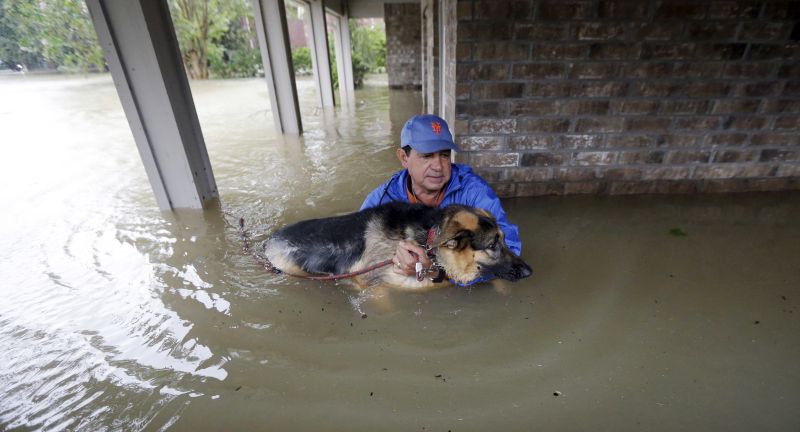 Joe Garcia carries his dog Heidi from his flooded home as he is rescued from rising floodwaters from Tropical Storm Harvey on Monday, Aug. 28, 2017, in Spring, Texas. (AP Photo/David J. Phillip)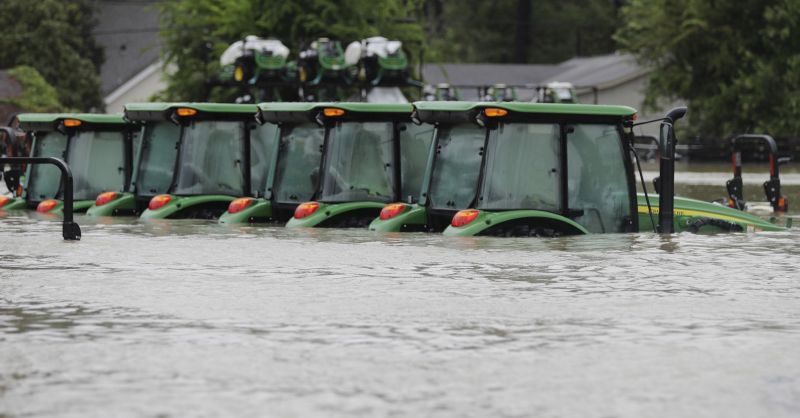 A row of tractors are surrounded by floodwaters from Tropical Storm Harvey on Monday, Aug. 28, 2017, in Spring, Texas. (AP Photo/David J. Phillip)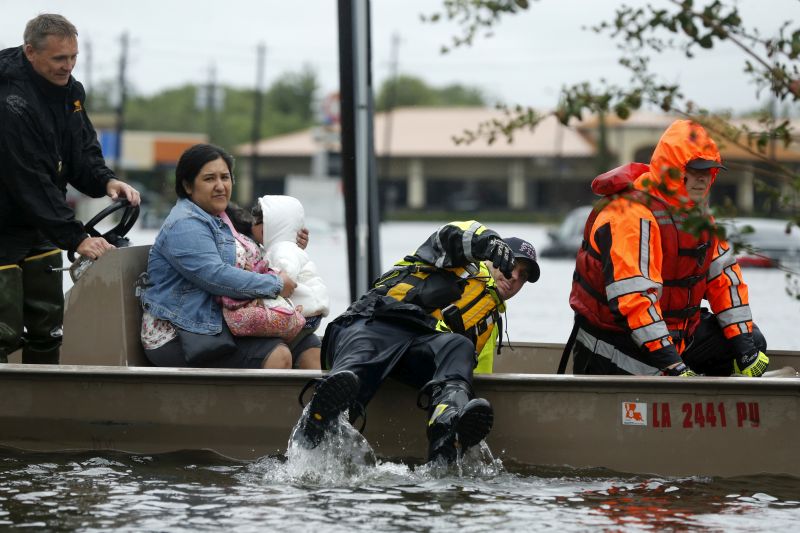 A member of the Louisiana Department of Wildlife and Fisheries maneuvers while rescuing stranded residents during flooding from Tropical Storm Harvey in Houston, Monday, Aug. 28, 2017. (AP Photo/Gerald Herbert)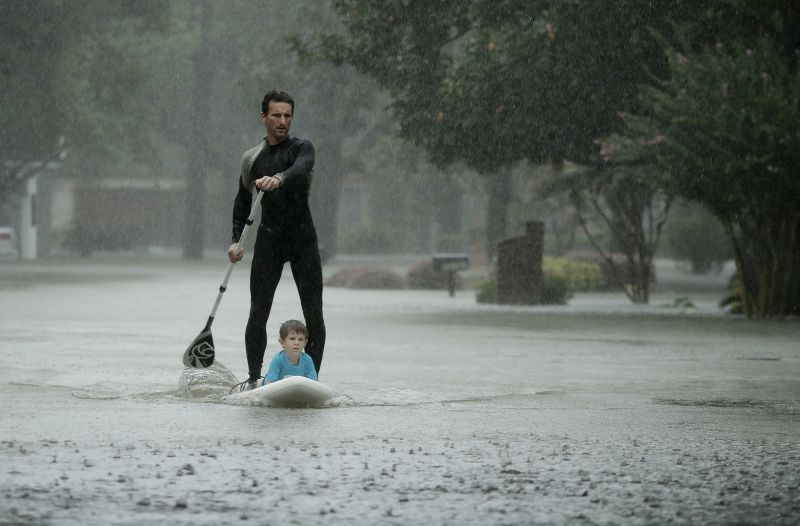 Alexendre Jorge evacuates Ethan Colman, 4, from a neighborhood inundated by floodwaters from Tropical Storm Harvey on Monday, Aug. 28, 2017, in Houston, Texas. (AP Photo/Charlie Riedel)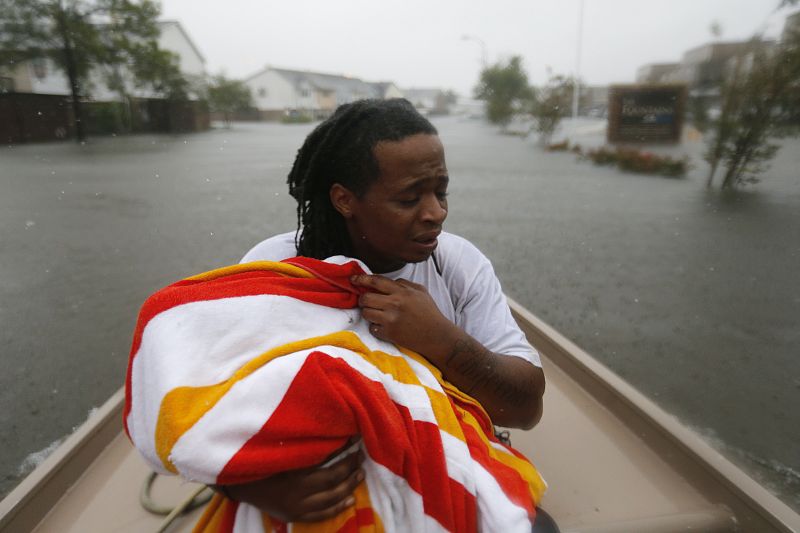 Demetres Fair holds a towel over his daughter Damouri Fair, 2, as they are rescued by boat by members of the Louisiana Department of Wildlife and Fisheries and the Houston Fire Department during flooding from Tropical Storm Harvey in Houston, Monday, Aug. 28, 2017. (AP Photo/Gerald Herbert)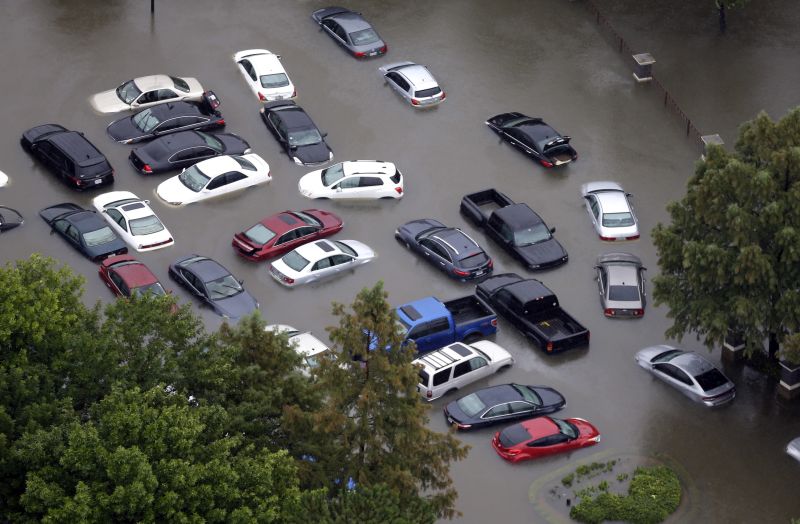 Flooded cars near the Addicks Reservoir are shown as floodwaters from Tropical Storm Harvey rise Tuesday, Aug. 29, 2017, in Houston. (AP Photo/David J. Phillip)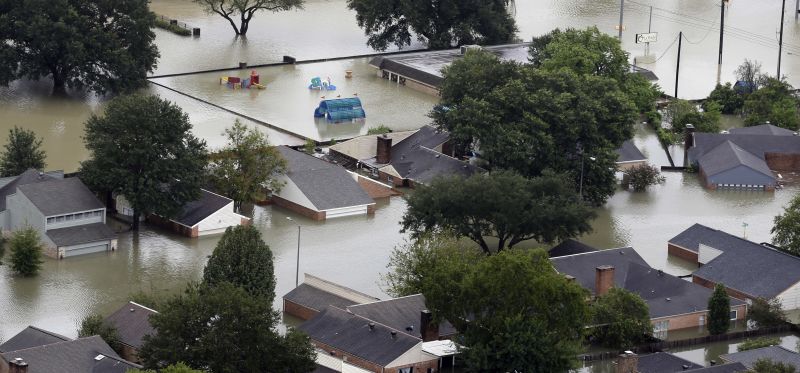 Homes are flooded near the Addicks Reservoir as floodwaters from Tropical Storm Harvey rise Tuesday, Aug. 29, 2017, in Houston. (AP Photo/David J. Phillip)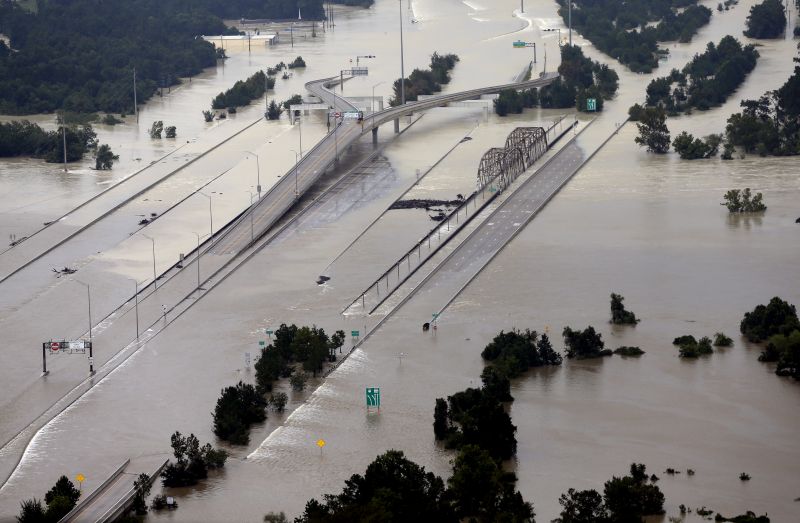 Interstate 69 is covered by floodwaters at the San Jacinto River bridge as floodwaters from Tropical Storm Harvey caused the river to overflow Tuesday, Aug. 29, 2017, in Humble, Texas. (AP Photo/David J. Phillip)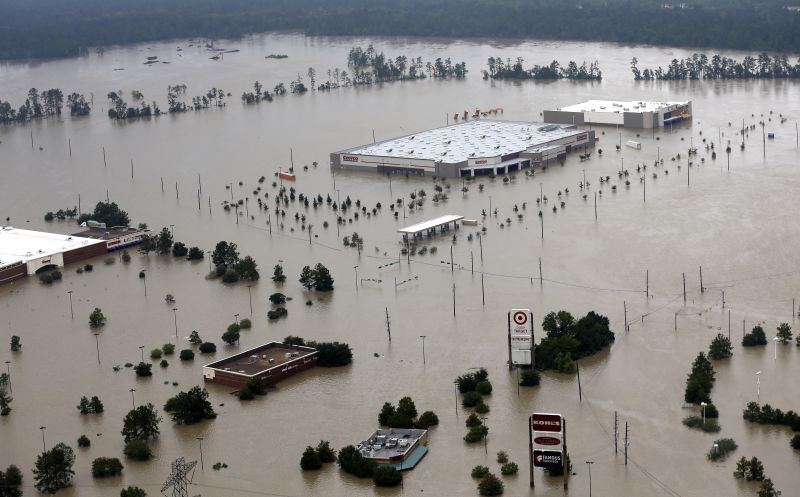 Businesses, including a Target store, are surrounded by floodwaters from Tropical Storm Harvey Tuesday, Aug. 29, 2017, in Humble, Texas. (AP Photo/David J. Phillip)
A burned out home is surrounded by floodwaters from Tropical Storm Harvey Tuesday, Aug. 29, 2017, in Spring, Texas. (AP Photo/David J. Phillip)
Related: Harvey's destruction: Unprecedented flooding replaces high winds [slideshow]