Major property damage, significant business interruption, and 13 deaths resulted from the extensive flooding in southern Louisiana in early August.
Some regions received as much as 15-30 inches of rain over a two-day period, according to catastrophe modeling firm AIR Worldwide.
In White Bayou (East Baton Rouge Parish) 26.14" of rainfall was recorded. Parts of the region received two to four times the average total monthly rainfall for August in just three days.
Few had flood insurance
Initial estimates from Louisiana's Office of Homeland Security and Emergency Preparedness indicate that more than 60,000 homes have been damaged in the 20 parishes impacted. The flood-affected area also contains an estimated 7,364 businesses, employing 73,907 individuals.
The Federal Emergency Management Agency estimates that 42 percent of homes in high-risk areas of Louisiana have flood insurance, but that in low and moderate-risk zones only 12.5 percent or so of homes do. Across Baton Rouge as a whole, no more than 15 percent of all homes have flood insurance, and in the other hard-hit location, Lafayette, the rate is 14 percent.
Many of the areas that flooded were outside the 100-year floodplain and were not considered at high risk.
Temporary housing a pressing need
Business Recovery Centers have already opened in Baton Rouge, Lafayette, Baker, Prairieville, Walker and Amite, and Disaster Recovery Centers for the general population are open in flooded areas.
With so many people forced from their homes, the immediate need is temporary housing. A task force has been established by FEMA to identify options, and these reportedly include manufactured housing units that meet or exceed government certifications.
More than 110,000 people have already registered with FEMA for federal disaster aid. At least $20 million has been distributed in advanced payments to National Flood Insurance Program policyholders so far and the number of claims being submitted is climbing rapidly.
Short-term relief
For residents without flood insurance, short-term relief for immediate needs is available from FEMA, but the most available under the Assistance to Individuals and Households program is just $33,000, and few will be eligible for this maximum payout. At least $55 million to help survivors with temporary rental assistance, essential home repairs, and other serious disaster-related needs has already been approved.
Take a look at images of the ongoing clean up following the extensive flooding in southern Louisiana: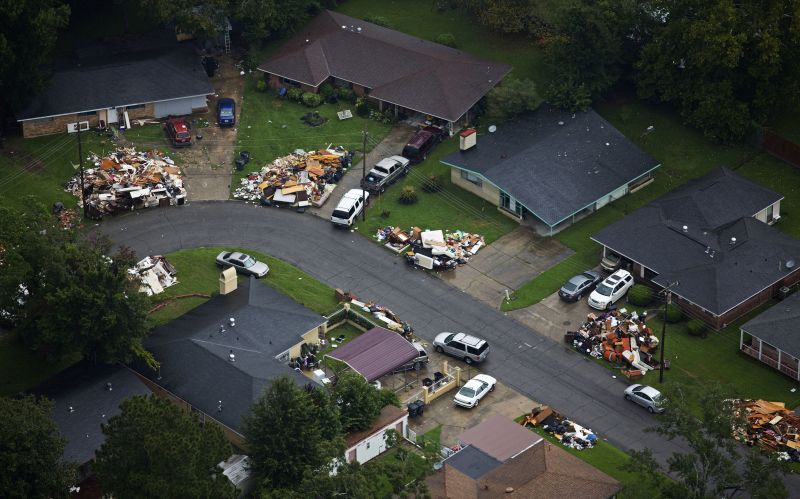 In this Aug. 25 photo, debris from gutted homes line the streets of Baton Rouge, La. (Photo: Max Becherer/AP Phot)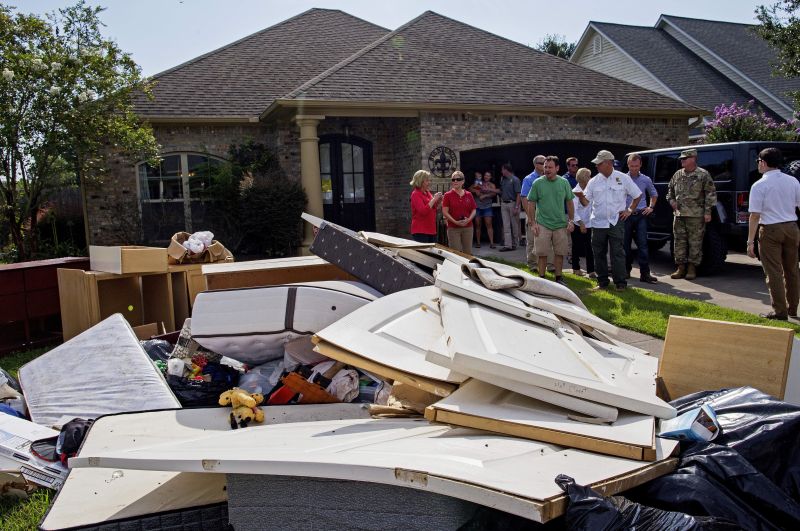 Louisiana Gov. John Bel Edwards, right, tours a flood damaged home in Youngsville, La., Thursday, Aug. 25 Emergency response coordinators accompanied Gov. Edwards on the tour. (Photo: Max Becherer/AP Photo)
Related: 3 strategies for recovering from flood losses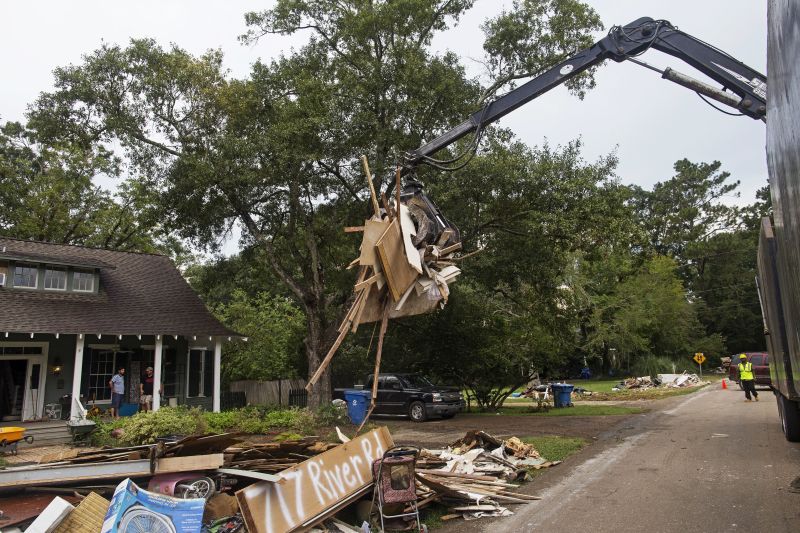 Richard Harrington, left, watches as debris from his gutted home is taken away in Denham Springs, La., Wednesday, Aug. 24 The Harrington's and their two daughters moved into their dream home in Denham Springs a few weeks before water demolished the century-old house and ruined brand-new furniture. (Photo: Max Becherer/AP Photo)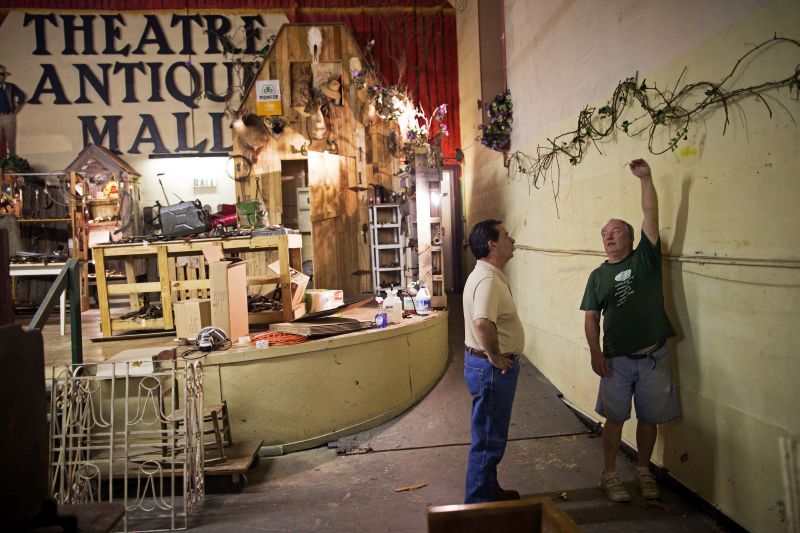 Denham Springs Mayor Gerard Landry, left, listens to Theatre Antiques Mall owner, Elvin Watts, tell him how high the water reached in his business in Denham Springs, La., Wednesday, Aug. 24. Landry fears it could take years for this city to fully recover. (Photo: Max Becherer/AP Photo)
Related: 12 ways the U.S. is using nature to protect against natural disasters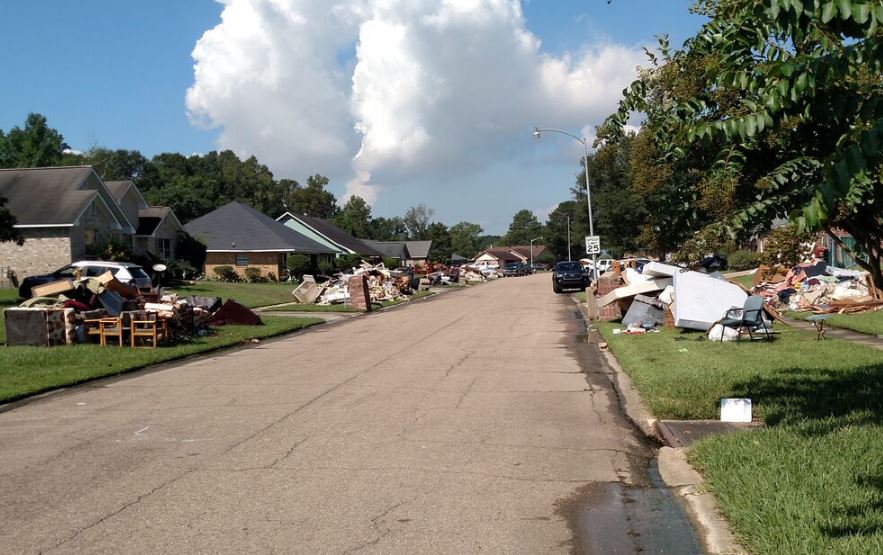 People's lives reduced to piles of rubble following major flooding in Louisiana. (Photo: Spex)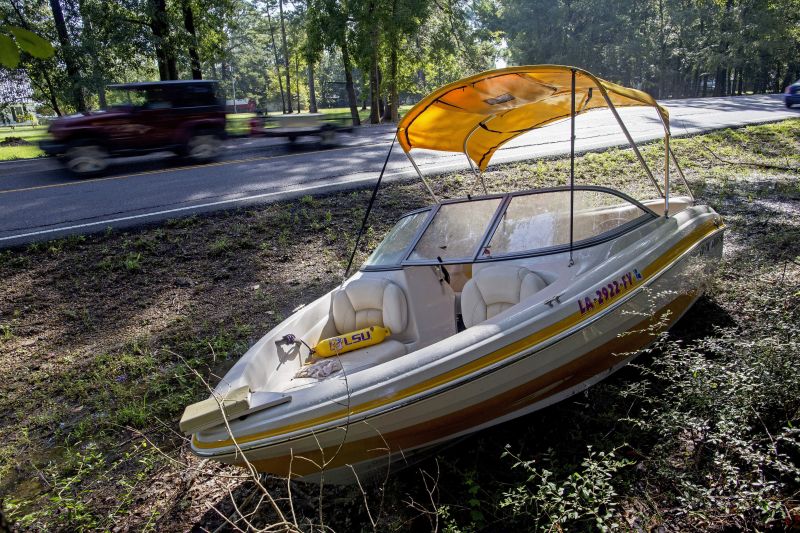 An abandoned boat sits by the side of Walker South Road in Walker, La., Sunday, Aug. 21. Hundreds of residents were rescued from flooded homes. (Photo: Max Becherer/AP Photo)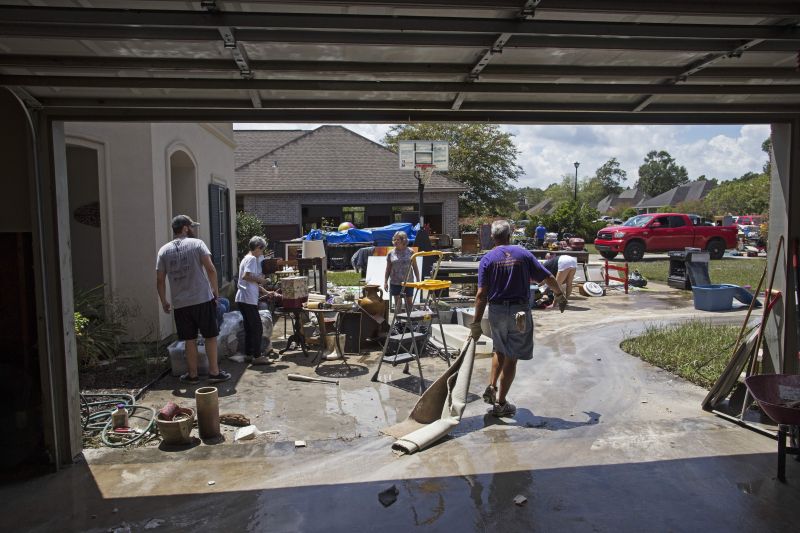 Friends and family help to clean out the flood damaged home of Sheila Siener, 58, second from left, in St. Amant, La., Saturday, Aug. 20. (Photo: Max Becherer/AP Photo)
Related: Surviving the 100-year flood doesn't mean 99 years of safety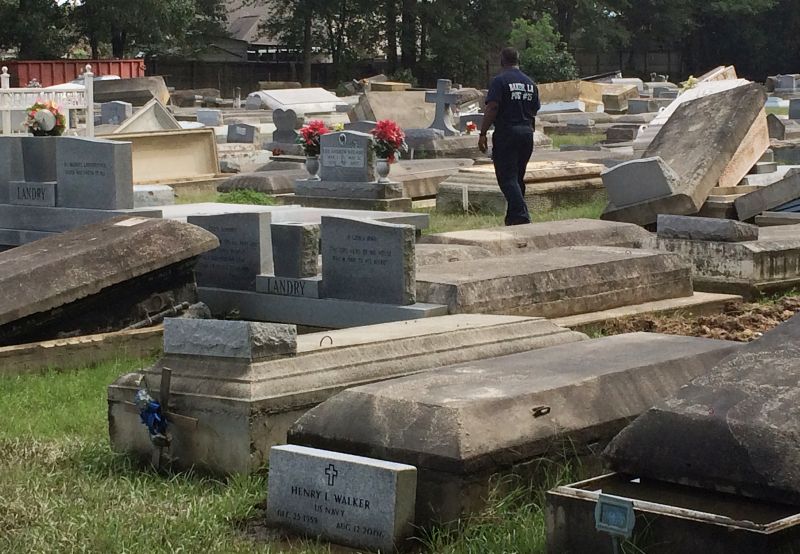 In this image made from video, Willie Brooks III walks through Plainview Cemetery, Thursday, Aug. 18, in Denham Springs, La. With an estimated 40,000 homes damaged by deadly flooding, Louisiana could be looking at its biggest housing crunch since the miserable, bumbling aftermath of Hurricane Katrina a decade ago. (Photo: Joshua Replogle/AP Photo)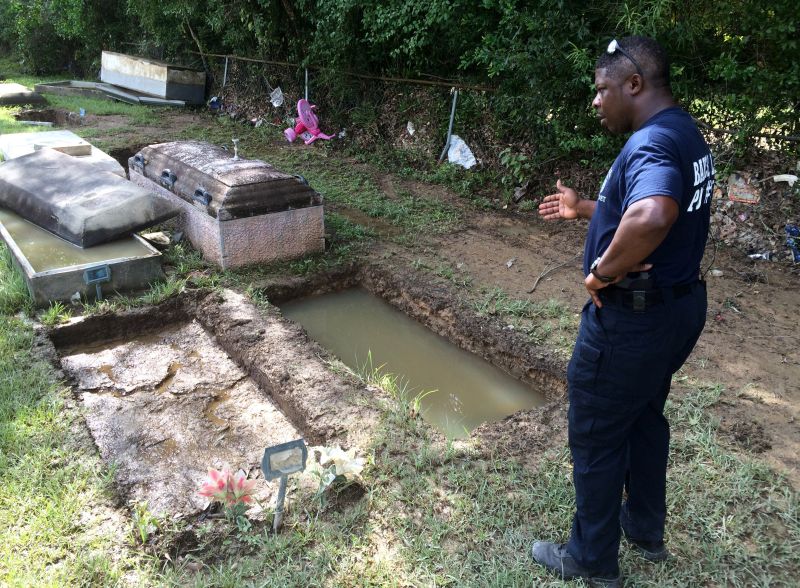 In this image made from video, Willie Brooks III speaks about the grave of his grandmother and how it's gone due to flooding, Thursday, Aug. 18, in Plainview Cemetery in Denham Springs, La. (Photo: Joshua Replogle/AP Photo)
Related: Getting into the habit of offering flood insurance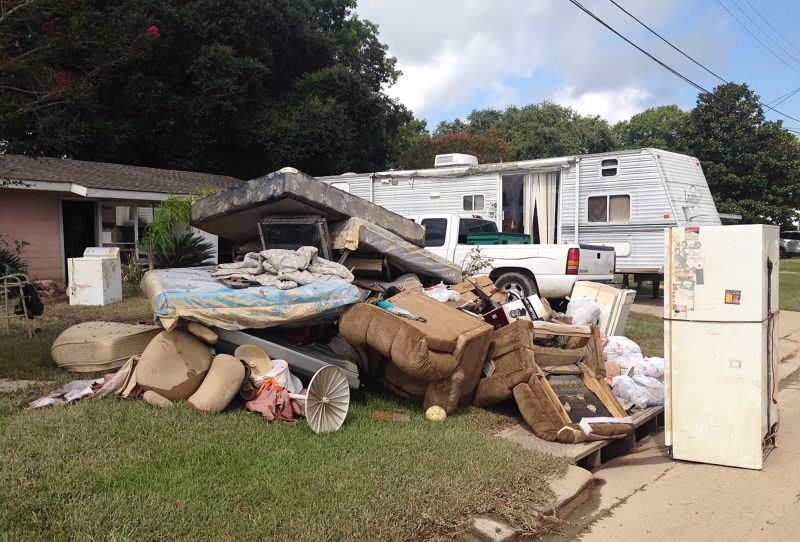 A growing pile of debris sits outside the flood-ravaged home of Carolyn and James Smith in Denham Springs, La. on Wednesday, Aug 17. Smith says she and four other adults will live for the time being in the travel trailer that one of her sons towed to the driveway after weekend flooding inundated the area. (Photo: Kevin McGill/AP Photo)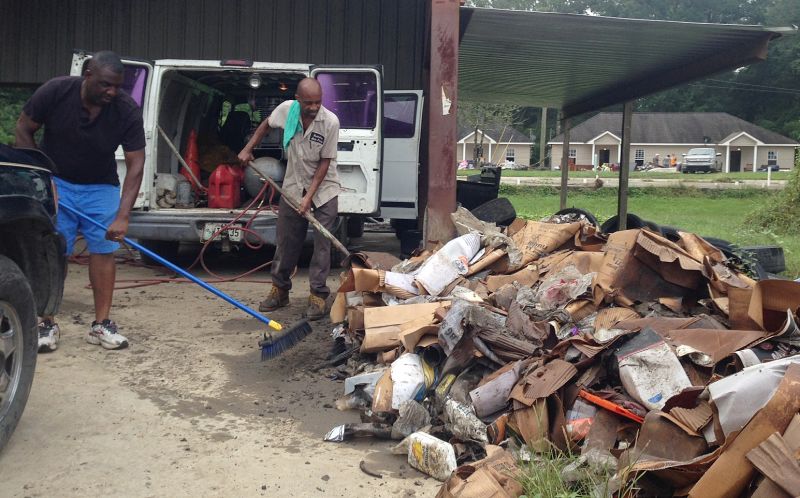 Terry Brewer, left, and Timothy Harris pile up debris outside a flooded auto parts store in Albany, La. on Wednesday, Aug 17. The U.S. Small Business Administration plans to open several south Louisiana locations to help businesses damaged by record flooding. (Photo: Kevin McGill/AP Photo)
Related: Why flood insurance isn't like a homeowners' policy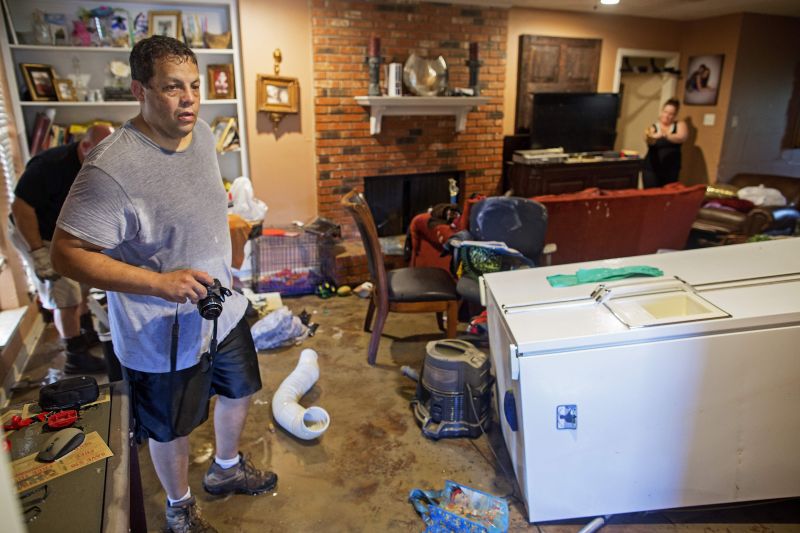 Raymond Lieteau takes photos his flood damaged home in Baton Rouge, La., Tuesday, Aug. 16. Lieteau had more than five feet of water in his home. At least 40,000 homes were damaged and eight people killed in the historic Louisiana floods, the governor said, giving a stark assessment of the widespread disaster. (Photo: Max Becherer/AP Photo)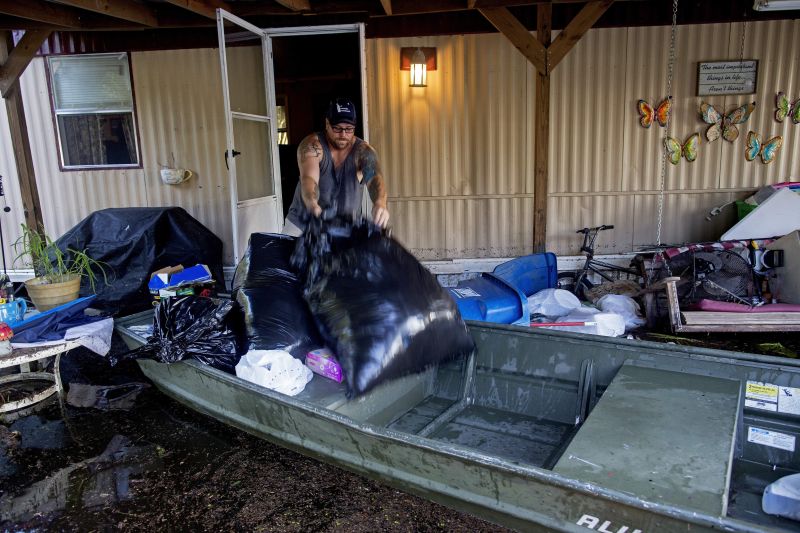 Giovanni DeCarlo, 35, loads a bag of clothes on a boat as he helps friend Laura Albritton, salvage personal belongings from her flooded home in Sorrento, La., Saturday, Aug. 20. Louisiana continues to dig itself out from devastating floods, with search parties going door to door looking for survivors or bodies trapped by flooding. (Photo: Max Becherer/AP Photo)
Related: 10 factors to consider when adjusting flood claims
In this aerial photo over Amite, La., flooded homes are seen from heavy rains inundating the region, Saturday, Aug. 13. (Photo: Max Becherer/AP Photo)
In this Aug. 25 photo, debris from gutted homes line the streets of Baton Rouge, La. (Photo: Max Becherer/AP Photo)
Related: How insurance agents can counsel clients after a flood